Synopsis: During the Depression, Jimmy Gralton returns home to Ireland after ten years of exile in America. Seeing the levels of poverty and oppression, the activist in him reawakens and he looks to re-open the dance hall that led to his deportation.
Release Date: July 10, 2015     MPAA Rating: PG-13
Genre(s): Drama,
Film Review

Almost ten years ago, in 2006, British director Ken Loach told a contained story about the Irish War of Independence in The Wind That Shakes the Barley. Now, he explores the aftermath of that conflict in a companion piece of sorts, Jimmy's Hall.
Jimmy's Hall begins in 1932 with Jimmy Gralton (Barry Ward from Blood Cells) returning to Ireland after ten years of working in America. The Ireland that he comes back to is very different from the one he left; the conclusion of the war has put a new government in place, inspiring hope in all people but delivering classism and poverty to the masses. As soon as he is back, the local townsfolk start pressuring Jimmy to reopen the Pearse-Connolly Hall, a meeting place that was built by Jimmy years ago where the community could go to dance, learn, and just be themselves. At first he refuses, but when Jimmy sees how his neighbors really need a place like that in their lives, he agrees, and with the help of his old love, Oonagh (X Moor's Simone Kirby), and a close group of friends, the hall is reopened. Of course, the local pastor, Father Sheridan (Jim Norton from Water for Elephants), hates anything that takes people away from his parish, and teams up with local leader Commander O'Keefe (Brian F. O'Byrne from "Aquarius"), who hates Jimmy, to do all they can to shut down the hall again, even if it means turning Jimmy into an enemy of the people.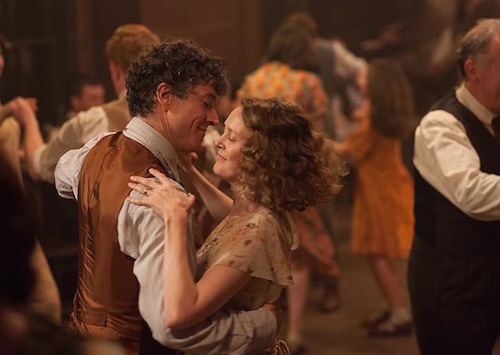 Inspired by the real story of Jimmy Gralton, the first (and only) native Irishman to be deported from his own country, the screenplay for Jimmy's Hall was written by Paul Laverty (who also wrote The Wind That Shakes the Barley), based on a play by Donal O'Kelly (Catalpa). It's not really a biopic of Gralton, as it just focuses on a specific event in his life, and there are frightfully few details about that event that have actually survived to present day. So, while Jimmy's Hall may be "based on actual events," it's probably not a "true story." Which may be better, because artistic license usually makes for better storytelling.
There's an interesting tug-of-war going on in Jimmy's Hall. On the one hand, it's a politically charged story of social activism, with the hall becoming a symbol of poor Ireland in the face of the religious and civil powers that be. On the other, it's a pretty cool retelling of Footloose, with dancing becoming a metaphor for rebelling against the crushing oppression of the church and government. The two stories are one and the same, but Jimmy's Hall functions on two levels: as a serious political statement, and as an uplifting feel-good story.
Jimmy's Hall is a good movie, but one really needs to be in the mood for it in order to fully enjoy it. It's a very talky movie, and the talk is made a bit more troublesome by the characters' thick Irish accents. There's a ton of political and bureaucratic nonsense at the root of the plot, and the viewer has to pay close attention to keep up with all of the doings. It also tends to move slowly at times, but when it does move, it really moves. And it's got a group of characters who are very easy to root for. So, if you don't mind a movie that splits its time evenly between heavy dialogue and light dancing, then Jimmy's Hall is for you.

One of the biggest draws of Jimmy's Hall is the soundtrack. The music is incredible. Of course, there's a ton of Irish jigs, complete with flutes and fiddles, all of which were played live by the musicians during filming, a fact which helped with the authenticity of the performances, both musically and acting-wise. However, there's also plenty of American big-band jazz, blues, and boogie-woogie in the film as well, represented by the Louis Armstrong and Bessie Smith records that Jimmy brought back from America with him and shares with the kids in his hall. The song selection is a great mix of music, just enough of both styles, and it keeps the audience dancing and swinging all the way through Jimmy's Hall.
Cast and Crew
Director(s): Ken Loach
Producer(s): Rebecca O'Brien
Screenwriter(s): Paul LavertyDonal O'Kelly
Story: 
Cast: Barry Ward (James Gralton)Simone Kirby (Oonagh)Francis Magee (Mossie) Aileen Henry (Alice)Jim Norton (Father Sheridan)Stella McGirl (Stella)Sorcha Fox (Molly)Martin Lucey (Dessie)Mikel Murfi (Tommy)Shane O'Brien (Finn)Denise Gough (Tess)Aisling Franciosi (Marie)
Editor(s): Jonathan Morris
Cinematographer: Robbie Ryan
Production Designer(s):
Costume Designer: 
Casting Director(s): Kahleen Crawford
Music Score: George Fenton
Music Performed By: 
Country Of Origin: USA