The holiday season is upon moviegoers once again, and that means a new season of movie-watching has begun. This season is always filled with Award contenders, big name Directors making big serious pictures, and the opportunity for actors and actresses to show their best skills on screen–all in the hopes that they will take home one of the many possible awards available to them for the year's best work. There is also always the underdog independent film that will take everyone by surprise. Lest us not forget the plethora of family movies that will keep everyone occupied during those big family gatherings at the holiday's. After a lackluster (and that is putting it mildly) year of movies, this holiday season holds high hopes for moviegoers, and moviemakers alike.
Let the Season begin!
November 18, 2011:
The Descendants
Director: Alexander Payne
Screenplay: Alexander Payne, Nat Faxon, and Jim Rash
Starring: George Clooney, Shailene Woodley, Beau Bridges, Robert Forster, Judy Greer, Matthew Lillard, Nick Krause, Amara Miller, and Patricia Hastie
Synopsis: Matt King (George Clooney), a husband and father of two girls, must re-examine his past and navigate his future when his wife is in a boating accident off Waikiki. He awkwardly attempts to repair his relationship with his daughters – 10 year-old precocious Scottie (Amara Miller) and rebellious 17 year-old Alexandra (Shailene Woodley) – while wrestling with a decision to sell his family's land. Handed down from Hawaiian royalty and missionaries, the Kings own some of the last priceless virgin parcels of tropical beach in the islands.

When Alexandra drops the bombshell that her mother was in the midst of a romantic fling at the time of the accident, Matt has to take a whole new look at his life, not to mention his legacy, during a week of momentous decisions. With his girls in tow, he embarks on a haphazard search for his wife's lover. Along the way, in encounters alternately funny, troublesome and transcendent, he realizes he's finally on course toward rebuilding his life and family.
Award Possibilities: Best Picture, Best Actor (George Clooney), Best Adapted Screenplay, Best Supporting Actress (Shailene Woodley), Best Director
FilmFracture Review: The Descendants by Kathryn Schroeder
Another Happy Day
Director: Sam Levinson
Screenplay: Sam Levinson
Starring: Starring Ellen Barkin, Demi Moore, Kate Bosworth, Thomas Haden Church, George Kennedy, Ellen Burstyn, Ezra Miller
Synopsis: A family weekend is fraught with emotional landmines for mercurial and sensitive Lynn (Barkin) as she arrives at her parents' Annapolis estate for the marriage of her estranged eldest son Dylan (Michael Nardelli), accompanied by her three younger children (Ezra Miller, Kate Bosworth, Daniel Yelsky). Lynn's hopes for a joyful reunion are crushed as her wry but troubled middle son Elliot (Ezra Miller) lobs verbal grenades at his mother and her relatives while daughter Alice (Kate Bosworth), a fights valiantly to keep her longtime demons under control.
Award Possibilities: Indie Spirit Award Contender after winning the Screenwriting Award at Sundance.
FilmFracture Review: Coming Soon…
Happy Feet Two
Director: George Miller
Screenplay: George Miller
Starring: Elijah Wood, Pink, Ava Acres, Common, Matt Damon, Brad Pitt, Hugo Weaving, Hank Azaria
Synopsis: The sequel to "Happy Feet," the Academy Award-winning animated smash hit, "Happy Feet Two" returns audiences to the magnificent landscape of Antarctica in superb 3D. Mumble, The Master of Tap, has a problem because his tiny son, Erik, is choreo-phobic. Reluctant to dance, Erik runs away and encounters The Mighty Sven-a penguin who can fly!
Mumble has no hope of competing with this charismatic new role model. But things get worse when the world is shaken by powerful forces. Erik learns of his father's guts and grit as Mumble brings together the penguin nations and all manner of fabulous creatures-from tiny Krill to giant Elephant Seals-to put things right.
Award Possibilities: A best song mention is possible but as for a nomination in the best animated film category, that is a stretch.
FilmFracture Review: Happy Feet Two by Kathryn Schroeder.
Tyrannosaur
Director: Paddy Considine
Screenplay: Paddy Considine
Starring: Peter Mullan, Eddie Marsan, and Olivia Colman
Synopsis: The story of Joseph (Peter Mullan) a man plagued by violence and a rage that is driving him to self-destruction. As Joseph's life spirals into turmoil a chance of redemption appears in the form of Hannah (Olivia Colman), a Christian charity shop worker. Their relationship develops to reveal that Hannah is hiding a secret of her own with devastating results on both of their lives.
Award Possibilities: Indie Spirit Awards, and the like, for all three of the actors is possible.
FilmFracture Review: Coming Soon. In the meantime, check out our contributor Tom von Logue Newth's review on Screencrave here.
November 23, 2011
A Dangerous Method
Director: David Cronenberg
Screenplay: Christopher Hampton
Starring: Michael Fassbender, Keira Knightley, Viggo Mortenson, Vincent Cassel, and Sarah Gadon.
Synopsis: On the eve of World War I, Zurich and Vienna are the setting for a dark
tale of sexual and intellectual discovery.
Drawn from true-life events,
A DANGEROUS METHOD takes a glimpse into the turbulent relationships
between fledgling psychiatrist Carl Jung (Michael Fassbender), his
mentor Sigmund Freud (Viggo Mortenson) and Sabina Spielrein (Keira
Knightley), the troubled but beautiful young woman who comes between
them. Into the mix comes Otto Gross (Vincent Cassel), a debauched
patient who is determined to push the boundaries.
Award Possibilities: Best Picture, Best Actor and Actress, Best Supporting Actor, Best Adapted Screenplay, Best Director.
FilmFracture Review: A Dangerous Method by James Jay Edwards.
Arthur Christmas
Director: Sarah Smith
Screenplay: Peter Baynham and Sarah Smith
Starring: James McAvoy, Hugh Laurie, Bill Nighy, Jim Broadbent, Ashley Jensen
Synopsis: The 3D, CG-animated family comedy Arthur Christmas, an Aardman production for Sony Pictures Animation, at last reveals the incredible, never-before seen answer to every child's question: 'So how does Santa deliver all those presents in one night?' The answer: Santa's exhilarating, ultra-high-tech operation hidden beneath the North Pole. But at the heart of the film is a story with the ingredients of a Christmas classic – a family in a state of comic dysfunction and an unlikely hero, Arthur, with an urgent mission that must be completed before Christmas morning dawns.
Award Possibilities: Without an original song Arthur Christmas only has the animation category to hope for–it is possible but doubtful it would win.
FilmFracture Review: Arthur Christmas by Kathryn Schroeder.
Hugo
Director: Martin Scorcese
Screenplay: John Logan
Starring: Ben Kingsley, Sacha Baron Cohen, Asa Butterfield, Chloe Grace Moretz, Ray Winstone, Jude Law
Synopsis: An orphan (Asa Butterfield) teams up with a girl (Chloe Moretz) to solve a mystery involving his late father, a gruff toy merchant and a heart-shaped lock.
Award Possibilities: Best Picture (albeit a long shot), Best Director, Best Cinematography and Editing, Best Actor (Ben Kingsley).
FilmFracture Review: Hugo by Kathryn Schroeder.
The Muppets
Director: James Bobin
Screenplay: Jason Segal and Nicholas Stoller
Starring: Jason Segal, Amy Adams, Rashida Jones, Chris Cooper, and The Muppets
Synopsis: Walter, the world's biggest Muppet fan, is on vacation in Los Angeles with his friends Gary (Jason Segel) and Mary (Amy Adams). They discover that greedy Tex Richman (Chris Cooper) plans to raze Muppet Theater and drill for oil on the spot. Desperate to save the Muppets' former stomping grounds, the three friends join forces with Kermit to reunite Miss Piggy, Fozzie and the rest of the Muppets and hold a telethon to raise the 10 million they need to save the theater.
Award Possibilities: The love surrounding The Muppets is great, which may push other films aside in categories like Best Comedy/Musical at The Golden Globes but a nomination for Best Picture at the Oscars is a long-shot.
FilmFracture Review: The Muppets by Anthony Geehan.
My Week With Marilyn
Director: Simon Curtis
Screenplay: Adrian Hodges
Starring: Michelle Williams, Emma Watson, Dominic Cooper, Kenneth Branagh, Eddie Redmayne, Judi Dench, Julia Ormand.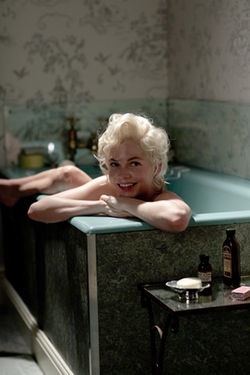 Synopsis: In 1956 England, Colin Clark (Eddie Redmayne) lands a job as a production assistant on the set of "The Prince and the Showgirl," starring Marilyn Monroe (Michelle Williams). Marilyn is also honeymooning with her new husband, playwright Arthur Miller, but the combined pressure of work and the demands of her Hollywood hangers-on is driving the star to exhaustion. When Miller departs for Paris, Colin seizes the chance to give Marilyn respite during a week in the idyllic British countryside.
Award Possibilities: Michelle Williams is a lock for a Best Actress nomination, as for the rest of the award categories only time will tell.
FilmFracture Review: My Week With Marilyn by James Jay Edwards.
Rampart
Director: Oren Moverman
Screenplay: James Ellroy and Oren Moverman
Starring: Woody Harrelson, Robin Wright, Sigourney Weaver, Ice Cube, Ben Foster, Ned Beatty, Steve Buscemi, Cynthia Nixon and Anne Heche.
Synopsis: Los Angeles, 1999. Officer Dave Brown (two-time Academy Award nominee Woody Harrelson) is a Vietnam vet and a Rampart Precinct cop, dedicated to doing "the people's dirty work" and asserting his own code of justice, often blurring the lines between right and wrong to maintain his action-hero state of mind. When he gets caught on tape beating a suspect, he finds himself in a personal and emotional downward spiral as the consequences of his past sins and his refusal to change his ways in light of a department-wide corruption scandal seal his fate. Brown internalizes his fear, anguish and paranoia as his world, complete with two ex-wives who are sisters, two daughters, an aging mentor dispensing bad advice, investigators galore, and a series of seemingly random women, starts making less and less sense. In the end, what is left is a human being stripped of all his pretense, machismo, chauvinism, arrogance, sexism, homophobia, racism, aggression, misanthropy; but is it enough to redeem him as a man?
Award Possibilities: A definite contender for Best Picture and Actor nominations on the Indie front, it will be a tough sell to the higher profiled Globes and Academy Awards. Woody Harrelson in the acting category is the best shot.
FilmFracture Review: Rampart by Kathryn Schroeder.
November 25, 2011
The Artist
Director: Michel Hazanavicis
Screenplay: Michel Hazanavicius
Starring: Jean Dujardin, Bérénice Béjo, John Goodman, James Cromwell, Penelope Ann Miller, Missi Pyle, Uggy
Synopsis: Silence is golden in director Michel Haznavicius' delightful black-and-white feature set in 1920s Hollywood. Jean Dujardin won the Best Actor Award at the Cannes Film Festival for his charming portrayal of George Valentin, a vain, preening silent film star of swashbuckling romances. Equally beguiling is Bérénice Béjo as Peppy Miller, a star-struck young dancer who fatefully encounters Valentin at a lavish premiere.
Award Possibilities: If there is an underdog this year The Artist is it. It seems to be capturing everyone's hearts, and nostalgia for the silent era of cinema. Any and all awards are up for grabs with this one.
FilmFracture Review: The Artist by Kathryn Schroeder.
December 2, 2011
Coriolanus
Director: Ralph Fiennes
Screenplay: John logan
Starring: Ralph Fiennes, Gerard Butler, Brian Cox, Vanessa Redgrave, Jessica Chastain
Synopsis: Setting Shakespeare's verse against a modern backdrop of 24-hour cable news networks and instant polling, this story of power, politics and pride speaks strongly to our own volatile, polarized times. The film is set in "a Place Called Rome," but it is clearly a crumbling contemporary city.
Award Possibilities: Slim to none. While a great first effort by Ralph Fiennes the film does not have holding power with the viewer to make it memorable come ballot time.
FilmFracture Review: Coriolanus by Kathryn Schroeder.
Outrage
Director: Takeshi Kitano
Screenplay: Takeshi Kitano
Starring: Beat Takeshi, Kippei Shiina, Ryo Kase, Tomokazu Miura, Jun Kunimura, Tetta Sigimoto, Takashi Tsukamoto, Hideo Nakano, Renji Ishibashi, Fumiyo Kohinata, Soichiro Kitamura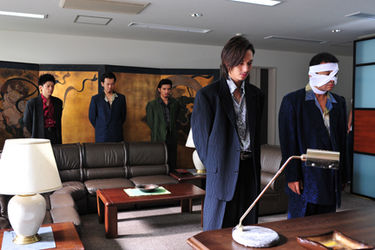 Synopsis: Several subsidiary bosses gather at a lavish lunch with "Mr. Chairman," the head of the ruling Sanno-kai crime organization which controls the Greater Tokyo area. Sannokai underboss Kato warns Ikemoto about his overt dealings with family outsider Murase, an old-timer with whom he recently made a pact in prison. In an effort to ease Mr. Chairman's suspicions, Ikemoto asks fellow boss Otomo to do his dirty work for him by making a minor but obvious move against Murase. Otomo's actions are the start of a ruthless series of conflicts and betrayals. Before long, several yakuza clans are out for blood in their constant battle for power and money. The rival bosses fight to rise through the ranks by scheming and making short-lived allegiances. In this corrupt world where there are no heroes, it's Bad Guy vs. Bad Guy in a spiraling outrage of gang warfare…
Award Possibilities: Anything is possible where Indie Foreign Films are celebrated (and violence).
FilmFracture Review: Outrage by Tom von Logue Newth.
Shame
Director: Steve McQueen
Screenplay: Steve McQueen and Abi Morgan
Starring: Michael Fassbender, Carey Mulligan, James Badge Dale, and Nicole Beharie
Synopsis: Brandon (Michael Fassbender) is a New
Yorker who shuns intimacy with women but feeds his desires with a compulsive
addiction to sex. When his wayward younger sister (Carey Mulligan) moves into
his apartment stirring memories of their shared painful past, Brandon's insular
life spirals out of control.
Award Possibilities: If the NC-17 rating does not stop Academy voters, a Best Actor nod may be in Michael Fassbender's future, and possibly one for Carey Mulligan as well. More than likely Shame will dominate the Indie Awards for Directing, Acting, and Screenplay–plus Cinematography.
FilmFracture Review: Shame by Kathryn Schroeder.
New Year's Eve
Synopsis: New Year's Eve celebrates love, hope, forgiveness, second chances and fresh starts, with intertwining stories told amidst the pulse and promise of New York City on the most dazzling night of the year.
Award Possibilities: None; just some holiday fluff. (unless there is an original song somewhere in there)
FilmFracture Review: New Year's Eve by Kathryn Schroeder.
The Sitter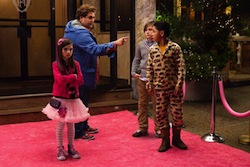 Director: David Gordon Green
Screenplay: Brian Gatewood and Alessandro Tanaka
Starring: Jonah Hill, Sam Rockwell, Ari Graynor, Erin Daniels, Jessica Hecht, Dreama Walker, Landry Bender, Method Man, Max Records, and Kylie Bunbury.
Synopsis: A comedy about a college student on suspension who is coaxed into babysitting the kids next door, though he is fully unprepared for the wild night ahead of him.
Award Possibilities: TBD
FilmFracture Review: The Sitter by James Jay Edwards.
Tinker, Tailor, Soldier, Spy
Director: Tomas Alfredson
Screenplay: Bridget O'Connor and Peter Straughan
Starring: Gary Oldma, Colin Firth, Tom Hardy, John Hurt, Toby Jones, Mark Strong, Ciaran Hinds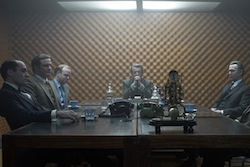 Synopsis: The time is 1973. The Cold War of the mid-20th Century continues to damage international relations. Britain's Secret Intelligence Service (SIS), a.k.a. MI6 and code-named the Circus, is striving to keep pace with other countries' espionage efforts and to keep the U.K. secure. The head of the Circus, known as Control (John Hurt), personally sends dedicated operative Jim Prideaux (Mark Strong) into Hungary. But Jim's mission goes bloodily awry, and Control is forced out of the Circus – as is his top lieutenant, George Smiley (Gary Oldman), a career spy with razor-sharp senses.
Award Possibilities: Best Actor (Gary Oldman), Best Adapted Screenplay, Best Supporting Actor Nods.
FilmFracture Review: Tinker, Tailor, Soldier, Spy by James Jay Edwards.
W.E. (award qualifying limited run)
Director: Madonna
Screenplay: Madonna
Starring: Abbie Cornish, Natalie Dormer, Katie McGrath, Oscar Isaac, James D'Arcy, Richard Coyle, James Fox
Synopsis: The year is 1998, and Manhattan is abuzz with anticipation about the upcoming auction of the estate of the Duke and Duchess of Windsor. But the auction is far more than a diversion for Wally Winthrop (Abbie Cornish), a transplanted Southerner trapped in an unhappy and abusive marriage. Transfixed by the exquisite artifacts of the Windsors' lives, Wally becomes obsessed with the love story of Wallis Simspon (Andrea Riseborough), the chic, charismatic American who captured the heart of King Edward VIII (James D'Arcy). As she learns more about the sacrifices Wallis made in choosing to be with Edward, Wally finds the courage to follow her own heart and create her own happiness.
Award Possibilities: TBD.
FilmFracture Review: Coming Soon…
We Need To Talk About Kevin
Director: Lynne Ramsay
Screenplay: Lynne Ramsay and Rory Stewart Kinnear
Starring: Tilda Swinton, John C. Reilly, Ezra Miller
Synopsis: A suspenseful and gripping psychological thriller, Lynne Ramsay's WE NEED TO TALK ABOUT KEVIN explores the factious relationship between a mother and her son. Tilda Swinton, in a bracing, tour-de-force performance, plays the mother, Eva, as she contends for 15 years with the increasing malevolence of her first-born child, Kevin (Ezra Miller).
Award Possibilities: Best Picture, Best Actress (Tilda Swinton), Best Original Screenplay, Best Actor (Ezra Miller), Best Director.
FilmFracture Review: We Need To Talk About Kevin by Kathryn Schroeder.
Young Adult
Director: Jason Reitman
Screenplay: Diablo Cody
Starring: Charlize Theron, Patrick Wilson, Patton Oswalt, J.K. Simmons, Elizabeth Reaser
Synopsis: Mavis Gary (Charlize Theron) is a successful writer of teen literature who returns to her hometown with a dual mission: to relive her glory days, and steal away her now-married high-school sweetheart (Patrick Wilson). However, her mission does not go exactly to plan, and she finds her homecoming more problematical than she expected. Instead, Mavis forms an unusual bond with a former classmate (Patton Oswalt), who has also found it difficult to move past high school.
Award Possibilities: TBD.
FilmFracture Review:
December 16, 2011
Alvin and The Chipmunks: Chipwrecked
Director: Mike Mitchell
Screenplay: Jonathan Aibel and Glenn Berger
Starring: Jason Lee, Anna Faris, Alyssa Milano, Justin Long, Matthew Gray Gubler, Christina Applegate
Synopsis: Alvin (Justin Long), Simon (Matthew Gray Gubler) and Theodore (Jesse McCartney), along with the Chipettes, become marooned on a not-so-deserted island.
Award Possibilities: None. As fun as the Chipmunks are, these movies are not made for Awards.
FilmFracture Review: <a href="http://www.filmfracture.com/films/alvin_chipmunks_chipwrecked">Alvin and The Chipmunks: Chipwrecked</a> by Kathryn Schroeder
Carnage
Director: Roman Polanski
Screenplay: Yasmina Reza and Roman Polanski
Starring: Jodie Foster, Kate Winslet, Christoph Waltz, John C. Reilly
Synopsis: CARNAGE is a razor sharp, biting comedy centered on parental differences. After two boys duke it out on a playground, the parents of the "victim" invite the parents of the "bully" over to work out their issues. A polite discussion of childrearing soon escalates into verbal warfare, with all four parents revealing their true colors. None of them will escape the carnage.
Award Possibilities: TBD.
FilmFracture Review: Carnage by James Jay Edwards.
Mission: Impossible – Ghost Protocol
Director: Brad Bird
Screenplay: Josh Appelbaum and Andre Nemec
Starring: Tom Cruise, Jeremy Renner, Simon Pegg, Paula Patton, Ving Rhames, and Josh Holloway
Synopsis: Blamed for a terrorist attack on the Kremlin, Ethan Hunt (Tom Cruise) and the entire IMF agency are disavowed by the U.S. government when the president initiates the "Ghost Protocol." Forced to go off the grid and left without resources or backup, Hunt must somehow clear the agency's name and prevent another attack. Complicating matters even more, Ethan must undertake this impossible mission with a group of fellow IMF fugitives whose true motives are suspect.
Award Possibilities: Technical categories only for this one.
FilmFracture Review: Coming Soon…
Sherlock Holmes: A Game of Shadows
Director: Guy Ritchie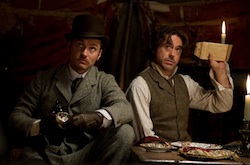 Screenplay: Michael Mulroney and Kieran Mulroney
Starring: Robert Downey Jr., Jude Law, Noomi Rapace, Jared Harris, Rachel McAdams
Synopsis: When Austria's crown prince is found dead, the evidence seems to point to suicide. However, detective Sherlock Holmes (Robert Downey Jr.) deduces that the prince was murdered and that the crime is only a piece of a larger puzzle designed by an evil genius named Moriarty (Jared Harris). Holmes and Watson (Jude Law), accompanied by a Gypsy (Noomi Rapace) whose life Holmes saved, chase Moriarty across Europe in the hope that they can thwart his plot before it can come to fruition.
Awards Possibilities: TBD.
FilmFracture Review: <a href="http://www.filmfracture.com/films/sherlock_holmes_game_shadows</a>Sherlock Holmes: A Game of Shadows</a> by James Jay Edwards
December 21, 2011
The Adventures of Tintin
Director: Steven Spielberg
Screenplay: Steven Moffat, Edgar Wright and Joe Cornish
Starring: Daniel Craig, Jamie Bell, Simon Pegg, Andy Serkis, Toby Jones, Nick Frost, Cary Elwes, and Tony Curan
Synopsis: While shopping at an outdoor market, young reporter Tintin (Jamie Bell), accompanied by his faithful dog, Snowy, buys a model of an old ship called the Unicorn. A shady character named Sakharine (Daniel Craig) and later an American named Barnaby (Joe Starr) ]try to buy the model from him, but Tintin refuses. The lad discovers that the ship contains a clue about a hidden treasure, but before he can locate it, Tintin is kidnapped and given over to the custody of drunken Capt. Haddock (Andy Serkis).
Award Possibilities: Technical categories, and maybe some love in the directing and animation categories.
FilmFracture Review: Coming Soon…
Albert Nobbs
Director: Rodrigo Garcia
Screenplay: John Banville
Starring: Jonathan Rhys Meyers, Glenn Close, Mia Wasikowska, Breandan Gleeson, and Janet McTerre
Synopsis: In 19th-century Ireland, painfully shy butler Albert Nobbs (Glenn Close) hides an incredible secret: he is really a she. Terrified that someone will discover her true identity, Albert keeps a very low profile, until the arrival of Hubert Page (Janet McTeer) registers a sea change in Albert's life. Hubert is also secretly a woman, and has managed to find a partner who helps her maintain her masquerade. Hoping to find a similar arrangement, Albert begins wooing a hotel maid (Mia Wasikowska).
Award Possibilities: TBD.
FilmFracture Review: Coming Soon…
The Girl With The Dragon Tattoo
Director: David Fincher
Screenplay: Steven Zaillian
Starring: Rooney Mara, Daniel Craig, Christopher Plummer, Stellan Skarsgard, Robin Wright, and Joely Richardson
Synopsis: A disgraced journalist and a computer hacker unravel a horrific family history when they investigate the case of a woman who disappeared 40 years ago.
Award Possibilities: TBD
FilmFracture Review: Coming Soon…
December 23, 2011
In The Land of Blood and Honey
Director: Angelina Jolie
Screenplay: Angelina Jolie
Starring: Rade Serbedzija, Nikola Djuricko, Zana Marjanovic, Fedja Stukan, Goran Djuric, and Dolya Gavanski
Synopsis: A Serbian soldier (Goran Kostic) and a Bosnian captive (Zana Marjanovic) find their allegiances becoming uncertain as their nation's brutal ethnic conflict takes its toll.
Award Possibilities: TBD.
FilmFracture Review: Coming Soon
We Bought A Zoo
Director: Cameron Crowe
Screenplay: Cameron Crowe and Aline Brosh McKenna
Starring: Matt Damon, Scarlett Johansson, Elle Fanning, Carla Gallo, Thomas Haden Church, Patrick Fugit, John and Michael Higgins
Synopsis: A single father (Matt Damon) relocates his family to a dilapidated zoo and, with the help of its eclectic staff, works to restore the facility to its former glory.
Award Possibilities: TBD.
FilmFracture Review: Coming Soon…
December 25, 2011
The Darkest Hour
Director: Chris Gorak
Screenplay: Jon Spaihts
Starring: Emile Hirsch, Rachael Taylor, Olivia Thirlby, Joel Kinnaman, Max Minghella, and Dato Bakhtadze
Synopsis: The story of five young people who find themselves stranded in Moscow, fighting to survive in the wake of a devastating alien attack.
Award Possibilities: TBD.
FilmFracture Review: Coming Soon…
Extremely Loud & Incredibly Close
Director: Stephen Daldry
Screenplay: Eric Roth
Starring: Tom Hanks, Sandra Bullock, John Goodman, Max von Sydow, Viola Davis, Jeffrey Wright, and Thomas Horn
Synopsis: Oskar (Thomas Horn), who lost his father (Tom Hanks) in the 9/11 attack on the World Trade Center, is convinced that his dad left a final message for him somewhere in New York City. Upon finding a mysterious key in his father's closet, Oskar sets out in search of the lock that it fits. Feeling disconnected from his grieving mother (Sandra Bullock) and driven by a tirelessly active mind, Oskar's journey takes him beyond his own loss and leads to a greater understanding of his world.
Award Possibilities: TBD.
FilmFracture Review: Coming Soon…
War Horse
Director: Steven Spielberg
Screenplay: Lee Hall and Richard Curtis
Starring: Tom Hiddleston, David Thewlis, Emily Watson, and Peter Mullan.
Synopsis: An epic adventure for audiences of all ages. Set against a sweeping canvas of rural England and Europe during the First World War, "War Horse" begins with the remarkable friendship between a horse named Joey and a young man called Albert, who tames and trains him. When they are forcefully parted, the film follows the extraordinary journey of the horse as he moves through the war, changing and inspiring the lives of all those he meets—British cavalry, German soldiers, and a French farmer and his granddaughter—before the story reaches its emotional climax in the heart of No Man's Land.
Award Possibilities: With a name like Spielberg attached it is a given.
FilmFracture Review: <a href="http://www.filmfracture.com/films/war_horse">War Horse</a> by Anthony Geehan
December 28, 2011
Pariah
Director: Dee Rees
Screenplay: Dee Rees
Starring: Ann Bradley, Joey Carey, Nekisa Cooper, Douglas Eisenberg, and Wendy Ettinger
Synopsis: Adepero Oduye portrays Alike (pronounced "ah-lee-kay"), a 17-year-old African-American woman who lives with her parents (Kim Wayans and Charles Parnell) and younger sister (Sahra Mellesse) in Brooklyn's Fort Greene neighborhood. A gifted student, Alike is quietly but firmly embracing her identity as a lesbian. With the support of her best friend Laura (Pernell Walker), she is especially eager to find a girlfriend. Wondering how much she can confide in her family, Alike strives to get through adolescence with grace, humor, and tenacity.
Award Possibilities: Indie Awards possible.
FilmFracture Review: Coming Soon.
December 30, 2011
The Iron Lady
Director: Phyllida Lloyd
Screenplay: Abi Morgan
Starring: Meryl Streep, Jim Broadbent, Harry Lloyd, Iain Glen, Anthony Head, Olivia Colman
Synopsis: The Iron Lady is a surprising and intimate portrait of Margaret Thatcher (Meryl Streep), the first and only female Prime Minister of The United Kingdom. One of the 20th century's most famous and influential women, Thatcher came from nowhere to smash through barriers of gender and class to be heard in a male dominated world.
Award Possibilities: Is Meryl Streep ever not nominated for an award?
FilmFracture Review: The Iron Lady by Kathryn Schroeder.
A Separation
Director: Asghar Farhadi
Screenplay: Asghar Farhadi
Starring: Peyman Moaadi, Leila Hatami, Sareh Bayat, and Shahab Hosseini
Synopsis: When Nader (Peyman Moaadi), a bank employee, refuses to leave Tehran, his wife, Simin (Leila Hatami) sues for divorce in the hope that she can make a better life for their young daughter abroad. Needing someone to care for his senile father while he's at work, Nader hires Razieh (Sareh Bayat), a married woman whose chador hides her pregnancy. One day, after becoming angry with Razieh, Nader shoves her, and she has a miscarriage, leading Razieh's husband to take Nader to court.
Award Possibilities: Best Foreign Language Film.
FilmFracture Review: A Separation by Tom von Logue Newth.
That does it for the Holiday fare coming to theatres through December 31, 2011. We'll see you in January with the Winter Preview, aka "The Season Where Movies Go To Die". Happy Holidays!