AFI FEST 2012 is nearly upon the filmmaking community and eager moviegoing audiences while the slate of films to be shown at the festival are slowly being announced. It may be the anticipation over this year's, and every year's, AFI FEST that makes it seem like it takes so long to know what is playing, or maybe its just myself and Tom von Logue Newth whom are impatient to cover the festival this year. Either way, AFI FEST is always a great festival to attend, with films from around the world and premieres of some of the biggest films of the Fall/Winter Season–with more than one Oscar contender thrown in for good measure.
AFI FEST 2012 is nearly upon the filmmaking community and eager moviegoing audiences while the slate of films to be shown at the festival are slowly being announced. It may be the anticipation over this year's, and every year's, AFI FEST that makes it seem like it takes so long to know what is playing, or maybe its just myself and Tom von Logue Newth whom are impatient to cover the festival this year. Either way, AFI FEST is always a great festival to attend, with films from around the world and premieres of some of the biggest films of the Fall/Winter Season–with more than one Oscar contender thrown in for good measure.
Below you will find details on the film's being shown at the 2012 AFI FEST as they are announced, plus information on events and panels at the festival as well.
Update October 31, 2012
The festival starts tomorrow, with the premiere of Hitchcock, but that does not mean there isn't more to announce about what wil be happening from November 1-8 at AFI FEST 2012.
Presentations:
SUNSET BOULEVARD Screening: DIR Billy Wilder
With restoration services by Technicolor, be among the first to experience one of Hollywood's most beloved films as it was originally intended. A fitting release to continue Paramount's centennial celebration, Billy Wilder's seminal classic continues to enthrall audiences with its bizarre and tragic tale of Hollywood's dark side. Saturday, November 3, 3:00 p.m., Grauman's Chinese Theatre
LEVI'S® "SHOW US THE WAY" SHORT FILM SHOWCASE:
The Levi's® brand in partnership with AFI FEST and AFI CONSERVATORY are pleased to showcase the finalists in the "Show Us The Way" short film competition for up-and-coming filmmakers. The contest called on prospective filmmakers to submit actionable story treatments for the chance to produce a five-minute short film about a better tomorrow. The finalists of the six films are: Michele Atkins, Alexandra Brodsky, Andrea Giacomini, Jason Harper, the team of Kelly McCrillis and Bill Moldt, and Chris Olness. Wednesday, November 7, 7:00 p.m., Chinese 6
DIRECTOR LESLIE ZEMECKIS IN CONVERSATION:
A panel conversation followed by a screening of the new documentary BOUND BY FLESH. BOUND BY FLESH tells the story of two sisters who, as well as being America's sweethearts in the '30s and '40s and the biggest celebrities of their day, were also Siamese Twins. Here for the first time is the story of their life, a rich history of carnival and circus life, covering early American entertainment from vaudeville, burlesque, sideshows and Hollywood.
Friday, November 2, 1:30 p.m., Chinese 3
POLITICS AND THE POWER OF MUSIC:
A conversation with musician and director Ariana Delawari and producer Yasmine Delawari followed by a screening of their film WE CAME HOME (U.S. Premiere). The story of Afghanistan through Afghan-American artist, Ariana Delawari, who spends ten years traveling between Los Angeles and Afghanistan, documenting her father's homeland through photographs, film and music. When her father is arrested by the very government he's worked so hard to build, Ariana must decide what to do when war and corruption threaten her father's life. Tuesday, November 6, 7:30 p.m., Egyptian Theatre
CONVERSATIONS:
YOUNG HOLLYWOOD ROUNDTABLE
The Los Angeles Times returns with its very popular Young Hollywood Roundtable. Amy Kaufman sits down with four acclaimed young talents – Bella Heathcote (NOT FADE AWAY), Logan Lerman (THE PERKS OF BEING A WALLFLOWER), Aubrey Plaza (PARKS AND RECREATION, SAFETY NOT GUARANTEED) and Mary Elizabeth Winstead (SMASHED) – for a lively, intimate discussion about life behind the scenes, the art of acting and the upcoming award season.
Friday, November 2, 7:30 p.m., Chinese 6
A SESSION WITH THE TALENT BEHIND THE SESSIONS
The Hollywood Reporter peels back the curtain, talking with director/screenwriter Ben Lewin and John Hawkes from one of this year's awards season contenders, THE SESSIONS. Moderated by THR awards columnist/blogger Scott Feinberg.
Sunday, November 4, 1:00 p.m., Cinema Lounge, Hollywood Roosevelt Hotel
SPOTLIGHT
Entertainment Weekly puts a spotlight on Jack Black and his most recent film, BERNIE.
Date, time and location to be announced later this week
ADDITIONAL SCREENING:
FINAL CUT – LADIES & GENTLEMEN: DIR Pálfi György
Pálfi György's "recycled film" is the tale of the ultimate man and the ultimate woman. What are their distinguishing marks? He is charming like Marcello Mastroianni in LA DOLCE VITA. But he's also strapping like Brad Pitt in FIGHT CLUB. He is boyish like Leonardo DiCaprio in TITANIC and devastating like Clark Gable. He is decisive like Sean Connery as James Bond, but also a bit awkward, like Chaplin in MODERN TIMES. And what about the ultimate woman? She is certainly unpredictable and instinctive like Lollobrigida, but she's also graceful and knows how to behave, like Audrey Hepburn. She's girlish, like Audrey Tautou, but cool and distant like Greta Garbo. She is funny and familiar like Julia Roberts, but her smile is like Ava Gardner's. She is divine, like Sophia Loren, and ethereal, like Liv Tyler. The celluloid heroes and heroines of more than 450 movies show us what happens when He meets Her.


Closing Night (November 8, 2012):
Steven Spielberg's Lincoln, starring Daniel Day Lewis, Sally Field, and Tommy Lee Jones, David Strathairn, Jackie Earle Haley, John Hawkes and Hal Holbrook;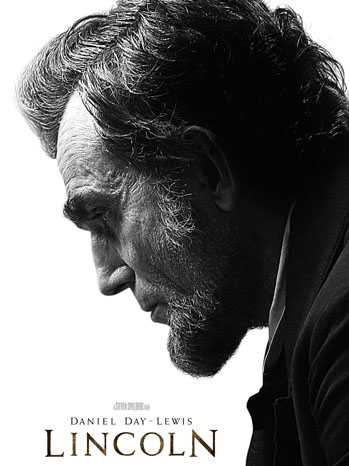 and Joseph Gordon-Levitt, James Spader and Jared Harris. Academy Award-winning composer John Williams scored the film from an original screenplay by Academy Award nominee Tony Kushner based in part on the best-selling book, "Team of Rivals: The Political Genius of Abraham Lincoln
" by noted historian Doris Kearns Goodwin, the revealing drama explores our 16th President's tumultuous final months in office during the Civil War.
I like to refer to Lincoln as the underdog of the season. It has easily been overshadowed by Cloud Atlas, The Hobbit, and (before the release date changed) Baz Luhrmann's The Great Gatsby. Even the new James Bond film Skyfall seems to get more attention than Lincoln. I blame the shrouded secrecy, a synopsis for the film was not readily available until late-August when the first image from the film was released. That image alone should heighten the excitement for the film because Daniel Day Lewis' resemblance to the late President is uncanny. Then the trailer was released and everyone was talking about Lincoln, thank the heavens. I am excited to see all of the BIG movies the new season has in store but Lincoln is the one I am most curious about, as well as eagerly anticipating. It will have its world premiere as the closing night film of AFI FEST 2012 and I am sure every press outlet covering the festival this year will be clawing at getting a ticket to the event–me included.
Opening Night (November 1, 2012):
Hitchcock, starring Anthony Hopkins as Alfred Hitchcock, Helen Mirren as his wife, Alma Reville, Scarlett Johansson as Janet Leigh, Jessica Biel as Vera Miles and James D'Arcy as Anthony Perkins.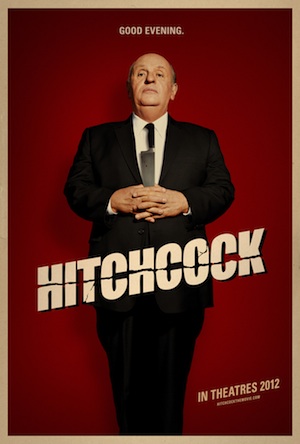 Directed by Sacha Gervasi and also starring Toni Collette, Danny Huston and Michael Stuhlbarg. From a screenplay by John J. McLaughlin, the film is based on the book "Alfred Hitchcock and the Making of Psycho
" by Stephen Rebello. Fox Searchlight Pictures will release the film on November 23, 2012–Happy Thanksgiving movie lovers!
The name says it all with this movie, Hitchcock. It is not a biography of his life, but a glimpse into his life while making the film that would cement him in film history as "The Master of Suspense" and change horror movies forever, Psycho (1960). There has not been a trailer released yet for the film so no one has any idea about the look, tone, or how Sir Anthony Hopkins portrays Mr. Hitchcock in the film. Just as Daniel Day Lewis makes for a striking Lincoln, Anthony Hopkins is not to be overlooked as Hitchcock, and you have to love the humor displayed on the poster. For those who have studied Hitchcock the humor is not lost, Hitchcock had a wicked sense of humor, and a penchant for blondes.
WORLD CINEMA SELECTIONS:
As much as we, and our readers, love American cinema the opportunity to watch films made around the world is what makes a festival like AFI FEST exciting. Many of the films featured this year will have their World and/or North American premieres at the festival. Some will also be so rare this is the only opportunity that will ever come available to view them. Here is the list of the World Cinema selections for AFI FEST 2012:
A ROYAL AFFAIR: DIR Nikolaj Arcel. SCR Rasmus Heisterberg, Nikolaj Arcel. Denmark/Sweden/Czech Republic/Germany.
AMOUR: DIR/SCR Michael Haneke. Austria/France/Germany.
THE ANGELS' SHARE: DIR Ken Loach. SCR Paul Laverty. UK/France/Belgium/Italy. U.S. Premiere.
BARBARA: DIR/SCR Christian Petzold. Germany.
BERBERIAN SOUND STUDIO: DIR/SCR Peter Strickland. UK.
BEYOND THE HILLS (DUPÃ DELAURI): DIR/SCR Cristian Mungiu. Romania/France/Belgium.
BLOOD OF MY BLOOD (SANGUE DO MEU SANGUE): DIR/SCR João Canijo. Portugal.
CAESAR MUST DIE (CESARE DEVE MORIRE): DIR Paolo Taviani, Vittorio Taviani. SCR Paolo and Vittorio Taviani, Fabio Cavalli. Italy.
EVERYBODY IN OUR FAMILY (TOATA LUMEA DIN FAMILIA NOASTRA): DIR Radu Jude. SCR Radu Jude, Corina Sabau. Romania/The Netherlands.
GREATEST HITS (LOS MEJORES TEMAS): DIR/SCR Nicolás Pereda. Canada/Mexico/The Netherlands. U.S. Premiere.
THE HUNT (JAGTEN): DIR Thomas Vinterberg. SCR Tobias Lindholm, Thomas Vinterberg. Denmark.
IN ANOTHER COUNTRY (DA-REUN NA-RA-E-SUH): DIR/SCR Hong Sang-soo. South Korea.
KON-TIKI: DIR Joachim Roenning, Espen Sandberg. SCR Petter Skavlan. Norway/Denmark/United Kingdom.
KUMA: DIR Umut Dag. SCR Petra Ladinigg, Umut Dag. Austria.
LAURENCE ANYWAYS: DIR/SCR Xavier Dolan. Canada/France. U.S. Premiere.
LEVIATHAN: DIR Lucien Castaing-Taylor, Véréna Paravel. UK/USA/France.
LIKE SOMEONE IN LOVE: DIR/SCR Abbas Kiarostami. France/Japan.
OUR CHILDREN (A PERDRE LA RAISON): DIR Joachim Lafosse. SCR Joachim Lafosse, Mathieu Reynaert, Thomas Bidegain. Belgium/France/Switzerland.
PARADISE: FAITH: DIR Ulrich Seidl. SCR Ulrich Seidl, Veronika Franz. Austria/France/Germany.
PARADISE: LOVE: DIR Ulrich Seidl. SCR Ulrich Seidl, Veronika Franz. Austria/Germany/France.
PIETA: DIR/SCR Kim Ki-duk. South Korea. U.S. Premiere.
POST TENEBRAS LUX: DIR/SCR Carlos Reygadas. Mexico/France/Germany/The Netherlands.
REALITY: DIR Matteo Garrone. Italy/France.
THE SAPPHIRES: DIR Wayne Blair. SCR Keith Thompson, Tony Briggs. Australia.
SOMETHING IN THE AIR (APRÈS MAI): DIR/SCR Olivier Assayas. France.
TABU: DIR Miguel Gomes. SCR Miguel Gomes, Mariana Ricardo. Portugal/Germany/Brazil/France.
TEY (AUJOURD'HUI): DIR/SCR Alain Gomis. Senegal.
WAR WITCH (REBELLE): DIR/SCR Kim Nguyen. Canada.
WHITE ELEPHANT: DIR Pablo Trapero. SCR Alejandro Fadel, Martín Mauregui, Santiago Mitre, Pablo Trapero. Argentina/Spain/France. U.S. Premiere.
WRONG: DIR/SCR Quentin Dupieux. France/USA.
ZAYTOUN: DIR Eran Riklis. SCR Nader Rizq. UK/Israel. U.S. Premiere.
BREAKTHROUGH SELECTIONS:
EVERYBODY'S GOT SOMEBODY…NOT ME (TODO EL MUNDO TIENE ALGUIENE MENOS YO): DIR/SCR Raúl Fuentes. Mexico.
KID: DIR/SCR Fien Troch. Belgium. North American Premiere.
THE LAST STEP: DIR/SCR Ali Mosaffa. Iran.
THE MOST FUN I'VE EVER HAD WITH MY PANTS ON: DIR/SCR Drew Denny. USA.
NAIROBI HALF LIFE: DIR David Tosh Gitonga. SCR Serah Mwihaki, Charles "Potash" Matathia, Samuel Munene, Billy Kahora. Kenya/Germany. North American Premiere.
OH BOY: DIR/SCR Jan Ole Gerster. Germany. North American Premiere.
MIDNIGHT SELECTIONS:
ABCS OF DEATH: DIR Kaare Andrews, Angela Bettis, Adrián García Bogliano, Bruno Forzani and Hélène Cattet, Ernesto Díaz Espinoza, Jason Eisener, Xavier Gens, Jorge Michel Grau, Lee Hardcastle, Noboru Iguchi, Thomas Cappelen Malling, Anders Morgenthaler, Yoshihiro Nishimura, Banjong Pisanthanakun, Simon Rumley, Marcel Sarmiento, Jon Schnepp, Srdjan Spasojevic, Timo Tjahjanto, Andrew Traucki, Nacho Vigalondo, Jake West, Ti West, Ben Wheatley, Adam Wingard, Yudai Yamaguchi. USA/New Zealand.
COME OUT AND PLAY: DIR/SCR Makinov. Mexico.
HERE COMES THE DEVIL (AHI VA EL DIABLO): DIR/SCR Adrián García Bogliano. Mexico/Argentina.
JOHN DIES AT THE END: DIR/SCR Don Coscarelli. USA.
YOUNG AMERICANS SELECTIONS:
ALL THE LIGHT IN THE SKY: DIR/SCR Joe Swanberg.
APE: DIR/SCR Joel Potrykus.
ELECTRICK CHILDREN: DIR/SCR Rebecca Thomas.
THE INTERNATIONAL SIGN FOR CHOKING: DIR/SCR Zach Weintraub.
KID-THING: DIR/SCR David Zellner.
ONLY THE YOUNG: DIR Jason Tippet, Elizabeth Mims.
PEARBLOSSOM HIGHWAY: DIR Mike Ott. SCR Mike Ott, Atsuko Okatsuka.
SOMEBODY UP THERE LIKES ME: DIR/SCR Robert Byington.
STARLET: DIR Sean Baker. SCR Sean Baker, Chris Bergoch.
SUN DON'T SHINE: DIR/SCR Amy Seimetz.
TCHOUPITOULAS: DIR Turner Ross, Bill Ross.
NEW AUTEURS SELECTIONS:
AFTER LUCIA: DIR/SCR Michel Franco. Mexico.
ANTIVIRAL: DIR/SCR Brandon Cronenberg. Canada/USA.
CLIP: DIR/SCR Maja Miloš. Serbia.
EAT SLEEP DIE: DIR/SCR Gabriela Pichler. Sweden.
HERE AND THERE: DIR/SCR Antonio Mendez Esparza. Mexico/Spain/USA.
A HIJACKING: DIR/SCR Tobiaas Lindholm. Denmark.
IN THE FOG: DIR Sergei Loznitsa. Germany/Russia/Belarus/The Netherlands/Latvia.
NOT IN TEL AVIV: DIR/SCR Nony Geffen. Israel.
SIMON KILLER: DIR/SCR Antonio Campos. USA.
More on the festival, including purchasing a pass (and I recommend doing this if you can afford it) and free tickets can be found on the festival's website: http://www.afi.com/afifest/.
Kathryn Schroeder, Promotional Materials, 2012, News, Coming Soon, Film Festival, Independent Film, AFI FEST 2012, AFI FEST 2012: Kathryn Schroeder