Over the years, Cinema Fearité has covered plenty of movies that tell their audience what NOT to do, movies such as Don't Look Now, Don't Answer the Phone, Don't Look in the Basement, and Don't Open Till Christmas. And that's not even counting movies like Don't Breathe and Don't Be Afraid of the Dark that are non-Cinema Fearité, regular section reviews here at FilmFracture. Well, there's no shortage of negative commanding horror movies, and this week, we're going to add another one to the pile – the 1982 television movie Don't Go to Sleep.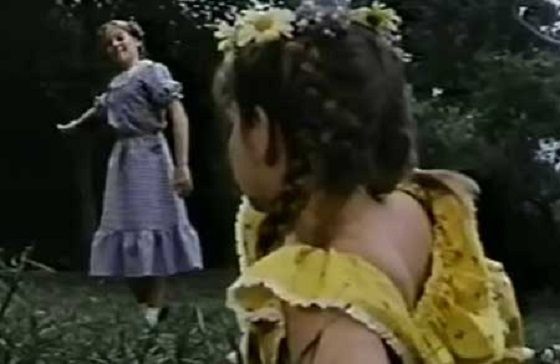 Don't Go to Sleep is about a family that is mourning the loss of one of their children. Dad Phillip (Duel's Dennis Weaver), mom Laura (Valerie Harper from Night Terror), son Kevin (Oliver Robins from Poltergeist), and daughter Mary (Annie's Robin Ignico) hope for a fresh start when they move into a brand new home with grandma Bernice (Ruth Gordon from Rosemary's Baby and Harold and Maude). Things don't go quite as smoothly as they plan, however, because soon after moving in, young Mary starts to see visions of her dead sister, Jennifer (Kristin Cumming from "Silver Spoons"). Although Jennifer seems to come to Mary in love and peace, a series of sinister accidents around the house indicate that her spirit is anything but a friendly ghost.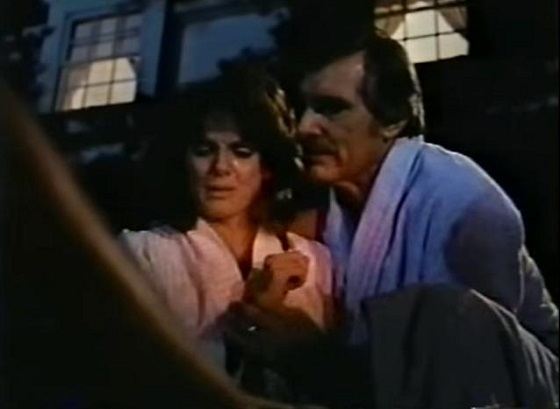 Predictably, Don't Go to Sleep has a very "television movie" vibe to it. The film was directed by Richard Lang, who helmed shows like "Kung Fu" and "Charlie's Angels" before and "Melrose Place" and "Beverly Hills 90210" after, and written by Ned Wynn, who would go on to write the TV movies Holy Joe and Velvet. Both Dennis Weaver and Valerie Harper were bankable television stars at the time of Don't Go to Sleep's release, him having appeared on "Gunsmoke" and "Gentle Ben" and her being a fixture on "The Mary Tyler Moore Show" before starring on her own spinoff "Rhoda." Uber-producer Aaron Spelling ("Fantasy Island," "The Love Boat") even executive produced the movie. But remember, Don't Go to Sleep is from a time when TV movies were allowed to be scary. So, despite its "ABC's Original Movie of the Week" status, Don't Go to Sleep is plenty scary.
The "accidents" that plague the family are supernatural in origin, but only to the viewer; the Final Destination-meets-Witchboard type of incidents seem to just be the results of extremely bad luck to the family. In all cases, the audience is given way more information than the characters, so the slow-build suspense is maddening – the audience sees it coming, but can't do anything except wait and watch. When Kevin climbs up onto the roof to retrieve an errantly tossed Frisbee, you know he's poking the bear. When Phillip relaxes in a bath while listening to a baseball game on a radio that's sitting precariously close to the edge of the full tub, you know he's playing with fire. The tragedies are telegraphed, but that doesn't mean they're not shocking (literally, in Phillip's case).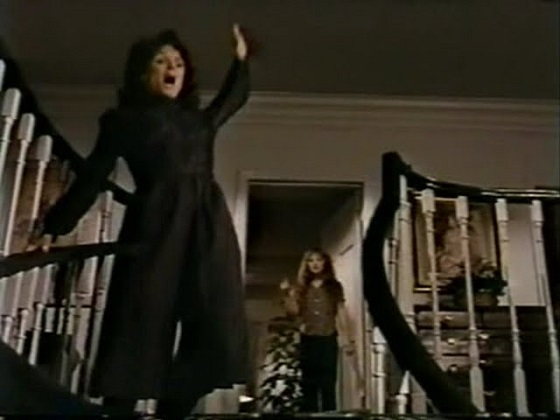 Don't Go to Sleep was shot by veteran television cinematographer Chuck Arnold ("Manimal," "Our House"), and because it's a television movie, the photography is bare-bones and straightforward, relying more on Arnold's creative angles and moody lighting than any expensive post-production effects to be spooky. Since much of the movie is presented from Mary's point of view, Arnold uses low and floor-level angles to emphasize the child-like filter of the narrative. A lot of the film is also reliant on nighttime, under-the-covers and under-the-bed type of stuff, so Arnold masterfully utilizes natural-looking lighting like flashlights and candles to give things a creepy, campfire tale tone. In the case of Don't Go to Sleep, simple is better; Chuck Arnold gets the job done with what he has, and the film looks great because of it.
The score to Don't Go to Sleep was composed by Dominic Frontiere, who, like seemingly everyone else involved with the production, also had an impressive television resume with credits like "The Outer Limits" and "Vega$" to his name. The music for Don't Go to Sleep is standard TV movie fare, with melodramatic horn flourishes and suspenseful string builds that keep the viewer engaged without distracting them too much (it is, however, a TV movie, so there are a few over-the-top musical moments). It's not the type of score that will have viewers rushing out to buy the album, but it helps tell the story and set the mood.
Television movies are often seen as disposable entertainment, especially ones from the seventies and eighties. Don't Go to Sleep has the added disadvantage of a generic-sounding "don't" name that forces it to blend in with the crowd. But, with today's archival technology, retro TV movies like Don't Go to Sleep should be tracked down and seen. Not because they're amazing films, just because they're fun movies.