Synopsis: Two manic depressives meet in a psychiatric hospital and begin a romance that brings out all of the beauty and horror of their condition.
Release Date: February 19, 2016     MPAA Rating: PG-13
Genre(s): Drama, Romance
Film Review

There's a common theory in psychology circles that claims that there is a correlation between bipolar disorder and creativity in artistic types. Kay Redfield Jamison, a clinical psychologist who also happens to be bipolar, wrote a book about it called Touched With Fire. While writer/director Paul Dalio's Touched With Fire does borrow the title, isn't actually based on Jamison's work; it just explores the same themes and ideas.
Touched With Fire stars Katie Holmes (Don't Be Afraid of the Dark) as Carla, a sensitive traditional poet who suffers from bipolar disorder. On the other side of the tracks is Marco (Luke Kirby from Take This Waltz), a street poet who goes by the name Luna and is also manic depressive. When the two meet each other in a treatment facility, they form an instant bond and fall in love. Upon their release, they want to start a life together, but they find that they may have to keep themselves a little crazy to stay in love.
Being bipolar himself, Paul Dalio couldn't help but make Touched With Fire into a somewhat autobiographical film. The details of the story are not from his life, but it's an intensely personal film nonetheless. Touched With Fire is kind of like The Paul Dalio show – not only did he write and direct, but he edited and scored the film as well. It almost seems as if he wants to prove Jamison's book's findings all by himself; maybe bipolar disorder and artistic genius are closely linked.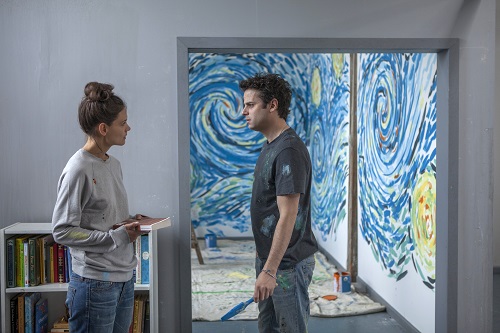 Enough about the filmmaker, what about the movie? Well, Touched With Fire is a quirky little romance. It walks the line quite nicely between lightweight love story and brooding medical drama. Parts of it are filled with sweet comedy and others with dark anger. Yes, the movie seems to be just as bipolar as its characters.
While it is, on the whole, an enjoyable film, Touched With Fire can be difficult at times. Marco is truly a tormented soul, and Luke Kirby absolutely nails his portrayal of the tortured poet. Marco's character arc is frustratingly depressing, because much of his unhappiness is self-inflicted, even when Carla and his family try to help him not sabotage his own success. It's hard to watch, but that's all part of the star-crossed lovers angle that is at the center of the film.
Touched With Fire feels very familiar. Not really in a bad way, it just has a similar vibe to a bunch of other popular movies. It's a bit like what you'd get if Girl, Interrupted, One Flew Over the Cuckoo's Nest, and Infinitely Polar Bear got put into a blender and sprinkled with a little smidge of Bonnie and Clyde. There are even sections of over-exposition that make it feel like a public service announcement or a high school health filmstrip. Whatever the hodgepodge of cinematic styles is, it works, because Touched With Fire is both an engaging and entertaining movie.

As a major work of art that was produced by a bipolar artist, Vincent Van Gogh's "Starry Night" plays an important role in Touched With Fire, and much of the look of the picture emulates that of the painting. Cinematographers Kristina Nikolova (Dalio's wife, who also shot Black & White in Colors) and Alexander Stanishev (who shot Nikolova's first feature, Faith, Love and Whiskey, which Dalio helped write and edit – see, it's all connected) carefully blend the colors from "Starry Night" into the film to visually tell the story. Marco is blue, Carla is yellow, and the colors for both characters burn brighter and bolder during the manic sequences. Likewise, they are toned down and dulled for the depression parts.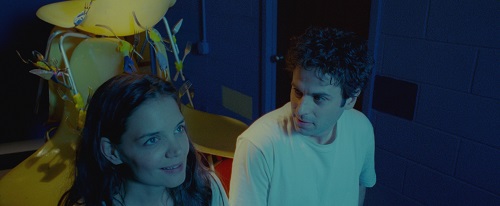 The color palette in Touched With Fire is not the only way that Nikolova and Stanishev illustrate the differences in the mindsets of the characters. During the manic phases, the camera is fluid with movement, using oddball angles and tilting motion to emulate the frenetic, mile-a-minute thinking of Marco and Carla. When they come down, the camera calms down with them, using static shots and more traditional approaches to the photography. The cinematography in Touched With Fire helps define the characters without calling too much attention to itself, and that's genius.
Cast and Crew
Director(s): Paul Dalio
Producer(s): Jeremy AlterKristina NikolovaJason Sokoloff
Screenwriter(s): Paul Dalio
Story: 
Cast: Katie Holmes (Carla)Luke Kirby (Marco)Christine Lahti (Sara) Griffin Dunne (George)Bruce Altman (Donald)Alex Manette (Eddy)Edward Gelbinovich (Nick Quadri)Daniel Gerroll (Dr. Lyon)Patrick Byas (Demonix)Genevieve Adams (Susan)Erick Abbate (Sammy)James Lecesne (Frank)
Editor(s): Paul Dalio
Cinematographer: Kristina NikolovaAlexander Stanishev
Production Designer(s):
Costume Designer: Brenda Abbandandolo
Casting Director(s): Avy Kaufman
Music Score: Paul Dalio
Music Performed By: 
Country Of Origin: USA