Stanley Kubrick is best known for his films 2001: A Space Odyssey (1968), Lolita (1962), The Shining (1980) and A Clockwork Orange (1971), but he always considered his first mature feature film to be the elaborate film noir heist The Killing (1956). Clearly overshadowed by his later works, The Killing is generally viewed as a minor work in Kubrick's oeuvre, but it has served as the blueprint for heist films ever since, greatly influencing contemporary films such as Quentin Tarantino's Reservoir Dogs (1992). Kubrick brought a fresh twist to film noir with the film's non-linear structure overlapping each heist member's perspective of the robbery. The result is a puzzle of a film, full of suspense and an overwhelming sense of doom. As with most elaborate cons, something, if not everything, will go wrong.
The gang's plot is simple enough: steal $2 million from the racetrack during a $100,000 high stakes horse race. The plot's mastermind is former Alcatraz inmate Johnny Clay (Sterling Hayden). With contacts at the racetrack, he plans the robbery to perfection, down to having the favored horse shot to distract from what's going on inside the offices. This perfect heist is irreparably muddled when no less than six men are recruited to see that it goes off without a hitch: Marvin Unger (Jay C. Flippen), who puts up the cost of the operation; Randy Kennan (Ted de Corsia), a corrupt cop; George Peatty (Elisha Cook), a race track cashier; Mike O'Reilly (Joe Sawyer), the racetrack bartender; Nikki Arcane (Timothy Carey), a rifle sharpshooter; and Maurice Oboukhoff (Kola Kwariani), a wrestler who provides another distraction at the bar. The $2 million is so big that these six men agree to the risk for a chance at their cut. Each man takes this risk for his own reasons: Johnny wants to marry his girlfriend Fay (Coleen Gray); Peatty is desperate to win over his unfeeling wife (Marie Windsor); and O'Reilly needs money for his wife's medical bills. These men know only as much of the plot as is necessary to carry out their designated jobs. What could go wrong?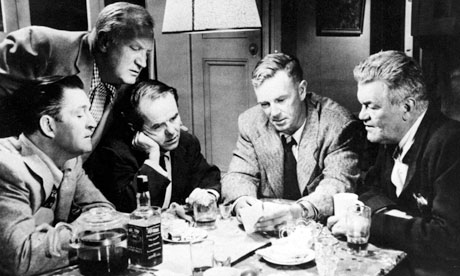 The entire film has an aura of doom surrounding it, in its characters' personal lives as well as the audacious scheme to steal $2 million from the racetrack. Kubrick hints at this in his depiction of human weakness, specifically in the story of George Peatty. George is the embodiment of every weak man ever destroyed by a woman in film. His wife, Sherry, is the epitome of the femme fatale with the cunning of Brigid O'Shaughnessy in The Maltese Falcon and every cold-hearted woman that came after her. In a loveless marriage, George refuses to see how little love his wife has for him. Sherry clearly is embittered by George's unrealized promises of wealth made when the two were first married, but George naively believes that this robbery will impress his femme fatale of a wife. The film's inevitable doom is real and tangible as Johnny and the gang sit around a table at Marvin's apartment. This is perfectly conveyed courtesy of cinematographer Lucien Ballard's use of single-source lighting that turns interiors into stark, claustrophobic spaces. Surrounding the lit table and faces of the gang, the background is blacker than black shrouding them in oppressive darkness. This transforms the meetings in Marvin's apartment into an extension of the robbers' suffocating, tense lives ahead of the heist.
The most defining aspect of Kubrick's film is its non-linear structure. Each gang member's story is told individually, from their personal lives to their actions during the heist. As a result, the film jumps back and forth chronologically and shows the racetrack heist from each perspective. With each character falling into place completing their individual tasks, extreme tension mounts. Will the robbery succeed or fall apart because of a slight misstep? This tension is heightened by Kubrick's inclusion of a passionless narrator – Art Gilmore, a veteran radio announcer who would have been recognized by audiences as the announcer in "The Red Skelton Show" and "Dragnet". The narrator navigates the audience through the convoluted and overlapping stories of each gang member, a necessity for audiences unused to non-chronological films. His exact narration hones in on and counts down to the most important time in the film: 4 P.M., the starting time of the $100,000 horse race.
Johnny Clay in his clown mask does ultimately succeed in stealing the $2 million unnoticed, but the payout meeting ends in bloody ruin thanks to a greedy woman. The Killing only features two female roles – meek George Peatty's wife, Sherry Peatty, and Johnny's girlfriend, Fay. They represent the classic noir dichotomy of the nurturing woman versus the cold-hearted femme fatale. Fay has waited for Johnny, waited even while he serves time in Alcatraz and only wants to marry him. Sherry, on the other hand, seems to have never loved her husband and carries on an affair with Val (Vince Edwards) behind George's back. She is only interested in money, which she will never have in her lower-middle class marriage to George. It is George, however, who dooms this elaborate plot by letting slip that he may soon come into a lot of money. Sherry's greed ensures that she hatches a plan with Val to steal the entire racetrack take from underneath George's gang. That is how all the gang members, waiting for Johnny to bring the money, are found by Val. When George realizes his wife is to blame, he pulls a gun and everyone opens fire.
Much of noir is based around punishment for the wicked and a semblance of justice for those not completely morally bankrupt. Sherry's double-crossing plot with Val ends in the death of everyone involved in the racetrack heist except Johnny and George. After the bloodbath with Val, George has been shot but manages to make his way home to Sherry who is packing to run away with Val and the money. Still holding his gun, George carries out the punishment for the film's unforgivable femme fatale and immediately dies. That leaves only Johnny who makes his way with Fay to the airport. The film's inevitable doom has reared its head. Everyone else involved in the scheme is dead. At this point, it would be easy enough to have Johnny caught with the money and unceremoniously shot. Kubrick handles the situation differently and leaves us with a morally ambiguous ending. On the runway, Johnny's suitcase full of money spills open, losing every dollar to the plane's powerful jet engines. Kubrick's The Killing could be seen as just a bad joke without a punch line, but's it's not. In the final scene when Johnny and Fay try to make their getaway, two plainclothes policemen head straight for them. Fay urges Johnny to run, but Johnny is utterly defeated. As the last surviving member of the heist gang and out every penny of the $2 million, whether he escapes to freedom or is caught now, what's the difference?
You wouldn't expect the few men who joined in the heist for relatively selfless reasons to die unmercifully in a shootout. Not all of The Killing's characters are cold and unlovable, but the gruesome murders of George Peatty and bartender Mike O'Reilly make it an even darker film and a thoroughly compelling noir. The mastermind of the entire plot, Johnny, does not meet the same bloody end as his henchmen, but he does lose all the money and return to Alcatraz. Even with that punishment, there is a tangible disconnect between prison and suffering the consequences of more or less causing the death of eight people. Thus, in creating a non-chronological and edgy crime noir, Kubrick added new style to the genre with an even darker and demented tone.