Frank Herbert's Dune is generally thought of as essential reading in science fiction literature. In 1984, the epic novel was adapted by director David Lynch (Blue Velvet) into a lumbering, disastrous movie. Ten years earlier in 1975, however, another movie adaptation of Dune was in the works, one that had been meticulously planned and prepared by Chilean cult film director Alejandro Jodorowsky (Holy Mountain), only to have funding fall apart before a single shot could be filmed. This unrealized version of Dune is explored in great detail by documentarian Frank Pavich (N.Y.H.C.) in his new film, the appropriately titled Jodorowsky's Dune.
The story of Jodorowsky's Dune is an incredibly fascinating one. The list of artists that Jodorowsky had enlisted in his quest to film the unfilmable reads like a veritable dream team; comic book artist Jean "Moëbius" Giraud did the storyboards, science fiction illustrator Chris Foss worked up vehicle and character design, and surrealist H.R. Giger contributed set designs. The special effects were to be provided by Dan O'Bannon, the genius behind John Carpenter's Dark Star. Jodorowsky wanted a different musical style for each planet in the film, and recruited groups such as Pink Floyd and Magma for the soundtrack. The cast was to include an eclectic mix of actors, artists, and musicians such as David Carradine, Salvador Dalí, Mick Jagger, Orson Welles, and Jodorowsky's son, Brontis. It was a mighty congregation of hearts and minds.
It was also ambitious. Jodorowsky's vision would have resulted in a film that lasted over twelve hours. Jodorowsky's Dune tells its tale through interviews with Jodorowsky, producer Michel Seydoux, and just about every other living participant in the preproduction of Jodorowsky's vision. While most of the interviews are very matter-of-fact and incidental, Jodorowsky himself is still very passionate about the project, and the viewer can sense that the entire experience is still fresh in his mind, even 40 years after the fact. He also still seems to believe that his Dune would have been the most important piece of art in the history of mankind, claiming that it would have "changed the world." And he may be right about that.
The coolest sections of Jodorowsky's Dune are the handful of times when Frank Pavich animates Jodorowsky's storyboards, giving the viewer an idea of what the film would have looked like. Jodorowsky's first shot was going to be a single take that would propel the audience through the entire galaxy, flying past stars and asteroids, black holes and spaceships, until they finally reach the planet on which the action starts. Using Jodorowsky and Moëbius' illustrations, Pavich is able to create a crude animation of how the shot would have gone, and it's pretty amazing. There are other scenes where Pavich does the same thing, showing the viewer little bits and pieces of Jodorowsky's vision. It's really fun to see, but it's also a bit frustrating because it gives a glimmer of what could have been; the world was robbed of a pretty seminal science fiction film.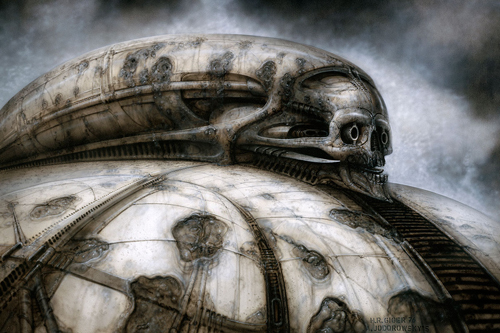 Although Jodorowsky never got to make his vision of Dune, the project still had legs. By Seydoux's estimation, every studio in Hollywood had a copy of Jodorowsky's storyboard/script book and, within a couple of years, bits of Dune started sneaking into other films. Whether by theft or by repurposing (Dan O'Bannon wrote the screenplay for Alien, and he brought Giger, Moëbius, and Foss along as his design team), pieces of Jodorowsky's planned film ended up in everything from Star Wars to Contact. Surprisingly, Jodorowsky doesn't seem bitter about it; in fact, he says that he would still love to see Dune made his way, even if it's not by him. Unfortunately, if Jodorowsky's version of Dune were ever made, it would probably just look like a rehashing of everything that rehashed it.