When people think of Christmas horror movies, it's the killer Santa movies that come to mind, movies like Silent Night, Deadly Night (and its reboot Silent Night), Christmas Evil, and To All a Goodnight. However, there are plenty more Christmas horrors, and not just silly ones like Jack Frost and The Gingerdead Man. In 1974, the original Christmas slasher, Black Christmas, was born.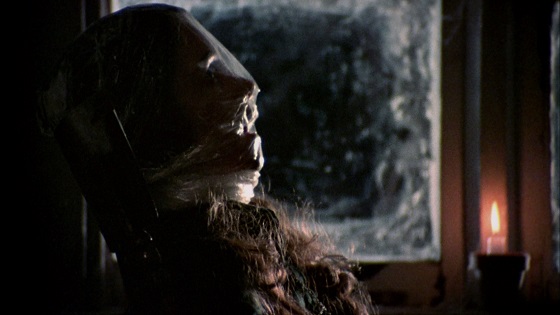 Black Christmas is about a sorority house that is emptying out for the Christmas break. Most of the girls are going home for the holidays, leaving just a handful of girls in the house alone with the house mother, Mrs. Mac (Marian Waldman from Phobia and Deranged: Confessions of a Necrophile), including Barb (Superman's Margot Kidder), Clare (Dream House's Lynne Griffin), Phyllis (Andrea Martin from "SCTV"), and Jess (Olivia Hussey from Romeo and Juliet). While Barb argues with her parents and Jess fights with her boyfriend Peter (Keir Dullea from 2001: A Space Odyssey), the house starts to receive a continuous barrage of obscene phone calls that scare the girls. When Clare goes missing, the gals realize that they are being stalked and hunted by a maniac who wants to do more than just talk dirty to them.
Aside from the time of year during which it takes place, Black Christmas doesn't really have all that much to do with Christmas, but it does have a solid Yuletide pedigree; it was directed by Bob Clark, who also made the classic A Christmas Story (you know, of "You'll shoot your eye out!" fame). The versatile director had a couple of previous horror films under his belt (Children Shouldn't Play with Dead Things and Deathdream), but Black Christmas would represent Clark's final fright flick, the filmmaker instead choosing to devote his career to comedies such as Porky's and Baby Geniuses in the years and decades that followed. Nevertheless, working from a script by Roy Moore (She Cried Murder, The Last Chase) that was inspired by both a real-life news story and a classic urban legend, Clark managed to provide a blueprint that would influence an entire subgenre of horror when he made Black Christmas.
The roots of many of the standard tropes of the slasher movie can, at least partially, be found in Black Christmas, and not just because it focuses around a specific holiday. Bob Clark lays the groundwork for the character archetypes of the slasher movie, from the final girl and her useless boyfriend to the slutty friend and the clueless adult supervisor. Black Christmas also makes liberal use of the "killer POV" shot, showing the action through the murderer's eyes, and it did it a good four years before John Carpenter would shoot his iconic opening scene to Halloween. The frightened sorority girls would also become a horror stereotype in the years to come, as would the threatening phone calls that they receive and the (SPOILER ALERT) location from which they originate. Finally, Black Christmas even features a character who dons a hockey mask a good six years before Jason Voorhees would make it menacing. Black Christmas reads like a roadmap for the golden age slasher.
Another way that Black Christmas was ahead of the curve horror-wise can be found within its cast. Seemingly every member of the ensemble went on to horror movie greatness, some even becoming icons. Black Christmas had Margot Kidder before The Amityville Horror, Olivia Hussey before It, Keir Dullea before The Haunting of Julia, and Lynne Griffin before Curtains. Also appearing in supporting roles were John Saxon from A Nightmare on Elm Street and Tenebre, Art Hindle from The Brood and Invasion of the Body Snatchers, and Les Carlson from, well, just about every classic Cronenberg movie like Videodrome, The Dead Zone, and The Fly. When Black Christmas would be remade in 2006, a familiar face also returned for that; Andrea Martin, who played Phyllis in 1974, would take on the role of Ms. Mac. Black Christmas is a veritable cornucopia of future horror stars.
There is very little noticeable music in Black Christmas, but what is present is suitably creepy. Composer Carl Zittrer (Body Parts, Prom Night) creates eerie soundscapes that are more akin to sound effects than music by sticking hardware and silverware into the strings of his piano to distort the sound. The recordings themselves are warped as well, with Zittrer playing back the sounds at different speeds from which they were recorded. Even the merry tones of door-to-door Christmas carolers are made spooky when run through the Black Christmas sound filters.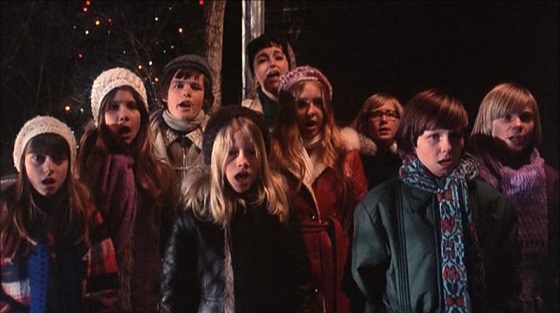 When it comes to golden age slasher movies, it's easy for each of them to claim that they did something first. But, in the case of Black Christmas, that claim is probably true.