Synopsis: An ex-hitman comes out of retirement to track down the gangsters that took everything from him. With New York City as his bullet-riddled playground, John Wick (Keanu Reeves) is a fresh and stylized take on the "assassin genre".
Release Date: October 24, 2014     MPAA Rating: PG-13
Genre(s): Action, Thriller
Film Review

Keanu Reeves (The Matrix) stars as the title character in John Wick, a retired hit-man whose wife dies from a debilitating disease. Knowing that she is near the end, John's wife makes arrangements for a beagle puppy named Daisy to be sent to him after her death to help him grieve. John accepts the dog as a symbol of his wife's posthumous love, and he tries to get on with his life. One night, however, a Russian punk named Iosef Tarasov (Alfie Allen from "Game of Thrones") breaks into John's house, steals his 1969 Mustang, and, worst of all, he kills the puppy. When Iosef's father, a powerful crime boss named Viggo (Europa Report's Michael Nyqvist), finds out what his son has done, he is justifiably scared; John Wick is a legendarily brutal hit-man, the man that clients would call when they need someone to "kill the boogeyman." Viggo takes out a contract on John, but John has already put his plan for revenge into motion.
John Wick really is just an excuse for director Chad Stahelski (who did second unit direction for The Hunger Games: Catching Fire and Sherlock Holmes: A Game of Shadows) to shoot a bunch of kick-ass fight scenes. The screenplay, written by Derek Kolstad (The Package), is a standard point-A-to-point-B revenge story with little deviation from the norm. Luckily, the target audience for John Wick is not going to care that it's just a bunch of action sequences that are weakly held together by a thin plot. In fact, they probably prefer it that way; story just gets in the way of the killing. And there's a ton of killing.
Narratively speaking, John Wick is full of problems. The characters are completely stock. It has a decent cast, even attracting some big-name actors who are slumming it (Willem Dafoe from The Grand Budapest Hotel and Adrianne Palicki from "Friday Night Lights" both play fellow hit men), but there is little opportunity to show off any real acting chops. Even Keanu Reeves' lead character is not sympathetic at all. Even though his wife and dog are dead, John does nothing to make the audience feel any connection to him; he's only the hero of the movie because of all of the terrible things that have happened to him, without that, he's just as big of a jerk as the people that he's fighting and killing. His circumstances do give the character the unique chance to utter the line "you stole my car and you killed my dog," so there's that. Still, there's no emotional investment on the audience's part in John Wick; it's all adrenaline.
In the end, John Wick accomplishes what it sets out to do; it's a fun popcorn movie. There's nothing of substance, and it really isn't anything that audiences haven't seen before. Still, it gets in, it gets out, and it gets it done. For a martial arts shoot-em-up, it could be a lot worse. But, it could also be better.

The music in John Wick is a slick combination of dirty blues and hardcore trance. The soundtrack was composed by Tyler Bates (who has done most of Rob Zombie's movies) and Joel J. Richard (who cut his teeth scoring television shows like "True Blood" and "Pretty Little Liars"), and it both captures and creates the type of energy and electricity that a stunt-based fight movie should have. Much of the guitar-oriented score seems to be built around a piece called "Killing Strangers" that was written and performed by Bates and industrial rock star Marilyn Manson. Some of the more techno-sounding music is provided by electronic dance music DJ Le Castle Vania, and those pieces make the nightclub scenes come to life. It sounds like an eclectic mix of music, and it is, but all of the compositions fit together well and augment the John Wick cinematic experience.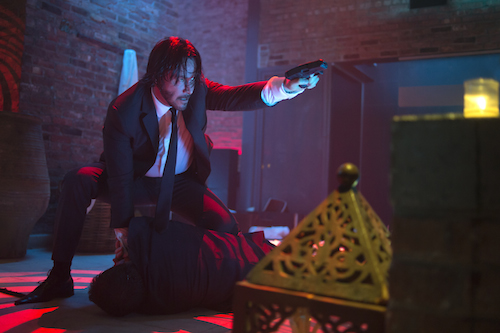 The biggest strength in John Wick lies within its action sequences. Both director Chad Stahelski and second unit director David Leitch (Hansel & Gretel: Witch Hunters) have extensive backgrounds in stunt coordination, and their collective experience shows in John Wick's fight scenes. John shoots, stabs, punches, and kicks his way through dozens of would-be assassins, and every fight is painstakingly choreographed. Lots of guys get tossed off of buildings and thrown out windows, too, and it all looks convincing enough to force the audience to grunt and groan along with their pain. The fighting is fast-paced and high-octane, but it also lets up just long enough to dispel a few critiques of action movies; John stops frequently to reload his guns, and he sees a doctor in between fights to stitch up his wounds. The film doesn't do away with all action movie weaknesses, however; John still shoots inconsistently, hitting no-name red-shirt fighters with pinpoint accuracy while missing his true intended target, an unarmed wimp running naked through a bathhouse. But, that's Hollywood. The fight scenes in John Wick are still well worth the price of admission.
Cast and Crew
Director(s): David Leitch
Producer(s):
Screenwriter(s): Derek Kolstad
Story: 
Cast: Keanu Reeves (John Wick)Michael Nyqvist (Viggo Tarasov)Alfie Allen (Iosef Tarasov) Willem Dafoe (Marcus)Adrianne Palicki (Ms. Perkins)Dean Winters (Avi)
Editor(s):
Cinematographer: Jonathan Sela
Production Designer(s):
Costume Designer: 
Casting Director(s): 
Music Score: Tyler Bates
Music Performed By: 
Country Of Origin: USA