Synopsis: Ballerina Dominika Egorova is recruited to 'Sparrow School' a Russian intelligence service where she is forced to use her body as a weapon. But her first mission, targeting a CIA agent, threatens to unravel the security of both nations.
Release Date: March 2, 2018     MPAA Rating: PG-13
Genre(s): Mystery, Thriller
Film Review

Red Sparrow stars Jennifer Lawrence (The Hunger Games, Passengers) as Dominika Egorova, a Russian Bolshoi ballerina who, due a combination of a dance injury, a sick mother, and an unscrupulous Uncle (A Bigger Splash's Matthias Schoenaerts), finds herself enrolled in a training program to turn her into a "Sparrow" – a sex spy who uses their body to secure information and intelligence for the state. Her first assignment is to compromise an American C.I.A. agent named Nate Nash (Joel Edgerton from It Comes at Night and The Gift) and learn the name of a Russian mole with whom he has been working. Nate discovers Dominika's plan quickly enough, but develops feelings for her and believes that he can recruit her to work for the Americans. But how much of Nate's instincts are true, and how much is just Dominika doing her job?
The script for Red Sparrow was adapted by screenwriter Justin Haythe (A Cure for Wellness) from a novel by former C.I.A. operative Jason Matthews. Director Francis Lawrence, who directed Jennifer Lawrence in The Hunger Games: Catching Fire as well as in both Mockingjay movies, brings a distinct visual style to the film, but it is, at its root, a typical espionage thriller. It's a tight mystery, full of intrigue and tension, and it's packed with twists and turns that, although sometimes contrived and convenient, always keep the viewer guessing. It's never clear as to who is playing who in the cat-and-mouse game, and that's exactly how it should be in a good spy movie. Nothing should ever be as it seems. And in Red Sparrow, it isn't.
Red Sparrow is going to draw obvious comparisons to last year's Atomic Blonde, and there are some definite similarities between the two movies. But, whereas Atomic Blonde was more of an ass-kicking action movie, Red Sparrow is more seductive and cerebral. There are a handful of action scenes, and they are handled nicely, but the overall vibe of Red Sparrow is closer to that of Tinker Tailor Soldier Spy than to that of John Wick. It's a smartly made movie, and while it may not be as much fun to watch as Atomic Blonde, it's more of a highbrow ride.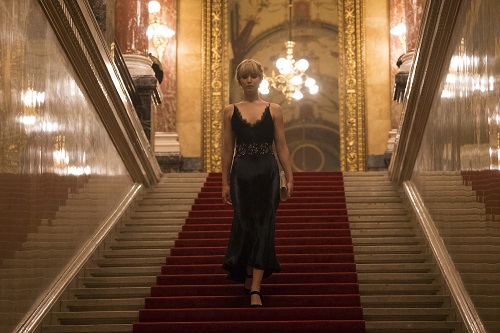 Honestly, it would be very easy to spoil Red Sparrow, and it is the type of movie that is best experienced with fresh eyes so that all of the surprises can be, well, surprising. So, if this review seems a little short, that's why. Rest assured, Red Sparrow is well worth the two-hours-and-twenty-minutes. It's sleek, sexy, and suspenseful, and once it grabs the viewer's attention, it doesn't let go of it until the final frame.

For as accomplished as the cast is, the biggest knock on Red Sparrow is with the acting. It may actually be a bigger knock on the direction, but the Russian characters are all stereotypes, including the heroine Dominika (and we expect so much more from J-Law). Of course, in a movie made primarily for American audiences, Francis Lawrence couldn't have his actors speaking Russian with subtitles the whole time, but the Russian characters all speak with silly Boris Badenov and Natasha Fatale accents that, while perfect for a campy parody like Top Secret, are distracting in a serious movie like Red Sparrow. If one can get past the accents, the performances are above average, but the cartoony speech patterns are a big hurdle.
The support cast is full of big names, and they all do very well to support Lawrence and Edgerton in the leads. Jeremy Irons (High-Rise), who plays the high-ranking General who gives Dominika her orders, is probably the most convincing Russian character in the film. Joely Richardson (Event Horizon) is equally satisfying in her role as Dominika's sick mother. Charlotte Rampling (45 Years, Orca) is great to see in her limited screen time as Dominika's Sparrow instructor as well. On the American side, Mary-Louise Parker (R.I.P.D.) shines in her pair of scenes as a politician's aide, and Bill Camp (Compliance) is the character you love to hate as Nate Nash's C.I.A. backup. It's a star-studded cast in Red Sparrow, and they're all great – once the audience gets used to the hacky Iron Curtain vocalizations.
Cast and Crew
Director(s): Francis Lawrence
Producer(s): Peter CherninDavid ReadyJenno ToppingSteven Zaillian
Screenwriter(s): Justin Haythe
Story: Jason Matthews
Cast: Jennifer Lawrence (Dominika Egorova)Joel Edgerton (Nate Nash)Matthias Schoenaerts (Vanya Egorov) Charlotte Rampling (Matron)Mary-Louise Parker (Stephanie Boucher)Ciarán Hinds (Zakharov)Joely RIchardson (Nina Egorova)Bill Camp (Marty Gable)Sakina Jaffrey (Trish Forsyth)Thekla Reuten (Marta)Douglas Hodge (Maxim Volontov)Jeremy Irons (General Korchnoi)
Editor(s): Alan Edward Bell
Cinematographer: Jo Willems
Production Designer(s):
Costume Designer: Trish Summerville
Casting Director(s): Denise ChamianZsolt CsutakPriscilla John
Music Score: James Newton Howard
Music Performed By: 
Country Of Origin: USA