Synopsis: Laura and her son Henry are forced to drive her estranged, pot-dealing, carefree father Jack across country after being kicked out of a nursing home.
Release Date: June 29, 2018     MPAA Rating: PG-13
Genre(s): Comedy, Drama
Film Review

Boundaries is about a flakey animal lover named Laura Jaconi (The Conjuring's Vera Farmiga) whose estranged father, Jack (Christopher Plummer from All the Money in the World), gets kicked out of his nursing home. Arrangements are made for him to stay with Laura's sister, JoJo (Kristen Schaal from "Bob's Burgers"), but he doesn't want to fly from his home in Seattle to hers in California. So, Laura and her weirdo son, Henry (Lewis MacDougall from A Monster Calls), agree to drive him down the coast, with a carful of Laura's rescue dogs in tow. Jack has an ulterior motive for wanting to drive, however; he plans to deal weed the entire way, which explains his frequent stops to visit "friends." And when Laura untangles Jack's deceptions, she realizes why they were estranged in the first place.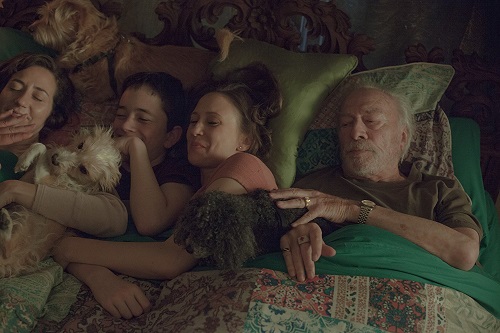 Written and directed by Shana Feste (the filmmaker behind the Endless Love remake), Boundaries was inspired by actual road trips that the filmmaker took with her father, but it can't really be called autobiographical (although her father, who passed away last year, does appear in the movie, as does her real-life dog). Unlike Laura, Feste relished the drive time with her father.
So, Boundaries is essentially a road movie where the journey is far more important than the destination. Unfortunately, try as they might, the characters have no arcs. The Laura at the end of the film is exactly the same Laura that is at the beginning, and the same can be said about Jack. Sure, their relationship goes through its ups and downs along the way, but neither character gives an inch, so any resolution that is found is purely coincidental. The movie is just a series of madcap situations. And they're not even really all that madcap.
Boundaries really wants to be a family discovery movie. It tries to be sweet and meaningful, but it fails at it. There are moments of love, just as there are moments of anger, moments of humor, and moments of sadness. But honestly, it's not the emotional rollercoaster that it could have been. Hell, it's not even the road trip movie that it could have been. It's just another forgettable indie movie that is destined for multiple late night cable airings.

For what it's worth, the cast and performances in Boundaries are good. Vera Farmiga and Christopher Plummer are both consummate professionals, and they do the best they can with the story and the script. Lewis MacDougall plays a great "weird kid." And Jack's customers up and down the coast are played by one-sceners like Back to the Future's Christopher Lloyd and Easy Rider's Peter Fonda (in the wake of his controversial Barron Trump remarks).
The best scene in the film, however, comes during a stop on the road trip at Laura's ex-husband's house. The ex is played by Bobby Cannavale (I, Tonya), and he and Farmiga share a heated conversation about their past and present relationship that turns into one of the most memorable moments in the movie. It's easily the best written scene, and it's probably the best acted, too. But alas, the whole movie isn't as compelling as that one scene, and as heroically as it tries, the good acting isn't able to save Boundaries from itself.
Cast and Crew
Director(s): Shana Feste
Producer(s): Chris FergusonBrian Kavanaugh-Jones
Screenwriter(s): Shana Feste
Story: 
Cast: Vera Farmiga (Laura Jaconi)Christopher Plummer (Jack Jaconi)Lewis MacDougall (Henry) Christopher Lloyd (Stanley)Yahya Abdul-Mateen II (Serge)Kristen Schaal (JoJo Jaconi)Bobby Cannavale (Leonard)Peter Fonda (Joey)Dolly Wells (Sofia)
Editor(s): Marie-Hélène Dozo
Cinematographer: Sara Mishara
Production Designer(s):
Costume Designer: Ariana Preece
Casting Director(s): Justine ArtetaKim Davis-WagnerKara Eide
Music Score: Michael Penn
Music Performed By: 
Country Of Origin: USACanada