Synopsis: On the anniversary weekend of the death of a young women's husband, five girls head out to a cabin to help their friend move past her husband's death. As the party continues a dark secret begins to unravel and a hideous past crawls out to seek revenge.
Release Date: September 1, 2015     MPAA Rating: PG-13
Genre(s): Horror, Thriller
Film Review

It should be easy to make a horror movie these days. Just cast a bunch of kids, got out to the woods, and pretend to kill them off. The formula has been working for decades, from Friday the 13th to The Cabin in the Woods, from The Evil Dead to, well, Evil Dead. How hard can it be? Well, judging by director Collin Joseph Neal's Run, Hide, Die, it's a lot harder than it looks.
Run, Hide, Die takes place on the anniversary of the death of the husband of a young woman named Addison Davenport (Alison Monda, who also wrote the screenplay). To clear her mind, Addison gathers up a group of girlfriends and heads to a cabin in the mountains for a weekend. Once there, the gals find themselves being stalked by a psychopath who is intent on ruining their weekend of fun.
Yeah, that's pretty much it. Well, there's more to it, but saying more would spoil it, and besides, anyone who has seen any horror movies from the last 35 years can probably fill in the blanks. It's got so much of the typical slasher-in-the-woods stuff (The phone lines are cut! Someone's outside the tent!), that one might initially think that it was a sendup or a parody of the genre á la Tucker and Dale vs. Evil or Scream, but alas, Run, Hide, Die is trying to be a serious film.
At times, it seems as if Run, Hide, Die is a cheap attempt to be another The Descent, with the entire core cast being female and empowered and all. The difference is, and it's a big one, that the characters in The Descent were capable, independent women. The gals in Run, Hide, Die are typical slasher victims – bubbleheaded bimbos who would rather scream than fight. Any traces of feminism that may have wandered into the plot are lost when the line "your choice of whiskey is about as cheap as your c*nt!" is uttered. And once the murderer is unmasked, the film devolves into an annoying cry-fest, with too many women freaking out way too much for far too long for anyone to be able to follow along.
At this point, this review would usually point out that Run, Hide, Die clocks in at a brisk 75 minutes, so the good news is that it's over quickly, but even at that short running time, the movie feels long. There's really nothing in Run, Hide, Die that hasn't been done before, so there's really nothing special about it. It's just a disposable 21st century slasher.
A little internet sleuthing reveals that Run, Hide, Die was actually made in 2012 as The Anniversary after a successful kickstarter campaign. It looks as if the film had a little festival run, but it's unclear as to why the name was changed for the recent home video and theatrical release. Maybe the producers wanted to distance themselves from the crowdfunded method of moviemaking? Or maybe they were trying to take a page out of the old B-movie book and get more mileage out of the film, fooling audiences into seeing it twice? Or, maybe, they just realized that Run, Hide, Die is a better title than The Anniversary? Whatever the reasoning behind the switch is, it doesn't help the movie; it's still pretty bad.

There's nothing even remotely scary about Run, Hide, Die. The setup is one that has been done to death, and it's not even done well, so there's no shock value there. The body count is relatively low and slow to develop, so while there are a couple of gruesome torture things that happen, it's not enough to really get into the viewer's head or under their skin. Sure, there's plenty of fear on the screen among the characters, but that fear does not translate to the audience in the slightest; the gals do so much melodramatic sobbing and shrieking that the viewer just wants it to be over so the incessant racket will mercifully stop. Run, Hide, Die tries to toss in cheap jump scares, brutal gross-outs, and subliminal creepiness, but none of it is executed well enough to be effective, so the movie just ends up being irritating.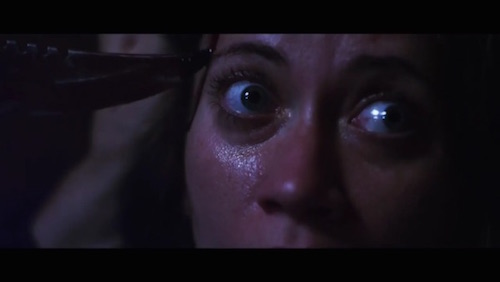 Cast and Crew
Director(s): Collin Joseph Neal
Producer(s): Collin Joseph NealErin Neal
Screenwriter(s): Alison Monda
Story: Alison Monda
Cast: Alison Monda (Addison Davenport)Alicia Mendez (Indy Knox)Ivey Bronwen (Ariel Jackson) Tabitha Bastien (Gina Fisher)Keiko Green (Billy Reid)Gail Harvey (Janet Nace)Nathan Christopher Haase (Alex Nace)Philip D. CLarke (Jim Nace)Ronee Collins (Officer Jett)Julianne Gabert (Dr. O'Neil)
Editor(s): Jason Vo
Cinematographer: Alan Certeza
Production Designer(s):
Costume Designer: 
Casting Director(s): Alison MondaErin Neal
Music Score: Matt Menovcik
Music Performed By: 
Country Of Origin: USA