Synopsis: An inspector hunts down Nobel Prize-winning Chilean poet, Pablo Neruda, who becomes a fugitive in his home country in the late 1940s for joining the Communist Party.
Release Date: December 16, 2016     MPAA Rating: PG-13
Genre(s): Biography, Drama
Film Review

This month, Chilean filmmaker Pablo Larraín has two movies opening in America. The more high-profile one is the Oscar-bait Natalie Portman vehicle Jackie. The more personal project is Neruda.
Neruda is about Pablo Neruda (Luis Gnecco from Much Ado About Nothing), the famous Nobel Prize-winning poet who became a senator for the communist party in his home country of Chile. When Communism is outlawed, Neruda goes on the run with his wife, Delia (Mercedes Morán from "Guapas"). An inspector named Óscar Peluchonneau (Y Tu Mamá También's Gael Garcia Bernal) is ordered to track him down, but the entire country seems to be helping him hide, and Neruda himself seems to be enjoying the chase, encouraging his pursuer through notes and messages. With Neruda always a step ahead of him, Peluchonneau starts to embrace the cat-and-mouse game that is being played with him.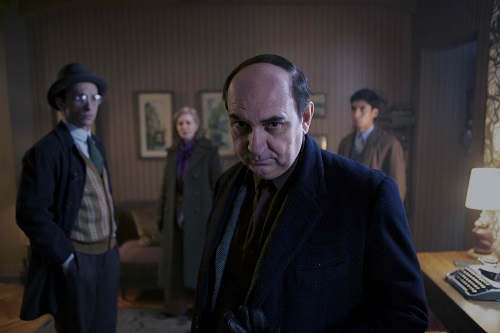 Like Jackie, Neruda is an unconventional biopic. It's highly unlikely that most of it ever happened, at least not in the way that Larraín presents it. The screenplay, written by frequent Larraín collaborator Guillermo Calderón (who also wrote The Club for Larraín), is a crazy metafictional tale that, quite frankly, raises more questions than it answers, and that's not a bad thing. On the contrary, Neruda keeps the audience scratching its head while still smiling ear-to-ear.
There's not much that can be said about Neruda without spoiling the fun – there's a reason that the IMDB summary is so vague, and there have even been a few other reviews that have inadvertently spoiled some cool plot points. So, at the risk of saying too much, this review will wrap up now. Just know that Neruda is a quirky little police pursuit mystery that winds up firmly in Coen Brothers territory by the end. If that sounds like gold to you, you should check Neruda out.

Pablo Larraín's direction in Neruda is fascinating. The picture is shot much like a film noir mystery by Larraín's go-to cinematographer Sergio Armstrong (who also shot No and The Club), with a look that's reminiscent of a dime store pulp novel. It's a dark movie, but only in color palette, not in content – the story gets more and more surreal as it goes on, with elements like transvestite singers and side-car motorcycles introduced deliberately and randomly, until it's almost a tongue-in-cheek adventure. Larraín plays it with a straight face the whole time, though; Neruda is absolutely not a comedy, even if the performance that Larraín coaxes out of Gael Garcia Bernal is hysterical. After watching both Jackie and Neruda, one gets the feeling that Jackie was a paycheck, and Neruda was a passion.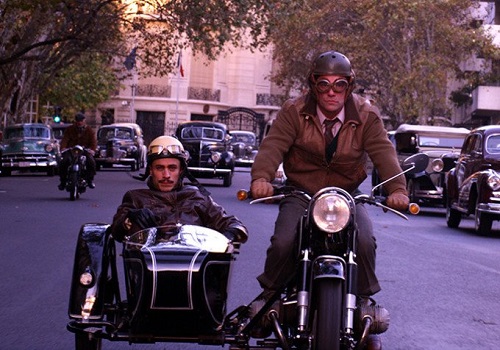 Cast and Crew
Director(s): Pablo Larraín
Producer(s): Renan ArtukmacPeter DannerFernanda Del NidoJuan Pablo GarciaAxel KuschevatskyJuan de Dios LarraínIgnacio Rey
Screenwriter(s): Guillermo Calderón
Story: 
Cast: Gael García Bernal (Óscar Peluchonneau)Luis Gnecco (Pablo Neruda)Alfredo Castro (Gabriel González Videla) Pablo Derqui (Victor Pey)Mercedes Morán (Delia del Carril)Emilio Gutiérrez Caba (Picasso)Alejandro Goic (Jorge Bellet)Marcelo Alonso (Pepe Rodriquez)Jaime Vadell (Arturo Alessandri)Diego Muñoz (Martinez)Francisco Reyes (Bianchi)Michael Silva (Álvaro Jara)
Editor(s): Hervé Schneid
Cinematographer: Sergio Armstrong
Production Designer(s):
Costume Designer: 
Casting Director(s): 
Music Score: Federico Jusid
Music Performed By: 
Country Of Origin: USA