There are two films most often cited as the bookends, the outer limits of film noir: The Maltese Falcon (1941) and Touch of Evil (1958). By near consensus, John Huston's The Maltese Falcon marks the beginning of the genre, and it will be the topic of Part I of this look at the boundaries of noir. Part II will cover Orson Welles' Touch of Evil and the end of film noir. Based on the novel by Dashiell Hammett, The Maltese Falcon introduced the elements that would become the hallmarks of the genre – the amoral private detective, the femme fatale, and the dark city surrounding them. Huston's directorial debut truly put a new spin on the traditional detective film. The film's most important contribution to the film noir genre is its depiction of the flawed private eye as a noir hero, characterized by his unscrupulous behavior.
Centered on private eye Sam Spade (Humphrey Bogart), the film begins with the murder of Spade's business partner, Miles Archer. Archer had been working a case for Miss Ruth Wonderly (Mary Astor) whose behavior is nothing short of suspicious. Flashing one-hundred dollar bills, Wonderly hired the detectives to shadow a dangerous man named Floyd Thursby. Despite Spade's apparent indifferent relationship with his partner, his personal ethics dictate that he must solve Archer's murder. The mystery is, of course, much larger than one murder. Spade uncovers a legion of criminals on the hunt for a priceless gold-encrusted falcon statue – The Maltese Falcon. Ill-advisedly allying himself with the suspect Miss Wonderly, now calling herself Brigid O'Shaughnessy, Spade juggles the trust of the police and the greedy falcon criminals to discover the identity of his partner's killer.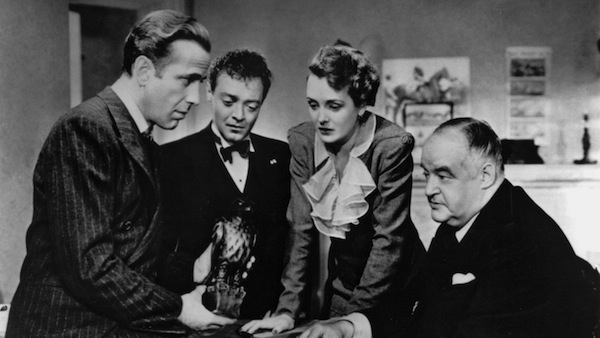 In the early 1940's, the most popular detectives in Hollywood were the well-mannered Sherlock Holmes and Nick Charles. In films such as The Hound of the Baskervilles (1939) and The Thin Man (1934), audiences were more likely to see these sleuths track a killer to his Victorian mansion than through the cold and shadowy alleyways of the city. The Maltese Falcon challenged this portrayal of amateur detectives with Sam Spade as a seemingly unprofessional, disreputable private eye who solves crimes, unconventionally but with great results. For detectives like Holmes, solving mysteries is a hobby. For Spade, it is a vocation.
Spade is the consummate noir hero, yet there is very little "heroic" about him. It is immediately evident upon Spade's introduction that he has a reputation of being corrupt. He secretly carries on an affair with his business partners wife even after his murder. Indeed his response to Archer's death is to have his name removed from the office door and window, to be replaced with "Spade" in searing bold letters. His corruption also shows itself in the form of greed in his first meeting with the film's femme fatale, Miss Wonderly, as his eyes bulge at the sight of her cash payment for his investigative services. This behavior is typical of a noir protagonist, chiefly defined by his darker characteristics. In contrast to the traditional Hollywood hero, the noir hero shirks conventional views of morality and frequently works in competition with the police. He has an ingrained pessimistic worldview and as a result is often alienated from society.
Bogart's Spade exudes a playfulness limited to few other noir heroes, including Philip Marlowe in The Big Sleep (also played by Bogart). In his first meeting with Joel Cairo (Peter Lorre), Spade wrestles a gun away from Cairo but hesitates before knocking him unconscious. His expression as he looks at Cairo, a wry grin, is pure amusement. This investigation is a game to him and the various crooks involved merely players to manipulate in order to reach the truth. This side of Spade is once again showcased in his meeting with Kaspar Gutman (Sydney Greenstreet), the veritable leader of this troupe of criminals searching for the falcon. In this scene, Spade pretends to lose his temper and threatens Gutman. His mischievous smile, however, reveals that it was all a ploy, and a successful one. Gutman believes that Spade knows more than he truly does and inadvertently leads him to the falcon. His nonchalant manner ingratiates him to the criminals. Himself a member of the gritty city environment, he solves a mystery that previously had stumped the police.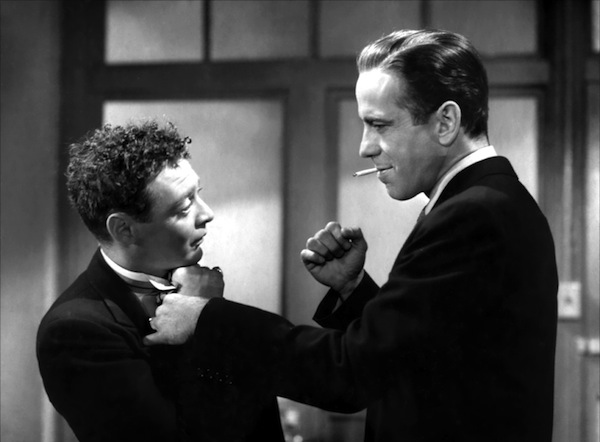 For all his outward playfulness, Spade is exercising quite a bit of self-control throughout the film. His greed does not blind him in his search for the valuable falcon nor does he fall prey to the wiles of femme fatale Brigid O'Shaughnessy. The femme fatale traditionally uses her sexual attractiveness to manipulate others to her own ends. O'Shaughnessy uses Spade as protection against Gutman and as a tool in her search for the falcon, with the implied intention of rejecting him after he serves her purpose. Unlike obsessive film noir protagonists such as Walter Neff (Double Indemnity), Spade is ultimately immune to O'Shaughnessy's manipulations. Despite his apparent love for O'Shaughnessy, once she is revealed to be a murderer, he does not hesitate to turn her over to the police and send her to prison at the end of the film. Spade's saving grace is his personal code of ethics, which initially forces his involvement in his partner's murder case and ultimately prevents his protecting O'Shaughnessy from the gallows.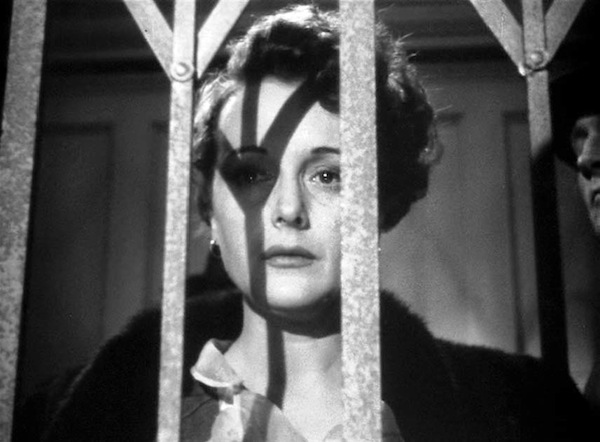 The Maltese Falcon is rightly one of the most popular classic detective films and an essential example of early film noir. John Huston's first film is a stunning presentation of a hard-boiled private eye avenging his business partner. Humphrey Bogart's performance is nothing short of brilliant in a role that would define the rest of his career, successfully playing a man who has the gall to scam hardened criminals. The film also features a stellar supporting cast with Mary Astor and noted character actors Sydney Greenstreet, Peter Lorre, and Elisha Cook, Jr. For its historical value as well as its sheer mastery of the medium, The Maltese Falcon is required viewing.