'Wait Until Dark' Is A Simple, Yet Scary As Hell,
Not-Quite Horror Movie
As strange as it may seem, horror movies and stage plays have enjoyed an incestuous relationship over the years.  Starting as far back as the musical adaptation of the Roger Corman classic The Little Shop of Horrors, iconic horror films such as Evil Dead, Carrie, Night of the Living Dead, and The Brain that Wouldn't Die have all been turned into theatrical productions.
The big screen/small stage connection is a two-way street, however, with dozens of movies having been adapted from stage plays as well.  One of the most frightening films of the sixties was born out of this trend when director Terance Young reworked playwright Frederick's Knott's Wait Until Dark.
Wait Until Dark stars Audrey Hepburn (Breakfast at Tiffany's) as Susy Hendrix, a blind woman whose husband, Sam (Efrem Zimbalist Jr. from "77 Sunset Strip"), has just returned home to New York from a trip to Canada.  He brings a doll home with him that was given to him for safekeeping by a woman whom he met on the plane.  The doll, however, is not just an ordinary doll – it turns out to be stuffed with heroin, and a man name Harry Roat (Argo's Alan Arkin) wants it.
Unfortunately for him, he can't seem to locate it when he breaks into the Hendrix's apartment.  Roat enlists the help of a couple of small-time crooks named Mike (Richard Crenna from the Rambo movies) and Carlino (Dirty Dancing's Jack Weston) in his plan to get Susy to relinquish the doll to them.  The problem is that Susy claims to have no knowledge of the doll's existence.  Because of her disability, the criminals see Susy as an easy mark but, over the course of the execution of their elaborate plan, they learn that she is very capable of taking care of herself and that there is plenty of fight in the young woman.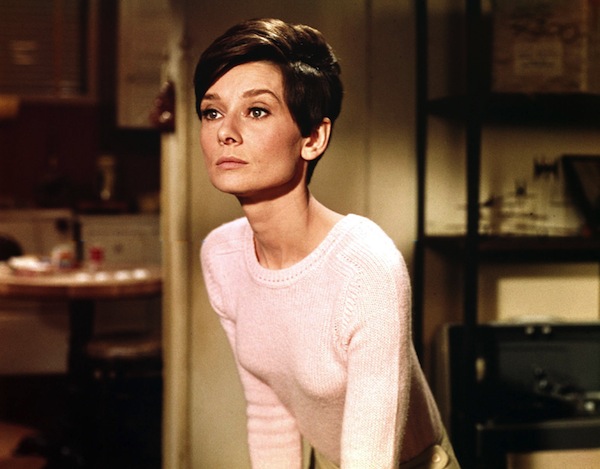 The screenplay for Wait Until Dark was adopted by the screenwriting team of Robert Carrington and Jane-Howard Carrington (Kaleidoscope) from the play by Frederick Knott (who also wrote "Dial M for Murder," which has been also adapted for film several times).  Director Terence Young, who made a name for himself doing the James Bond films Dr. No, From Russia with Love, and Thunderball, embraces the natural theatricality of Wait Until Dark, adopting a less-is-more attitude towards the film.
An overwhelming majority of the narrative takes place in a single room, a factor which adds to the claustrophobic mood of the film.  There are only a handful of characters with sparse costume changes, and most of the story occurs in real time.  The simplicity of Wait Until Dark becomes an asset, and the audience feels like more than mere spectators – they feel involved in the story.
To be fair, Wait Until Dark is not really a horror movie. That does not mean in any way that it is not scary; the final showdown between Roat and Susy is a terrifying game of cat and mouse that keeps the audience on the edge of their seat, pitting his cunning and ruthlessness against her instincts and intelligence. However, instead of gratuitous blood, guts, and gore, Wait Until Dark provides hair-raising suspense and nail-biting tension. Not unlike an Alfred Hitchcock film, Wait Until Dark provides a different kind of horror experience, one that is much more cerebral than shocking.
As a villain, Harry Roat is as creepy as they come.  He is the type of character who is always in control, whether he's blackmailing Mike and Carlino into helping him by getting them to spread their fingerprints around the apartment or lighting matches so that he can see in a gasoline-soaked room because the ever-resourceful Susy has broken all of the light bulbs.  Roat is a chameleon, a master of disguise, but can't fool the blind woman who notices that both of his "characters" in their con are wearing the same squeaky shoes.
Alan Arkin is a consummate character actor, and his performance of Roat is spot-on.  While Roat is much too subtle and low-key to go down in history with Jason Voorhees or Freddy Krueger as an iconic villain, he is nonetheless just as threatening and holds his own in a different kind of way.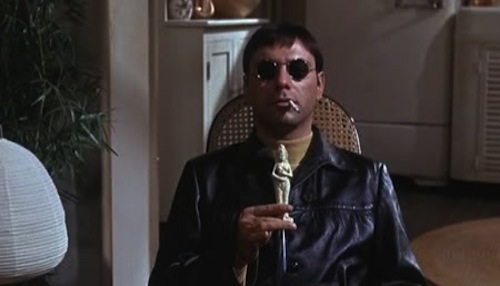 In addition to that of Arkin, Wait Until Dark also includes an amazing performance by Audrey Hepburn.  As Susy, Hepburn captures the combination of innocent naivety and tough determination in remarkable fashion.  Hepburn is a professional, one that seems to have uncanny chemistry with every other actor with whom she shares screen time.  Her back and forth interplay with Arkin's Roat is the stuff of which legends are born, and she displays an equal comfort level with Zimbalist's Sam and Crenna's Mike.  Wait Until Dark is a film that demands a strong female lead and, along with Alan Arkin, Audrey Hepburn carries the film.
The score for Wait Until Dark is some of the most unsettling music ever set to film.  Composed by the ever-versatile Henry Mancini, it uses the unconventional orchestration of two purposely out-of-tune pianos playing together.  The effect of the soundtrack subliminally irritates and disquiets the viewer, helping to instill the inability to relax in the audience members.  Mancini adds in other atypical droning instruments like sitars and harpsichords to help further raise the auditory stakes.  The music in Wait Until Dark is not exactly the kind of material that will get stuck in the viewer's head, but it is unforgettable just the same.
Stage plays often make great movies because of the built-in audience familiarity and low-cost economic production values.  Films made from theatrical scripts rely more on good old-fashioned acting and writing instead of effects and camera trickery, and Wait Until Dark is a perfect example of a simple movie that is scary as hell.