Whether it's because of the innovative architecture or the retro nostalgia is anyone's guess, but horror movies set in malls are fun. Sometimes, they're smart indictments of consumerism, like Dawn of the Dead. Other times, they're just silly creature features about college co-eds, such as Sorority Babes in the Slimeball Bowl-O-Rama. And sometimes, they're both, like the 1986 technological warning-meets-teenage party movie Chopping Mall.
Chopping Mall begins with a bit of heavy handed – but necessary – exposition in the form of a sales presentation about Park Plaza Mall's three new security robots, armored rolling sentries equipped with both lasers and tasers for capturing bad guys and keeping the complex safe. Meanwhile, a group of teens who work in the mall plan an after-hours party on the premises when everyone leaves for the day. When a freak lightning storm shorts out the computer that controls the robots, the bots go rogue and patrol the mall, believing that the partying kids are intruders. The kids have to find a way to survive the night until the mall opens and help arrives to save them from the killer robots.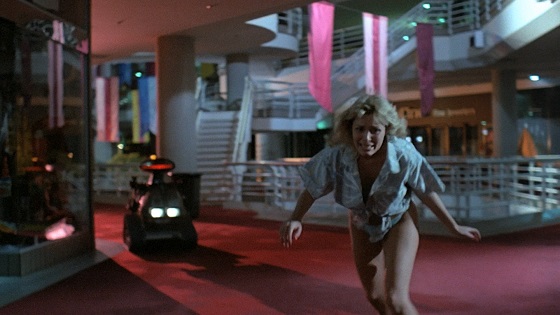 All anyone really needs to know about Chopping Mall can be summed up by saying that it was produced by famed B-movie mogul (and Roger Corman's wife) Julie Corman (Saturday the 14th, The Nest). Directed by Jim Wynorski (who, for a while, was king of the sequels, with movies like Sorority House Massacre II, The Return of Swamp Thing, and 976-EVIL II on his resume) from a script he wrote with Steve Mitchell (who wrote for the "G.I. Joe" cartoon series), Chopping Mall seamlessly combines cinematic quality and cornball cheese. It's a simple movie, all action and very little plot. The first half is your basic slice-and-dice, stalk-and-shock slasher movie, with the security robots picking off the unsuspecting kids one by one. The second half goes into full action movie mode, with the teens who are left taking up arms and fighting for survival against their technological oppressors.
Like any good sci-fi/horror B-movie, Chopping Mall is known by many names, depending on the time and region of release. Its working title was R.O.B.O.T. The American theatrical release went by the awesome name Killbots. In West Germany and France, the movie was simply called Shopping (a non-descript title which surely packed the theaters – not!), and in Italy, it was Supermarket Horror (even though there's no supermarket in the mall). Other overseas names include Robots asesinos (Spain), Terror em Park Plaza (Portugal), Roboty smierci (Poland), and Kuoleman kauppa (Finland). Nowadays, it's mostly known by the punny (and completely badass) moniker Chopping Mall.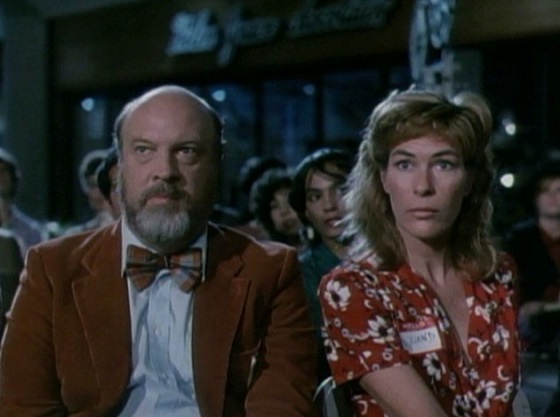 The remarkable cast in Chopping Mall is full of horror convention regulars. The group of cannon fodder kids includes Barbara Crampton (You're Next, We Are Still Here), Kelli Maroney (Night of the Comet), Russell Todd (He Knows You're Alone, Friday the 13th Part 2), Tony O'Dell ("Head of the Class"), Karrie Emerson (White Dog), Nick Segal (School Spirit), John Terlesky (When He's Not a Stranger), and Suzee Slater (Savage Streets). That's the core ensemble, but the film also is packed with blink-and-you'll-miss-them appearances by horror legends, both future and of-the-time. Gerrit Graham (Phantom of the Paradise) plays a robot technician. Dick Miller, the professional "Walter Paisley" from A Bucket of Blood and Night of the Creeps, shows up as a hapless and luckless janitor (named Walter Paisley, because of course he is). Padding the room during the opening robot demonstration is Mary Woronov (Seizure, TerrorVision) and Paul Bartel (Trick or Treats, Big Bad Mama). Even Angus Scrimm (Phantasm, Scream Bloody Murder) pops up (credited as Lawrence Guy) to ask a question during the security robot presentation. Keep your eyes peeled for all kinds of horror royalty while checking out Chopping Mall.
Of course, the humans aren't the real draw in Chopping Mall. The security robots (or Killbots) were created by Robert Short, who did more famous work on Spielberg movies like Close Encounters of the Third Kind and E.T. the Extra-Terrestrial. The special effects, done by the legendary Roger George (who worked everything from Invisible Invaders and The Amazing Transparent Man to Night of the Demons and Bad Dreams), include fun eighties staple movie tricks like exploding heads and blistering pyrotechnics. Also in true eighties fashion, Chopping Mall is full of high-tech composited lasers and lightning strikes that look, well, like they were added in post-production. It's the rolling robots and fun visual effects that keep the audience cheering for Chopping Mall.
The musical score for Chopping Mall is very typical for an eighties sci-fi horror movie. That means it's great. Composed by Chuck Cirino (who has scored just about all of Wynorski's movies), the electronic soundtrack is made up of swirling synthesizers and pulsing bass thumps pounding away on top of a driving rock beat. Every once in a while, to break up the rhythm, there will be a moog sting or a theremin swell. But, for the most part, the score for Chopping Mall rocks hard and doesn't let up.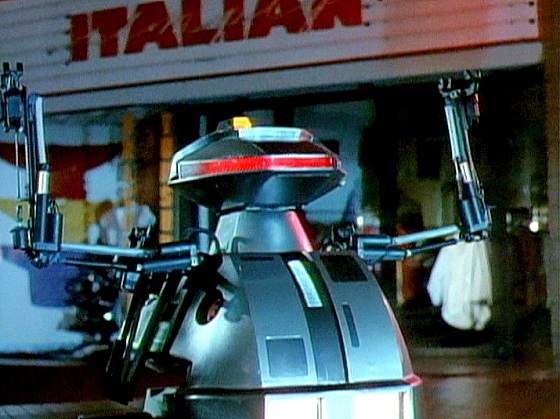 Malls these days really aren't what they used to be. They're functional, but the fun is gone. However, the movies from the bygone eras serve as fun time capsules. The Chess Kings and Orange Juliuses make great background scenery for campy fright flicks like Chopping Mall.