The eighties were called the "Golden Age of the Slasher" for a reason; slasher movies were a dime a dozen. By the time the decade ended, audiences had pretty much seen it all. That didn't stop the movies from trying, though. In 1989, a little-slasher-that-could recycled every trope into a movie that, well, seemed like a bunch of recycled tropes. That movie is Offerings.
Like many slashers, Offerings begins with a prank-gone-wrong. An awkward little boy named John Radley is goaded into walking around the sides of an old well. Of course, he falls in, and all of the children run – except for his only friend, a girl named Gretchen. John lives, but is mentally scarred by the event and is committed to a mental hospital. Ten years later, John escapes from the asylum and heads home. He picks off his tormentors one-by-one, leaving parts of their bodies, a nose here and an ear there, as gifts, or Offerings, for his beloved Gretchen.
Offerings was written and directed by Christopher Reynolds, who also made a movie called Lethal Justice, but his best known credit is that of a PA on Poltergeist. It's a textbook example of low-budget filmmaking, getting the movie made no matter what. There's very little mystery to the film, as the killer's identity is known from the start, and most of the plot points are predictable. At one point, a group of kids orders a pizza, and when it shows up on the doorstep, no delivery guy in sight, it suddenly has sausage on it. Of course, they didn't order sausage, but they eat it anyway, and even enjoy it. Wanna guess what was on the pizza?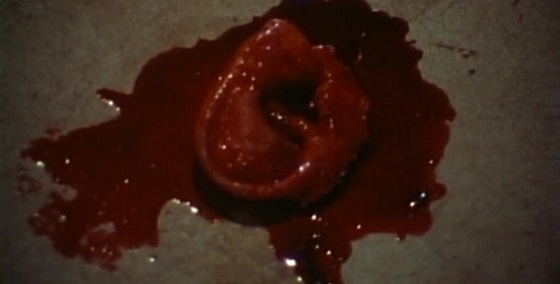 Offerings was made in 1989, but the low production value aesthetic gives it a certain grindhouse style that makes it feel like it's from the seventies, sort of like a lightweight Herschell Gordon Lewis flick. In fact, Offerings seems as if it was produced about ten or twelve years behind its time; had it predated Halloween or Prom Night, it may have been a trend-setter. But, the reason it has a retro vibe is because everything in the film has been seen before. From the brainless dialogue ("All these chicks want me for is my notes…well, they can note THIS!") to the slasher point-of-view shot (that isn't associated with any particular character), it's all been done, and it's been done better.
None of this means that Offerings isn't a fun movie. Part of the joy of watching slasher movies is reveling in the stupidity of the characters, and there's no lack of idiocy amongst the cannon fodder in Offerings. There are a couple of fun set pieces, too. At one point, the killer ties a kid down and torments him with power tools in a surprisingly tense and suspenseful Hostel-style torture scenario. In another scene, a strangling kid is hung outside from a window while other people are lounging about in the room below, so close yet so far away from the swinging victim.
There are some inventive kills in Offerings, but hardly any of the carnage is shown onscreen. Instead of the actual act, Offerings will cut to an alternate camera angle or have the screen go black at the moment of impact. While this would normally let the mind's eye of the viewer take over, Offerings comes back to show the aftermath of each slaying so that it leaves very little to the imagination. The fact that the killer leaves his victims' noses and ears laying around only solidifies the mental images. While Offerings may not have had the creativity or budget to show its killings, it still lets its audience know exactly what has happened.
Like everything else in Offerings, the music sounds familiar. The score, composed by Russell D. Allen (Blood Lake), is a pretty convincing clone of the main theme to Halloween. It's not a note-for-note rip-off, but it's similar in mood, tone, and orchestration. And, just like in Halloween, the theme plays constantly throughout the movie, calling attention to the fact that it's essentially a sound-alike. It's an effective score, but not as effective as it was the first time everyone heard it in Halloween.
I think it was Ryan Turek on Blumhouse's Shock Waves podcast who said that Offerings was like the movie that filmmakers made when they had to have the characters in their real movie watch a horror movie. That's a pretty perfect description; it's that typical. There's not much new ground broken by Offerings, but if you don't set the bar too high, you're bound to get a few kicks out of it.