Here they are, the top ten horror movies of 2013…and a few honorable mentions too.
10. Beneath
A good old-fashioned monster movie with a genuine animatronic rubber fish, Beneath is a masterful example of restraint.  More than just a horror movie, it's a fascinating sociological study.  It's surprisingly multi-dimensional, with the real villain not swimming in the lake, but floating in the boat above.
9. Contracted
Contracted is the type of film that will linger in the viewer's memory for days.  Seat-squirmingly uncomfortable to watch, yet hard to look away.  You'll never look at sex in the same way again.
8. Mama
Released way back in January, Mama was the first film of the year to actually scare me.  A well-written script coupled with a creepy performance by Javier Botet (the contortionist who did the same thing in the [Rec] movies) made this one absolutely horrifying…as long as you leave before the last five minutes.
7. Stoker
Chan-wook Park's first English language film is an obvious Americanization of his trademark ultra-violent style.  There's not a ton of action, but Stoker is driven by a great script and masterful performances.  It's a real slow-burner, but patience pays off at the end.
6. Hatchet III
As a fan of golden age slasher movies, the Hatchet films are near and dear to my heart.  The third (and supposedly last) installment in the franchise is more Predator than Friday the 13th, but its gory practical effects and subtle humor are awesome…and the subliminal symbolism of Kane Hodder killing Derek Mears was not lost on me.
5. Gravity
I'm sneaking Gravity onto this list because, even though it isn't a traditional horror film, it has the isolation, suspense, and terror aspects down pat; and it was my favorite overall movie of the year.  Not only is it a technical masterpiece, but it made me actually like Sandra Bullock – and that's huge.
4. You're Next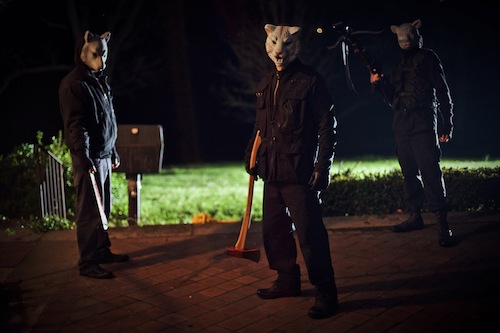 This year we finally got to see You're Next, and it was worth every bit of the wait.  Kind of like The Strangers with a sense of humor, You're Next is an open-arms welcome addition to the home invasion genre after the disappointment of The Purge.
3. Evil Dead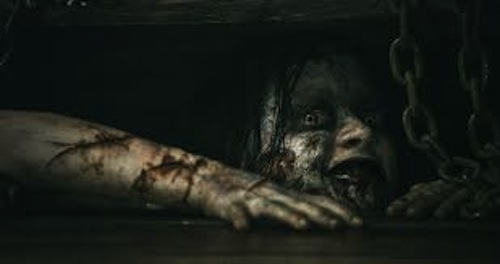 Here's the big divide.  Evil Dead was the film that people either loved or hated.  It raises the brutality from the original and leaves the humor at the door, which is why most Sam Raimi purists hated it.  As a fan of horror remakes that choose to take a different route, this one spoke to me loud and clear – and made me love it.
2. Maniac
Horror remakes are a risky thing.  Done wrong, they're horrible.  Done right, they're amazing.  Maniac is one of the amazing ones.  It's a reimagining of William Lustig's 1980 film, only with much more brutality.  It's also highly inventive, told entirely from the killer's point of view.  Bonus points go to Elijah Wood for making people forget that he's Frodo Baggins.
The Conjuring is one of the special treats of the year.  It's a retro-throwback haunted house movie in the vein of The Amityville Horror that didn't have to rely on sex or violence to get its point across.  Despite its innocuousness, it still managed an R rating – it's that freaking scary.
Honorable Mentions – +1,, Come Out and Play, John Dies at the End, Europa Report