If an actor is lucky, he or she will take on a role that will define their entire career. Sean Connery was James Bond. Robert Englund was Freddy Krueger. And Anthony Perkins was Norman Bates. The trademark role can be both a blessing and a curse; the actor is usually remembered forever in pop culture history, but it is often difficult come out from the shadow of that one character. Anthony Perkins was specifically tied to Norman Bates in the years after Psycho, so much so that he portrayed the unstable man-boy in three sequels, even directing one of them. Although Perkins made dozens of other movies during his career, he will always be Norman Bates to audiences. Perkins didn't do himself any favors with role selection, either; he played mentally unstable characters several more times in his career, but the most memorable came in 1989's Edge of Sanity.
Edge of Sanity stars Anthony Perkins as Dr. Henry Jekyll, a mild mannered physician in nineteenth century London who has developed a mixture of ether and cocaine that he claims is a more effective anesthesia than the traditional morphine. Jekyll experiments with his concoction himself, smoking it in a glass pipe, and the drug turns him into the psychotic Jack Hyde. Hyde prowls the streets of London, hunting and murdering prostitutes with surgical precision. Witnesses to the murders claim that the killer goes by the name of Jack, and the press nicknames him The Ripper – Jack the Ripper. As the murders go on, Jekyll attracts the attention of Inspector Newcomen (TekWar's Ray Jewers) as well as the suspicion of his wife, Elisabeth (Glynis Barber from Terror). Jekyll stays one step ahead of his pursuers, but he can't keep killing forever.
For Edge of Sanity, screenwriters Ron Raley (Pact with the Devil) and J.P. Félix (with his only writing credit) use Robert Louis Stevenson's novel "The Strange Case of Dr. Jekyll and Mr. Hyde" as only the most basic of guides, instead opting to craft a clever new tale. Director Gérard Kikoïne (Buried Alive) turns the script into a dark and dreary film, chock full of sex, drugs, and murder. The entire story is told through a haze of heavy intoxication and brutal eroticism, walking the thin line between realism and surrealism. If Dario Argento had made American Psycho while watching Henry: Portrait of a Serial Killer, he would have come up with Edge of Sanity.
The angle of Mr. Hyde being Jack the Ripper is ingenious. Just about any horror fan has seen at least one of the several filmed versions of Dr. Jekyll and Mr. Hyde, just as many of them have probably seen a few of the filmed adaptations of the Jack the Ripper legend. Recognizing that the Dr. Jekyll tale is set at the same time and place as the events of the famous unidentified serial killer, combining the two stories is a fun bit of conspiracy-theory speculation; if Dr. Jekyll and Mr. Hyde were real, this conjecture would be as plausible as the Zodiac Killer equals Unabomber premise. Authorities of the time always suspected Jack the Ripper of being a surgeon or doctor of some sort, so why not the skilled Henry Jekyll under the influence of his mind-altering substance? As fiction, Edge of Sanity is a fun mash-up of pop culture figures that makes a lot of sense.
Anthony Perkins has an absolute field day with Edge of Sanity. Not only does he play the parts of both Dr. Henry Jekyll and Mr. Jack Hyde, but his performance is far and away the best one in the film. Perkins' Jekyll is prim and proper, just as mild mannered as one would expect a surgeon in nineteenth century London to be. His Hyde is the exact opposite; he's primal, barbaric, cunning, and ruthless, giving in to carnal bloodlust. Jekyll explains instincts to a colleague during one scene in the film, saying that impulses make someone take what they want, whether it's a reasonable want, like food, or an unreasonable want, like a woman. While most people can control these instincts, Hyde allows himself to follow up on these urges, taking whatever he wants. Perkins has a vast understanding of both characters, and plays both of them well despite being hindered by sub-par dialogue and average direction. Anthony Perkins is the big draw in Edge of Sanity, and it's easy to see why.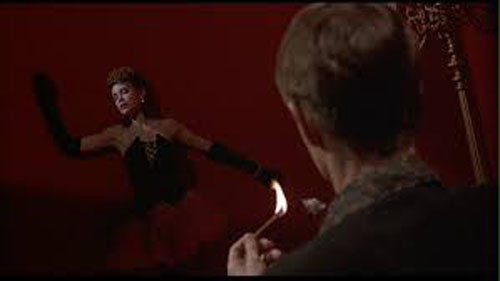 Another big draw in Edge of Sanity is the cinematography. Shot by Tony Spratling (who shot the action scenes in Alien3), the film's tone is as schizophrenic as Anthony Perkins' performance. The daylight hospital scenes with Dr. Jekyll are very neutral and flat, while the nighttime scenes with Mr. Hyde are surreal and dreamlike. The film has the look of an Italian giallo, it's dark and brooding mood highlighted with bright reds and flashing, strobe-like lighting. Pepper in the brightly colored blood splatters of the Ripper's victims, and Edge of Sanity ends up being a very distinct looking film.
Because Anthony Perkins' name is synonymous with Norman Bates, people often forget what a versatile and talented actor he was. He made movies before and after Psycho, and Edge of Sanity is one of his lesser-appreciated films.