Gwen Review
William McGregor puts the 'Dark' in Dark Folk Tale with 'Gwen.'
Release Date: August 16, 2019
A dark folk tale set in the hills of Wales during the industrial revolution.
Director: William McGregor
Screenwriter: William McGregor
Producers: Hilary Bevan Jones, Tom Nash 
Cast: Eleanor Worthington-Cox (Gwen), Maxine Peake (Elen), Jodie Innes (Mari), Mark Lewis Jones (Mr. Wynne), Richard Harrington (Edward Morris), Kobna Holdbrook-Smith (Doctor Wren), Richard Elfyn (Minister Bowen), Gwion Glyn (Harri Morris), Dyfrig Evans (Father)
Editor: Mark Towns
Cinematographer: Adam Etherington
Production Designer: Laura Ellis Cricks
Casting Director: Andy Pryor
Music Score: James Edward Barker

Gwen is about a teenage girl in nineteenth century Wales, appropriately named Gwen (Maleficent's Eleanor Worthington-Cox), whose family is in turmoil. Gwen is tasked with taking care of her younger sister, Mari (newcomer Jodie Innes), while her mother, Elen (Maxine Peake from The Theory of Everything), suffers from a mysterious illness and her father seems to have disappeared off the face of the earth. To make matters worse, there is a cholera outbreak in the village which has claimed the lives of the family's closest neighbors, and Elen is under constant pressure to sell their farm to a mining company.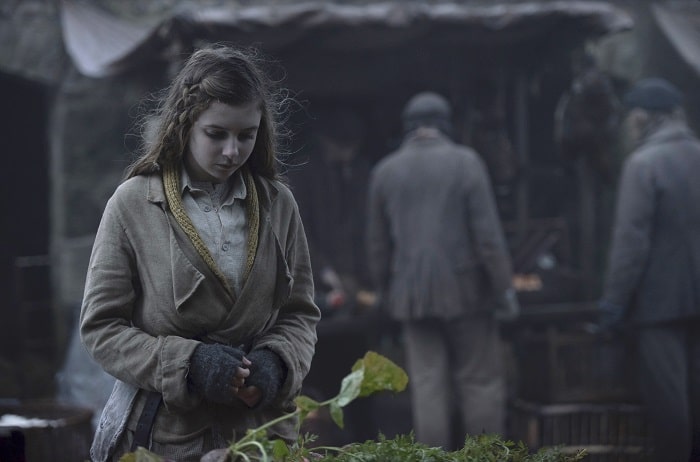 Written and directed by William McGregor ("The Missing," "Retribution"), Gwen is a beautifully made movie, packed with striking imagery, stunning performances, and a stirring soundtrack. McGregor tells his dark folk tale with the emphasis on the "dark," turning what should be a textbook period piece into an effective fringe horror movie by simply accentuating the macabre. He finds horror where there otherwise is none.
Where Gwen hits a bit of a snag is with its narrative. Like many period pieces, it's what cinephiles and horror fans alike call "slow burn." It's a glacially paced movie. Things happen and plot points get revealed, but everything is almost too deliberate and methodical. McGregor seems determined to squeeze every drop out of each scene, and sometimes it ramps up the suspense and tension, but most of the time, it just gets tedious.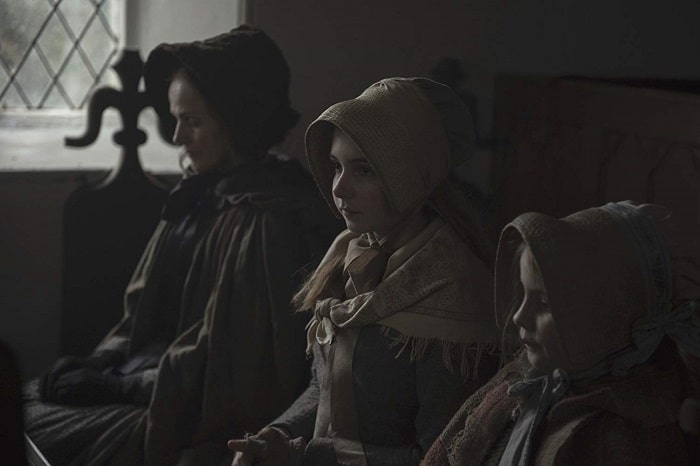 Gwen takes its audience on a weird, surreal journey. Most of the movie is based in reality, following the day to day struggles of Gwen's family as they manage their way through life in the 1800's. But there's a tonal shift for the third act that gets fire and brimstoney, forcing the viewer to wonder if it's always been a supernatural story or if they've just imagined it that way. Or if Gwen has just imagined it that way. But Gwen ends in a different place than where it started, and the trip isn't completely satisfying.   
Gwen is worth seeing for its technical aspects alone. Again, it's a beautifully made movie, and the slow areas of the story are made interesting by the wonderful filmmaking. At less than 90 minutes, it's a short film, but it still feels padded. It's an enigma; there's some fat to the narrative, but it's too lean to cut anything. So just sit back and enjoy the scenery.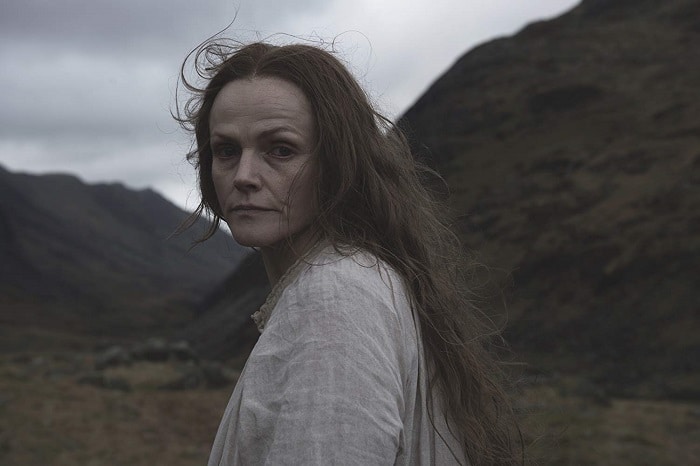 As mentioned earlier, the cinematography in Gwen is breathtaking. William McGregor chose to shoot on location in the Snowdonia mountain region of Wales, and director of photography Adam Etherington (The Boy with the Topknot) makes sure that the audience knows it. Etherington makes great use of the locations (as well as the winter weather) to help the audience feel the cold and the rough. The landscape is a character in and of itself, and Etherington makes sure it gets top billing.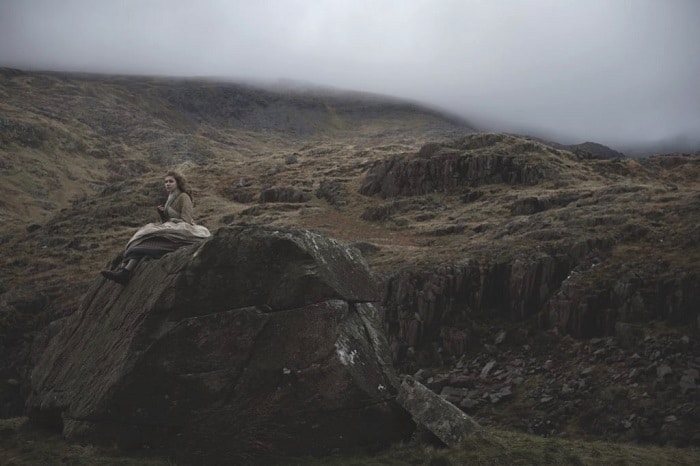 But Etherington doesn't stop at just pointing a camera at the mountains. He shoots Gwen like it's a surreal dream, using selective focus and soft filters to add punch to the purposefully drab production design of Laura Ellis Cricks (Beast). Aesthetically, Gwen possesses a deceptive attractiveness, one that looks pretty from a distance, but get uglier as the camera zooms in. And Etherington's photography puts the audience right into the middle of the beautiful mess. 
Gwen is the type of movie that will have its merits hotly debated by horror fans. Basically, they're going to argue as to whether or not it's a horror movie. It's not scary in the traditional, killer in the backseat way. It's more of the constant sense of dread type of a movie, similar to the feel of The Witch or Enemy. Gwen has its share of horrific images – a heart nailed to a door here, a field full of dead sheep there – but that's pretty much as far as the real horror goes. The frightening bits are all abstract, more ideas than tangible elements. And with that, Gwen's mileage with horror fans will vary.