Synopsis: Feature adaptation of Beatrix Potter's classic tale of a rebellious rabbit trying to sneak into a farmer's vegetable garden.
Release Date: February 9, 2018     MPAA Rating: PG-13
Genre(s): Animation, Adventure
Film Review

Although anthropomorphic animals are nothing new in Hollywood, the recent success of the Paddington franchise will most likely be opening up a floodgate of furry critter movies. Just weeks after the release of Paddington 2, audiences are seeing the first trickle of cute fuzzies in the latest adaptation of the Beatrix Potter tale Peter Rabbit.
Peter Rabbit is about the titular rabbit (voiced by James Corden from Into the Woods) who, along with Cousin Benjamin Bunny (Colin Moody from "Something in the Air") and Sisters Flopsy (I, Tonya's Margot Robbie), Mopsy (Elizabeth Debicki from Guardians of the Galaxy Vol. 2), and Cotton-Tail (Daisy Ridley from Star Wars: The Last Jedi), like to have their way with the garden of Old Mr. McGregor (Dead Calm's Sam Neill). When the elder McGregor unexpectedly dies, the animals think they've got it made, but only until his nephew, Thomas McGregor (Ex Machina's Domhnall Gleeson), moves in. The younger McGregor is even worse than his uncle, and the situation is made more complicated when the rabbits' best human friend, a painter named Bea (Rose Byrne from Insidious), starts to have feelings for Thomas, inspiring petty jealousy in Peter and his crew.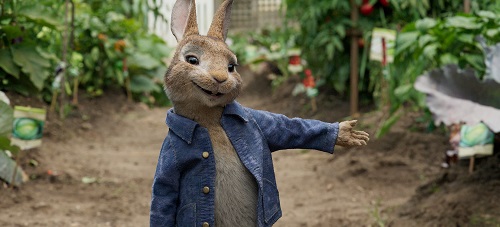 Directed by Will Gluck (Easy A, Friends with Benefits), who adapted the Beatrix Potter characters with co-writer Ron Lieber (Alexander and the Terrible, Horrible, No Good, Very Bad Day), Peter Rabbit is exactly the movie that it purports to be. A bunch of trickster animals play pranks on the human outsider whom they perceive to be invading their territory. Sure, there's a moral compass and a redemption arc and all that good stuff, but that just serves to make Peter and his pals look good in the end (even if Peter ends up taking far more blame for things than he rightfully should). It's a typical nursery rhyme-type of a story.
For what is, by all perceptions, a children's movie, Peter Rabbit is also surprisingly dark. One of the main themes of the movie is one of loss and mourning, and the narrative explores that theme in ways that may be a bit shocking and disturbing to more sensitive kids. Some of the methods are obvious, and others are more subtle, but between Peter missing his own parents and the callous way that the younger McGregor glosses over the passing of his uncle, the film goes to some really sunken places. Sometimes it's unclear as to whether Peter Rabbit is made for the kids, or for their parents.
None of that means that Peter Rabbit is not an enjoyable movie. On the contrary, it's a great time, with plenty of laughs and just enough heart to bring a smile to even the hardest of clay faces. It doesn't have quite the same charm as Paddington, and Peter and this pals aren't nearly as lovable as that Paddington Bear, but that's a high bar. Set it a little lower, and Peter Rabbit won't disappoint.

Despite the dark sections, Peter Rabbit delivers plenty of laughs. Most of the humor is from slapstick-style physical comedy, with the animals performing the stunts and McGregor absorbing the brunt of it. Whether they're evading capture, as in one scene where McGregor engages in a shell game with Benjamin hiding under some planting pots, or they're just making their enemy's life miserable, such as when they booby-trap McGregor's bedroom with various gardening tools, the rabbits and their pals are the source of just about every laugh that the movie gets. And it's not just the actual gags, but the rabbits' reactions to them are just as hilarious, like they can't believe that they were able to pull off what they just did. The audience finds itself rooting for the rabbits, and anticipating with bated breath whatever hysterical thing that they're about to do next.
Cast and Crew
Director(s): Will Gluck
Producer(s): Will GluckZareh Nalbandian
Screenwriter(s): Will GluckRob Lieber
Story: Beatrix Potter
Cast: James Corden (Peter Rabbit)Domhnall Gleeson (Mr. Thomas McGregor)Rose Byrne (Bea) Colin Moody (Benjamin Bunny)Margot Robbie (Flopsy)Elizabeth Debicki (Mopsy)Daisy Ridley (Cotton-Tail)Fayssal Bazzi (Mr. Tod)Ewen Leslie (Pigling Bland)Sia (Mrs. Tiggy-Winkle)Christian Gazal (Felix D'eer)Sam Neill (Old McGregor)
Editor(s): Christian Gazal
Cinematographer: Peter Menzies Jr.
Production Designer(s):
Costume Designer: Lizzy Gardiner
Casting Director(s): Nikki Barrett
Music Score: Dominic Lewis
Music Performed By: 
Country Of Origin: USAUK