Synopsis: Concluding the saga begun in Adam Green's hit 2006 thriller, Hatchet III follows the vengeful Marybeth (Danielle Harris) as she continues seeking out a way to destroy Victor Crowley (Kane Hodder), a hulking, seemingly-invincible sociopath rampaging through a sleepy Louisiana swamp. While a heavily-armed team of mercenaries takes to the bayou surrounding Crowley's home, Marybeth finds herself begrudgingly teaming up with a local policeman (Zach Galligan) and his ex-wife (Caroline Williams) – an expert on the maniac who may have uncovered the secret to ending his murderous rampage once and for all.
Release Date: June 14, 2013     MPAA Rating: PG-13
Genre(s): Horror,
Film Review

Back in 2006, writer/director Adam Green (Frozen) made a love-letter of sorts to the classic American slasher movie called Hatchet that introduced the world to Victor Crowley, a fearsome, bloodthirsty killer who haunts the swamps of Louisiana. In typical slasher fashion, he made a sequel in 2010. Now, completing the trilogy, Hatchet III is here.
Hatchet III picks up the second that Hatchet II ends, with Marybeth (Danielle Harris from the Halloween movies) shooting Victor Crowley (Kane Hodder, the only man to date who has played Jason Voorhees more than once in the Friday the 13th franchise) in the face. Crazy with fear, Marybeth scalps Crowley and walks towards the road, eventually ending up at a police station. Because she is carrying a bloody scalp, she is immediately taken into custody by Sheriff Fowler (Zach Galligan from Gremlins) and thrown into a cell. She tells the story of how she and a vigilante crew of hunters ventured into the swamp to find Crowley and how the madman murdered all of them, one by one, until she finally killed him. Fowler's crew of policemen and EMTs heads out into the swamp to investigate her story. Meanwhile, a reporter named Amanda (The Texas Chainsaw Massacre 2's Caroline Williams) sneaks in to interview Marybeth and, convinced Crowley is not dead, comes up with her own theory of how to kill him. Needing Marybeth's help, Amanda breaks her out of jail and they venture into the swamp to confront Crowley. Which group will find Crowley first, and will anyone survive the night?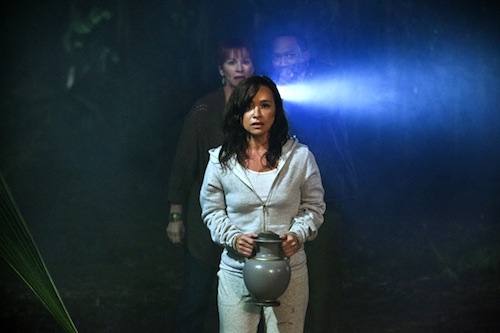 For those familiar with the Hatchet series, Hatchet III is more of the same. The film is the epitome of the eighties throwback slasher film that fans of the franchise know and love. Although Hatchet III is once again written and produced by series creator Adam Green, he opts out of directing and instead hands the reins of the film over to his longtime cameraman BJ McDonnell (who has also manned a camera is everything from MacGruber to The Devil's Rejects). McDonnell doesn't miss a beat. Hatchet III is akin to the later Friday the 13th movies; it doesn't take itself too seriously, and that's what makes it so much fun to watch. The militaristic style that Sheriff Fowler and his men exhibit while hunting down Crowley is reminiscent of Jason Goes to Hell: The Final Friday or Predator. At one point, Fowler is trapped in a shed with two others while Crowley attacks from outside, and the scene recalls the siege moments of Night of the Living Dead and Assault on Precinct 13. Hatchet III is a darker film than its predecessors, but that doesn't mean it's completely serious. It's loads of fun and holds a bunch of surprises, especially for those who are familiar with slasher movies in general, and the Hatchet series specifically. For instance, the actor who played Jason in the Friday the 13th reboot, Derek Mears, plays one of the soldier-like SWAT team members who hunts Crowley. Given the body count in Hatchet III, it's no spoiler to say that he gets killed – but it is fun and ironic to see him die at the hands of Kane Hodder, the man whose name is synonymous with Jason Voorhees. The old takes out the new. And everyone is in on the joke.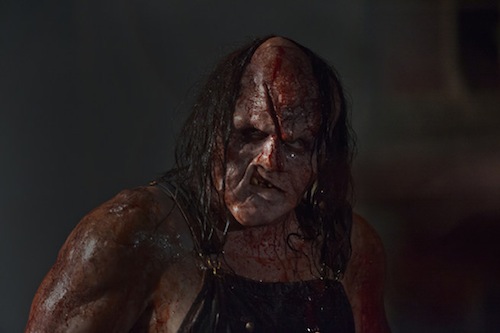 Victor Crowley is a great antagonist. Like any good slasher killer, he is seemingly invincible and never stops coming. No one except Kane Hodder could play Crowley. Although there are obvious elements of Jason Voorhees in Victor Crowley, Crowley is more than a clone – he's an extremely memorable villain. If he had been created twenty years earlier, he would have been legendary. Hell, he's legendary now; twenty years ago he would have been a pioneer. Likewise, Danielle Harris' Marybeth is the perfect foil to the monster; she's the Laurie Strode to his Michael Myers. As Hatchet III looks to be the end to the series, it's bittersweet to see the Marybeth/Crowley feud end. Still, it's best to go out on top, and Hatchet III is an awesome ending to a great saga.

Adam Green is a big champion of practical special effects and, of course, Hatchet III uses nothing but. And, like any good slasher movie, there is a ton of blood, guts, and gore. Robert Pendergraft, the same artist behind the effects on the first two Hatchet movies, is back again and up to the same old tricks. The body count in Hatchet III is through the roof, and the kill scenes are every bit as imaginative and creative as the previous films. Half of the fun of the Hatchet movies is watching the kills, so there are no specific spoilers here. Just know that the effects are practical effects along the lines of Tom Savini's classic work, and there are buckets of blood. Buckets.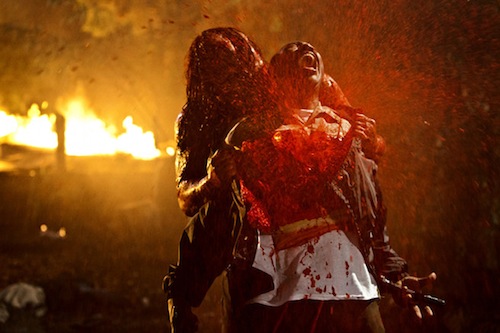 Hatchet III is both the most serious and the most outrageous of the Hatchet movies. The tone is darker, which makes for a more frightening experience, but the plot is so off-the-charts that it borders on comedy at times. Although there are plenty of laughs, most of them are born out of scares. Victor Crowley is a horrifying figure, so even when he is being cut in half with a chainsaw, the comic image is dulled by the realization that he is just going to get right back up. Hatchet III may not inspire any sleepless nights, but it will make audiences jump out of their seats while they're watching it…and then laugh.
Cast and Crew
Director(s): BJ McDonnell
Producer(s):
Screenwriter(s): Adam Green
Story: 
Cast: Danielle Harris (Marybeth)Kane Holder (Victor Crowley)Zach Galligan (Sheriff Fowler) Caroline Williams (Amanda)Parry Shen (Andrew)
Editor(s): Ed Marx
Cinematographer: Will Barratt
Production Designer(s):
Costume Designer: 
Casting Director(s): 
Music Score: Scott Glasgow
Music Performed By: 
Country Of Origin: USA