It should be noted that the original title of Olivier Assayas' well-received Something In The Air is Après Mai. For a film set in France in 1970, that inevitably means "after [the extensive riots of ] May 1968". Let it be clear, however, that this is neither a political film, nor a film about politics. The Assayas surrogate takes part in high school revolutionary activity, and the context is being heavily used to sell the film of course, along with the implications of autobiography. But that title also means "after school got out in May", because it's basically Assayas' "What I did in my summer vacation 1970" and it goes something like this:
Let's start in the classroom with a quote from Pascal about how life is fragile. It doesn't need to be applicable later on, but it sounds good and intellectual. Me and my friends were distributing free press and graffiti for causes and reasons you can probably guess so I won't bore you with them here. Actually, the making of revolutionary gestures was almost more important than the why – who knows how committed I was? Maybe it was just the thing to do. We had a dynamic riot with the CRS (vicious bastards, aren't they?) but that was about the most exciting thing that happened all summer. I had a hot girlfriend but she left me to go to England. I didn't appear to be too cut up about it and soon hooked up with one of my revolutionary chums. We're French, so we used to sneak in the back door of the cinema together. Also, these girls are all very obliging about taking their tops off.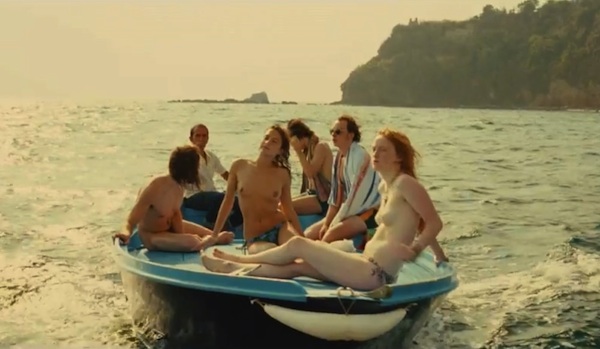 Anyway, because of some lame incident totally unimportant in the grander scheme of revolutionary things, we left for Italy with some agitprop film-makers to help the workers. My girl, Christine, went on with them to film workers somewhere else – well, with one of them specifically, though who knows how cut up about that I was either? At one point she actually said "I can't tell if you love me". Yeah good luck with that (of course I said "I do"). Really all I wanted was to draw and paint and get into the Beaux Arts. Everyone else seemed more politicized or radical than me, or more bohemian or spiritual-hippy. I wasn't too bothered by that either. We met a couple of Americans who'd been in Nepal and my other chum went off to Kabul with them. The chick looked just like the Blind Faith album cover but that was about all she had going for her. Later on she had an abortion and wanted to go to Juilliard and went and looked soulfully at a couple of Franz Hals group portraits (one of men, one of women – is that significant? If you think it is!) Well, I suppose she did – I wasn't there. Don't know why I went on about her beyond the initial gag, but there you go, I'm in no hurry.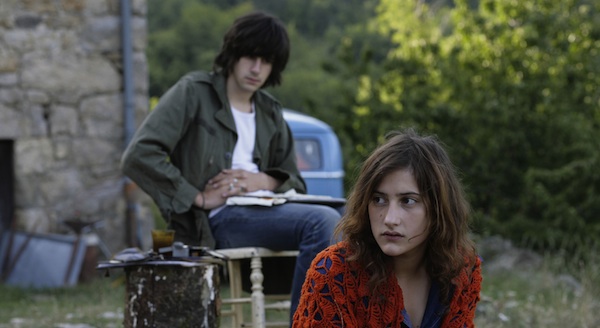 I should mention in passing that I was quite into film-making. Or at least I thought I might be. Oh, also my dad was in TV, making lame Maigret adaptations. He had Parkinson's, but I only need mention that in passing too. I started to work for him in some vague capacity, and at this point I actually expressed an opinion, about Simenon's lazy late prose style, but that was common knowledge even back then, and my dad just sort of sucked it up. The hot chick came back like she'd been in that Barbet Schroeder film More, all white summer dress and smack. There was one of those country house parties I love filming so much and I made a surprisingly impetuous romantic gesture, burning the painting she liked ("no-one must see it but you"!) but then she went off and later she thought the house was on fire and jumped out of the window. See – life is fragile.
Did I mention we had a special tree we carved stuff on? I thought not. Or maybe it was just my tree. Never mind – I didn't bring it up before and I won't do so again. I burnt a bit of the beat poetry book she gave me and sat with my back to the camera for you to guess how I was feeling. Later my other friend came back and we watched too much aimless Super 8 footage from Kabul. Then I got a gig doing collages for a band's light show which sounded lame and unradicalized but was actually kind of cool (even though the band sucked). That was when Christine came back. She said there'd been lots of tense but fascinating debate with the agitprop film-makers, which is more than I ever witnessed, or at least more than I am going to tell you about. Actually, there was one discussion about radicalized style being appropriate for radical cinema, but someone else said that was just petit bourgeois individuality, so when I make this film, it'll totally be in the bourgeois style so no-one gets put off (actually, I'll leach it of all radical discussion, action and implication just to be on the safe side, and to make you focus on this dreamy young actor I found with giant brown eyes too close together and an outrageous mop of hair).
So I had one last fling with my revolutionary pals where we blew up a getaway car for some reason, then I left to work on a movie in London. I didn't tell Christine. She was pretty cut up about it (I assume!). On the tube I read a line from a political book that said "we will not submit to what's going on". Whatever it is! I did submit to Nazis and dinosaurs and a 10 million years BC bikini girl on the movie and it was kind of fun, because, in a really really brief shot, I was still distributing free press and then going to experimental film nights at the Electric on Portobello, where I thought I saw that hot chick coming towards me through a field. The end.
So did all of this affect me all that much? Was I all that political? Did I change, learn or grow? Not much, is the answer to all those. I wonder if I wasn't doing that revolutionary stuff just because everyone else was, but that's not a very interesting question so we'll ignore it. Actually, I was only 13 in May '68 so it didn't have as much impact as if I'd really been a couple of years older and leaving school in 1970. Imagine how cool if it had, though! Imagine too if it was all really well art-directed and you got to see loads of cool album covers. One thing you can't deny is that I listen to good music – how do Syd Barrett and Captain Beefheart strike you? Nick Drake when I feel soulful, of course, and Soft Machine's "Why Are We Sleeping" over the party scene will give that perfectly heavy-handed implication that we weren't doing as much as we might for the revolution. Zappa and Gong I think I'll just reference for the cred because they're a bit too freaky to put on the soundtrack and wouldn't have such an easily transportative function. Actually, maybe I'll make it like a really cool album cover without a record inside – I'll just stage the scenes to show these things happened, or existed, or might have done, without worrying over what they reveal about character or the impact they may have. They say a film-maker shouldn't give answers but I'm not even going to ask any questions! Did you like Summer Hours because it was a handsomely-mounted, meretricious, bourgeois shell of a movie about nothing? Then you'll definitely like this, and don't worry about the radical politics – it's pretty much irrelevant.
Film's Festival Page:  Something In The Air
World Cinema Section
Country: France
Year: 2012
Director: Olivier Assayas
Screenwriter: Olivier Assayas
Producers: Charles Gillibert, Nathanaël Karmitz, Sylvie Barthet, Marin Karmitz
Cinematographer: Eric Gautier
Editor: Luc Barnier
Production Designer: François-Renaud Labarthe
Cast: Clément Métayer, Lola Créton, Felix Armand, India Menuez, Carole Combes
Running Time (minutes): 122