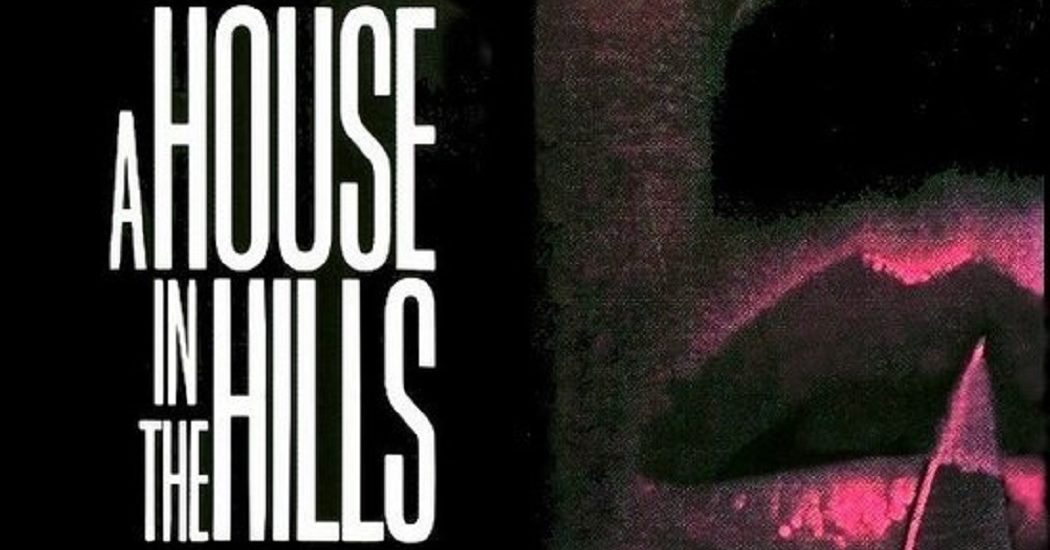 Cinema Fearité presents 'A House in the Hills'
Home invasion movies have never looked more romantic than in 'A House in the Hills.'
When done well, nothing is scarier than a home invasion movie. Examples include The Strangers and You're Next. However, it's also easy for a home invasion movie to go south fast. Examples of this include Breaking In and Trespass. And then there are the home invasion movies that just leave you scratching your head. Like A House in the Hills.
A House in the Hills is about a struggling actress named Alex Weaver (Helen Slater from The Legend of Billie Jean) who agrees to take a housesitting gig that a friend of hers can't do. When she shows up, she learns why her friend backed out; there was a murder at the house next door the night before. Alex decides to stay anyway, and when an exterminator named Mickey (The Hateful Eight's Michael Madsen) shows up, she practices her acting by pretending to be the owner of the house. Unfortunately for her, Alex is not the only one pretending to be something she's not, as Mickey reveals that he is not really an exterminator, and that he has an ulterior motive for visiting the house.
Directed by Ken Wiederhorn (Return of the Living Dead II, Shock Waves) from a script he wrote with Miguel Tejada-Flores (Fright Night Part 2) and David Greenberg (Stomping Ground), A House in the Hills is as lightweight of a horror movie as one is bound to find without delving into the realm of made-for-television fare. The plot is pretty far-fetched, particularly when the double- and triple-crosses get deep and every point relies on convenience. But that's when the surprises occur, and if one can suspend their disbelief for eighty-seven minutes, A House in the Hills is an entertainingly corny ride.
It's also a wildly schizophrenic movie. The premise is set up nicely for it to be a home invasion thriller based upon mistaken identity and false pretenses, but once it gets rolling, it turns into an improbable romance, as Alex and Mickey become fast friends. To be fair, Mickey is not a home invader in the strictest sense of the word. Alex lets him in, and as he points out, he hasn't kidnapped her, nor has he taken her hostage. He's keeping her as his "prisoner" until he gets what he wants. And, in a quick case of Stockholm Syndrome, Alex develops feelings for Mickey. This both paints Alex as Naïve and gullible while portraying Mickey as a sympathetic character in the eyes of the audience. So, maybe it's the viewer who has Stockholm Syndrome?
Nobody is who they say they are in A House in the Hills, and that helps keep the true antagonist a mystery. Of course, Alex is an "actress" and Mickey is a criminal, but there's also snooping neighbor Willie (Jeffrey Tambor from The Death of Stalin) who shows up at the most inopportune times. And the reason that Mickey is at the house in the first place demonstrates that the home's owners, Ronald and Sondra Rankin (The Monster Club's James Laurenson and Good Against Evil's Elyssa Davalos), are shady characters as well. And remember, there's still a murderer roaming the neighborhood who could be any one of them.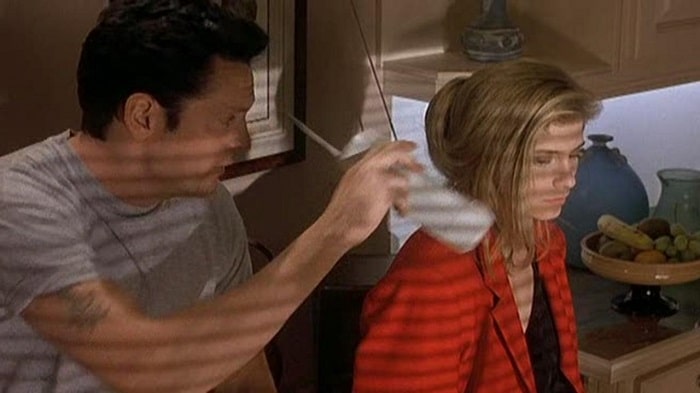 Ken Wiederhorn enlisted the help of composer Richard Einhorn (The Prowler, Blood Rage) for the music for A House in the Hills, and the versatile composer turned in a score that embraces the weird tone of the movie. Most of the music is electronic synthesizer stuff, with eerie melodies and tense harmonies that are typical of horror scores, but every once in a while, Einhorn will slip in a sexy saxophone to tease the oddball romantic aspect of the narrative. In some ways, it seems as if Einhorn is the only person involved with the making of A House in the Hills who understands the campiness of the movie, and his score comes with a naughty wink to the audience. At times, it's almost a horror porn soundtrack.
The nineties were a strange time for horror. Everything seemed to be either a retro teen slasher, like Scream or Urban Legend, or a crazy science fiction flick, like Event Horizon or Disturbing Behavior. But if you look hard enough, you can also find strange gems like A House in the Hills.