The Tomorrow Man Review
Noble Jones' 'The Tomorrow Man' looks good and features some great performances, but ultimately falls flat.

Ed Hemsler spends his life preparing for a disaster that may never come. Ronnie Meisner spends her life shopping for things she may never use. In a small. These two people will try to find love.
Director: Noble Jones
Screenwriter: Noble Jones
Producers: Nicolaas Bertilsen, Tony Lipp, Luke Rivett, James Schamus
Cast: John Lithgow (Ed), Blythe Danner (Ronnie), Derek Cecil (Brian), Katie Aselton (Janet), Sophie Thatcher (Jeanine), Eve Harlow (Tina), Wendy Makkena (Beverly St. Michaels)
Editors: Zimo Huang, Glen Scantlebury 
Cinematographer: Noble Jones 
Production Designer: Patrick M. Sullivan Jr. 
Casting Director: Hannah Cooper
Music Score: Paul Leonard-Morgan
Music videos seem to be a good entryway into feature filmmaking. David Fincher and Spike Jonze are two of the more recognizable directors who began their careers doing music videos. Now, after more than a decade making promotional clips for artists like Keith Urban and Taylor Swift, filmmaker Noble Jones makes his feature film debut with The Tomorrow Man.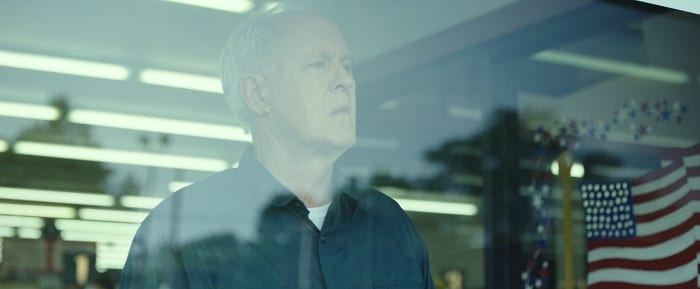 The Tomorrow Man is about a man named Ed Hemsler (Pet Sematary's John Lithgow) who spends his days stocking his bomb shelter and preparing for doomsday. One day, while buying supplies at the local grocery store, he notices a woman named Ronnie Meisner (Blythe Danner from I'll See You in My Dreams) who seems to be stocking up on things herself. Thinking that he has found a kindred spirit, Ed introduces himself, but soon learns that Ronnie is not a doomsday prepper, but a hoarder. Still, the couple begins an odd little relationship during which they learn about themselves as much as they learn about each other.
There's a weird tone to The Tomorrow Man. On the one hand, it's a quirky December-December romance, but there's a dark streak that runs through it that seems really out of place. That dark streak is probably what will attract some viewers to the movie, but it will alienate others. The pacing is awkward and slow, and it all culminates in an ending that feels like it was written first, with the whole rest of the movie existing solely as filler to get to that one moment. And, in this case, that's not really a compliment.
There is another scene besides the ending that functions as a centerpiece for the film. At one point, Ed and Ronnie are sitting around a campfire and Ed lays out a day-by-day, month-by-month scenario of a nuclear holocaust that, frankly, seems more like a news report than the rantings of a doomsday seer. It's all too real for today's climate of political unrest, and it seems like the type of scene that Noble Jones was just itching to write, especially with the intention of having John Lithgow recite the speech.  
Predictably, the strongest aspect of The Tomorrow Man lies within he performances of the two leads. Lithgow's conspiracy theorist Ed is a complete nutjob, estranged from his family and thinking that his television is talking directly to him. Danner's introverted loner Ronnie is more sympathetic, yet just as neurotic, and the pair together form a fun yin-and-yang, bringing out the best of each other while stifling the worst. At least, they do for most of the movie. Of course there's conflict, but not enough to get the audience to root against either one of them. It's all very safe.
Noble Jones knows his way around a camera and has a sharp eye for imagery (he acted as his own cinematographer for the film), so visually, The Tomorrow Man looks great. It's also got the best unironic use of "Muskrat Love" in recent memory. And it's very timely – Ed's fireside talk is not the only scene in the film that echoes modern sentiments and anxieties about the direction in which the county is staggering. Despite all of this, The Tomorrow Man still feels stale and flat. The flashes of brilliance don't outweigh the mire and muck, but they do give a reason to keep an eye out for Jones' next project. Even if it's another music video.