Synopsis: A young woman is involuntarily committed to a mental institution, where she is confronted by her greatest fear–but is it real or a product of her delusion?
Release Date: March 23, 2018     MPAA Rating: PG-13
Genre(s): Horror, Thriller
Film Review

A couple of years back, Sean Baker made headlines by shooting his brilliant movie Tangerine entirely on iPhones. It was only a matter of time until other, more notable directors followed suit. Never afraid to take a risk, auteur Steven Soderbergh (Traffic, Magic Mike) has stepped up to the plate first, using the technology to make the psychological horror film Unsane.
Unsane is about a young woman named Sawyer Valentini (Breathe's Claire Foy) who moves from Boston to Pennsylvania in order to escape a stalker named David Strine (Joshua Leonard from The Blair Witch Project and If I Stay). After talking to a psychologist about her paranoia, Sawyer finds herself involuntarily committed to the Highland Creek mental institution. She tries to call the police, and her mother (The Fury's Amy Irving) contacts a lawyer, but since Sawyer signed a release, she's stuck. Things become worse when Sawyer swears that a new orderly at the hospital is her stalker who has found her. Sawyer believes that she is in real danger in the institution, but everyone else thinks that it's all in her head. And maybe it is?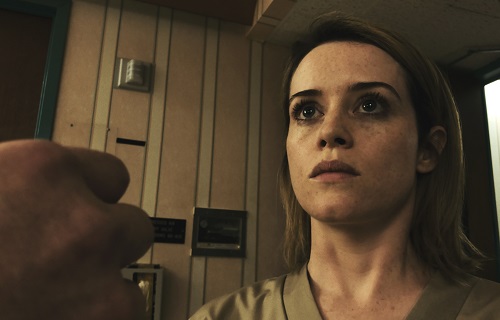 Shot in relative secrecy during the first half of 2017, Unsane is Steven Soderbergh returning to his Sex, Lies, and Videotape roots. It's a dirty, mean, and nasty little horror movie, with a look to match. The screenplay, written by Jonathan Bernstein and James Greer (the duo behind Jackie Chan's The Spy Next Door), is compelling enough, with some cool twists and turns, even if the surprises do reveal themselves a little too early and force the movie to become more of a slasher than a psychological thriller. The movie is also packed with great performances, particularly from Foy and Leonard, but also from co-stars Jay Pharoah (Ride Along) and Juno Temple (Afternoon Delight). On the narrative front, Unsane packs a punch.
Unfortunately, all of this is negated by the lo-fi look of the film. The iPhone gimmick worked for Sean Baker, but he seems to have taken more care with Tangerine than Soderbergh did with Unsane. Unsane has the found footage look without the found footage angle, and it rarely works in the film's favor. Shooting on an iPhone is one thing, but Unsane looks as if Soderbergh edited it with the iMovie app on that same iPhone. The audience focuses more on the poor aesthetic choices than on the actual movie, and that's a shame. Because shot with real cameras, with a skilled lighting technician, and the same great cast, Unsane could be something special. As it is, it looks like an overly ambitious film school project.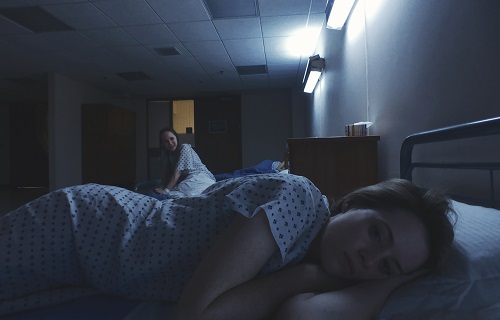 Unsane is a prime example of unsuccessful guerilla filmmaking. There's a good movie hiding inside it somewhere, but the one we got still looks like a rough draft.

As mentioned earlier, Steven Soderbergh shot Unsane on an iPhone 7, and it looks like it. It's done in a retro 4:3 television-style aspect ratio, and it's got a 4k resolution, but the problem isn't so much how the image was captured. It's the image itself. Unsane looks to have been shot with entirely natural lighting with no color correction, which could be another stylistic choice, but it's distracting in that, most of the time, the viewer can't see the things that are lurking in the shadows. And, intentional or not, there are a ton of shadows in Unsane. Half the time, it looks like footage that was accidentally captured when someone left their iPhone recording while it has been set down on a table, and the other half looks like the stalker-style hidden cam videos that can be found all over YouTube. Either way, the photography in Unsane looks like it was shot by an amateur. Audiences should be able to expect more from an artist like Steven Soderbergh.

To its credit, the scares in Unsane are not cheap jump scares. Steven Soderbergh is better than that. Most of the tension in the film is created by the performance of Joshua Leonard, who plays his role(s) with a combination of sincere honesty and unhinged stalkertude. The location, which is a real-life abandoned mental hospital, is creepy as well. There are some suspenseful moments in the movie, and also some explosive ones, but not enough to make up for the low rent look. Unsane is scarier than the average found footage movie, but not as scary as it could have been if the audience could actually see what they should be afraid of. There's no fear hifing in the shadows in Unsane, only frustration.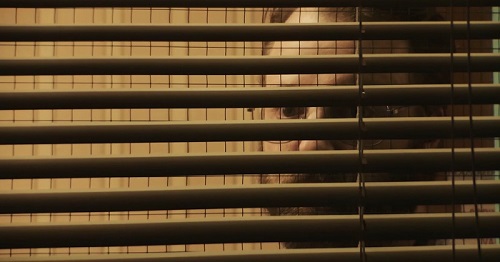 Cast and Crew
Director(s): Steven Soderbergh
Producer(s): Joseph Malloch
Screenwriter(s): Jonathan BernsteinJames Greer
Story: 
Cast: Joshua Leonard (David Strine)Claire Foy (Sawyer Valentini)Juno Temple (Violet) Amy Irving (Angela Valentini)Sarah Stiles (Jill)Polly McKie (Nurse Boles)Colin Woodell (Mark)Lynda Mauze (Dolores)Zach Cherry (Dennis)Jay Pharoah (Nate Hoffman)Raul Castillo (Jacob)Michael Mihm (Steve)
Editor(s): Steven Soderbergh (as Mary Ann Bernard)
Cinematographer: Steven Soderbergh (as Peter Andrews)
Production Designer(s):
Costume Designer: Susan Lyall
Casting Director(s): Carmen Cuba
Music Score: 
Music Performed By: 
Country Of Origin: USA