'The Last Laugh' Review
Netflix's The Last Laugh offers plenty of laughs for all ages, and a refreshing look at how old age is not a time for regrets but an invigorating adventure.

Release Date: January 11, 2019
In The Last Laugh, when retired talent manager Al Hart is reunited with his first client, Buddy Green, a comic who quit show business 50 years ago, he convinces Buddy to escape their retirement community and hit the road for a cross-country comedy tour.
Director: Greg Pritikin
Screenwriter(s): Greg Pritikin
Producer(s): Rob Paris
Cast: Chevy Chase (Al Hart), Richard Dreyfuss (Buddy Green), Andie MacDowell (Doris Montgomery), George Wallace (Johnny Sunshine), Lewis Black (Max Becker), Kate Micucci (Jeannie)
Editor: Michael Palmerio
Cinematographer: Steve Gainer
Production Designer: Nate Jones
Casting Director(s): Eyde Belasco
Music Score: Jay Weigel
In 2019, there are tentpole-like Netflix original movies that are generating buzz for the streaming service: Velvet Buzzsaw, The Irishman, and Six Underground stand out for their star power in front of and behind the camera, making them perfect for the Netflix limited theatrical release-streaming model, like Roma. Nearly every week, though, a Netflix original movie releases, and on January 11, it was The Last Laugh, starring Chevy Chase and Richard Dreyfuss (My Life In Ruins).
Netflix's The Last Laugh focuses on two men who find themselves crossing paths 50 years after they first met and worked together.
Comedy Never Gets Old, but the Comedians Do
Al Hart (Chevy Chase) is a stand-up comedian manager who wants to keep working even though he is past retirement age and isn't in top health. The problem: His clients are all dead, and the only client still alive ditched him for another manager. Al's wife passed away, and his granddaughter Jeannie (Kate Micucci) is worried about him living alone, so she sets up a visit to a retirement home with the hope that he will move in.
Then we have Buddy Green (Richard Dreyfuss) who was a client of Al's 50 years ago before quitting the business inexplicably right before he was set to appear on the "Ed Sullivan Show." Buddy went on to become a very successful podiatrist in Beverly Hills, marry, and have a family.
Buddy does not have any regrets, but when Al moves into the same retirement home itching to get back in the game, Buddy signs on for a cross-country comedy club tour. He's still great on stage, bringing in laughs night after night, and Al is determined to get Buddy on "The Tonight Show" before the trip is over.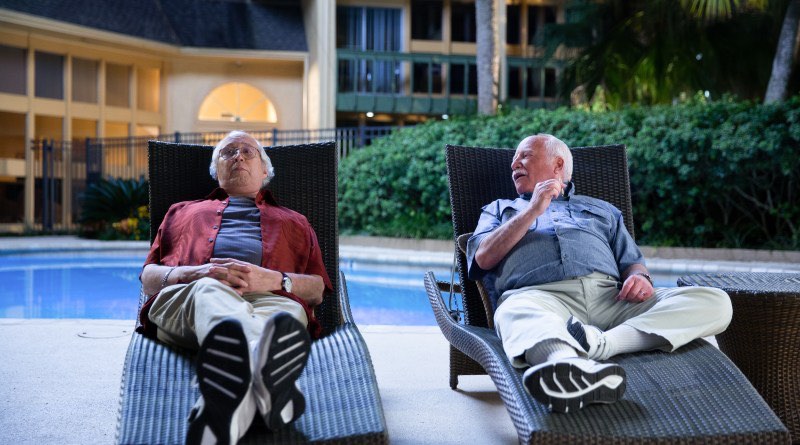 As road trip movies go, things don't go as planned for Al and Buddy, with some hiccups resulting in great laughs for the audience and others that fall a tad flat. The Last Laugh plays out similar to a live comedy show; you may not like every joke, but there are some that will make you chuckle. Andie MacDowell joining Al and Buddy along the way is mostly positive on the comedy and dramatic front, until the unexplainable choice to include them in a musical number before the third act.
There's a silver lining here: You can fast forward on Netflix. That's right. You don't have to sit through the only negative part of The Last Laugh, just zoom ahead and proceed to find out how this funny geriatric road trip ends. In the process, you can discover why it's a movie for every generation, and especially suited for those who are just getting started with adulthood and all the major life decisions that come with it.
The Last Laugh Is Best-Suited for Non-Retired Generations
The Last Laugh isn't a movie you'd expect to appeal to anyone under the age of 65, but it's surprisingly best-suited for younger generations because of the message it holds. It's always clear that Buddy is not hitting the comedy road again because he regrets leaving the stage behind 50 years ago. That's important because there are far too many movies that focus on regrets and use them as the motivating factor for a character's actions.
In The Last Laugh, we have a protagonist in Buddy who just wants to have fun because he's alive and capable. The lesson to take away here is that you can leave behind something you enjoy and may be highly successful at for something else that you know will make your life more fulfilling long term. Buddy could have been a famous comic, but he chose a different path and his reasons for doing so make perfect sense as the story unfolds.
Similarly, there is no rule that says you can't ditch what you're doing today and start something new to improve your well-being. Life is what you make of it, and if it's not working, you have the power to change your circumstances, regardless of what others tell you is the right path to take.
In Al's circumstance, we find a man who is aged out of the working world but doesn't want to leave. It's a tad more complicated with Al than Buddy because he worked for the enjoyment of working, not because you have to work to survive. To take work away from him means to leave him with nothing, or so he thinks. Al teaches us that you don't have to stop doing what you love because of your age, but it's not a bad thing to explore other things that can bring you joy and fulfillment as well. Maybe even more so later in life.
All of these life lessons are mixed up in a Netflix comedy that's far from perfect but features two talented comedians who have great chemistry. The back-and-forth banter between Al and Buddy in The Last Laugh instantly draws you to them, and the laughs rarely disappoint. Anyone should be drawn to The Last Laugh for its uncomplicated comedic delivery. For the non-retired viewers who may see Chevy Chase and Richard Dreyfuss pop up on the Netflix suggestion screen and think age spots and talk about disease and death, no thank you, should think on it.
For one, the talk about health updates is hilarious – broken hip news from George Wallace as Johnny Sunshine is priceless. It only gets better when he speaks about how you can win at canasta and then wake up dead. Life's rough in old age; Chevy Chase's face when news like this hits is comedy gold.
The Last Laugh may star men who are, to quote director and screenwriter Greg Pritikin, "pre-dead," not old, but it's for that reason it should be seen. Ditch the movies that show older people lamenting their life choices and embrace The Last Laugh where life for two men in different ways has been great. And then realize that you too can have fun at 80 and do whatever you want before you get there, or when you do.