Synopsis: Fiona visits Paris for the first time to assist her myopic Aunt Martha. Catastrophes ensue, mainly involving Dom, a homeless man who has yet to have an emotion or thought he was afraid of expressing.
Release Date: August 4, 2017     MPAA Rating: PG-13
Genre(s): Comedy,
Film Review

For the past ten years or so, filmmakers Fiona Gordon and Dominique Abel have been making quirky little comedies like The Fairy, Rumba, and L'iceberg. The third member of their writing/directing trio, Bruno Romy, has left the fold, so now they are officially a duo. But that duo has not missed a beat with its newest movie Lost in Paris.
Lost in Paris stars Gordon as a Canadian librarian named, well, Fiona, who gets a troubling letter from her Aunt Martha (the late Emmanuelle Riva from Amour and Skylab) and decides to go and visit the woman in Paris. When she arrives, she finds her Aunt is missing. After a series of unfortunate events, Fiona ends up meeting a hobo named Dom (Abel – yes, they both use their real names for their characters), and the unlikely pair traipse and travel through the City of Light in search of Fiona's Aunt Martha.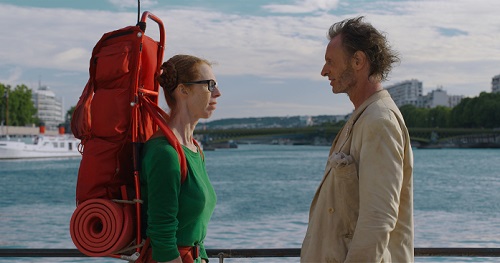 There's a wacky and whimsical vibe that runs throughout Lost in Paris. It would be very easy for the storyline to get frightening or depressing, but the sheer magnetic charisma of Gordon and Abel keeps it light and fluffy, full of humor and heart. The plot is actually more of an outline, as the film seems to be just a series of short vignettes about Fiona and Dom – separately at first, then together – as they find adventure (and misadventure) in the city. Of course, everything overlaps and intertwines, but Lost in Paris is not the kind of film that requires close concentration to enjoy. It's all a bit like Wes Anderson directing an episode of "The Electric Company."
Although it never really feels like it, Lost in Paris is a vehicle for Gordon and Abel to showcase their chemistry and talents, whether it be their impeccable comic timing or their ability to break into a dance number at any given point. And, no matter what happens, it always seems as if Gordon and Abel are playing themselves, without any pretense or deception. It's all very honest and genuine. What is ostensibly a movie about a rough trip to Paris becomes a showcase for the comedic and thespianic skills of the charming filmmakers, and the duo pulls it off admirably.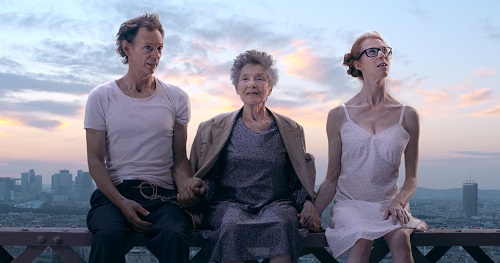 All of the adjectives that can best be used to describe Lost in Paris have already been stated in this review; it's quirky, wacky, whimsical, charming, and just plain fun. There's not a whole lot to it, and that's just the way it should be. It's just a flat-out entertaining movie made by a talented pair of visionary comedic filmmakers.

Lost in Paris is theater of the absurd, with its comedy being drawn mainly from the silliness of the situations. Most of the humor is physical, slapstick-style comedy, and luckily, Gordon and Abel (particularly Abel) are very good at it. Sometimes, Gordon is falling over a railing into a river. Other times, Abel is chasing down his escaping dinner while he is fishing. The visual gags are all hilarious, not matter what they are or who is performing them. Gordon and Abel even pull off a hysterical Buster Keaton/Charlie Chaplin-like ladder bit towards the climax of the film that is, well, hysterical. There's also a limited amount of verbal humor, which is funny, but it pales in comparison to the physical comedy when it comes to generating real laughs. The sense of humor in Lost in Paris is a bit quirky (it is, after all, a French film), but the film is hilarious to the right audience.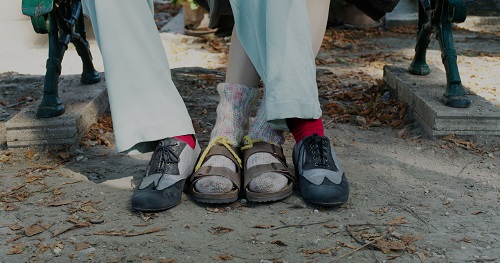 Cast and Crew
Director(s): Dominique Abel
Producer(s): Dominique AbelCharles GillibertFiona GordonChristie Molia
Screenwriter(s): Fiona GordonDominique Abel
Story: 
Cast: Fiona Gordon (Fiona)Dominique Abel (Dom)Emmanuelle Riva (Martha) Pierre Richard (Duncan)Frédéric Meert (Bob le Mountie)
Editor(s): Sandrine Deegen
Cinematographer: Claire ChildericJean-Christophe Leforestier
Production Designer(s):
Costume Designer: Claire Dubien
Casting Director(s): 
Music Score: 
Music Performed By: 
Country Of Origin: FranceBelgium