It's said that everything old is new again, and of course, the sentiment is never more apparent than in the world of horror movies. Even when a newer film is not considered a sequel or a remake (excuse me, a reboot), its concepts and themes can still usually be traced back to some earlier film that it rips off (excuse me, takes influence from). For example, take last years' Housebound, an ingenious tale about a haunted house that ends up simply having a crazy guy living within its walls. That concept sounds suspiciously like Wes Craven's The People Under the Stairs. But, even Craven's masterpiece was not a completely original idea; the influence for that frightfest can be found in the 1974 television movie Bad Ronald.
The Ronald in Bad Ronald refers to a socially awkward, introverted teenager named Ronald Wilby (Scott Jacoby from The Little Girl Who Lives Down the Lane and Return to Horror High). One afternoon, on the way home from being tossed out of a pool party by a group of bullies, Ronald struggles with a girl, accidentally causing her death when she falls and hits her head. Scared and confused, Ronald buries the body and goes home, telling his mother (Kim Hunter from the Planet of the Apes movies) exactly what happened when he gets there. Mrs. Wilby convinces Ronald that he should hide away in a secret room in their house until the whole affair blows over. Unfortunately for Ronald, his mother goes in for surgery and dies, leaving him still living within the walls of the house. Ronald spends his time in the hidden room drawing pictures and fantasizing about princes and princesses, until a new family moves in. As soon as Ronald lays eyes on the family's youngest daughter, Babs (Liar's Moon's Cindy Fisher), he becomes smitten with her, losing his grip on reality and becoming convinced that he is a prince and she is his lost princess, and Ronald will not let anyone come between him and his princess.
Bad Ronald was a television movie from the days when television movies were allowed to be scary, the mid-seventies when classics like Don't Be Afraid of the Dark, Moon of the Wolf, Night Terror, and even Duel were broadcast over the airwaves for anyone with an antenna on their tube TV set to see. The movie was directed by television veteran Buzz Kulik, who worked on TV movies like Brian's Song and The Man Who Came to Dinner as well as weekly series such as "The Twilight Zone" and "The Defenders," and written by Andrew Peter Marin (Deadly Intentions, The Million Dollar Rip-Off) from the novel by John Holbrook Vance ("Captain Video and His Video Rangers"). It originally aired on the ABC network on October 23, 1974, one week before Halloween. The ABC executives knew exactly what they were doing with that scheduling. Bad Ronald isn't scream-out-loud scary; it's got more of an underlying creep, touching upon the very real fears of violation, intrusion, and voyeurism in its audience.
Even though the limited bloodshed in Bad Ronald is all caused by Ronald, the boy is still a highly sympathetic character. Sure, Ronald is a tad unstable and has a volatile temper, but the killings in the film are accidental, with Ronald mostly just being in the wrong place at the wrong time, so the audience takes pity on him more than they fear him. Ronald is both bullied by his classmates at school and dominated by his mother at home, so by the time he finally does snap and lose his marbles, no one is really surprised. In fact, none of the other characters in the film are especially likeable, so even with him as the creep-in-the-walls, Ronald is the anti-hero of the film.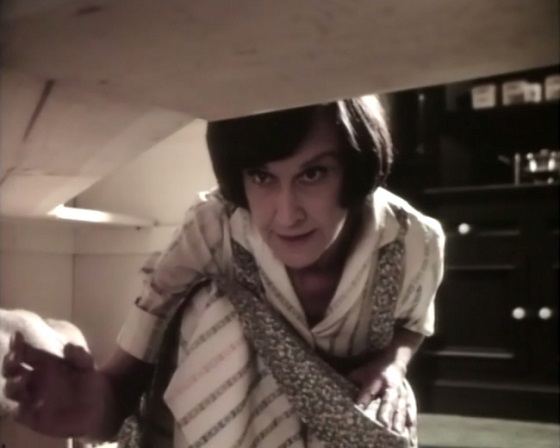 From an acting standpoint, Bad Ronald pretty much belongs to Scott Jacoby (who – fun fact – is also the older brother of Billy Jacoby from Bloody Birthday and Cujo), with a few scenes stolen by Kim Hunter as his mother. However, there is a whole cast full of experienced actors that contribute to the effectiveness of the film. The parents of the new family that moves into Ronald's house are portrayed by Dabney Coleman ("Mary Hartman, Mary Hartman") and Pippa Scott (The Searchers), with the daughters played by Cindy Fisher and real-life sisters Cindy and Lisa Eilbacher (who were in Slumber Party Massacre II and Leviathan, respectively). Ted Eccles, who viewers may remember from Krofft's "Dr. Shrinker," appears as one of the girls' boyfriend. John Larch from The Amityville Horror and Roger Aaron Brown from Near Dark play the cops who always seem to be a step away from busting Ronald. John Fielder (12 Angry Men), Aneta Corsaut (The Blob), and Linda Watkins (From Hell It Came) all have small supporting roles as well. The lure of a broadcast television movie brought an accomplished and versatile cast to Bad Ronald.
Maybe it's because Buzz Kulik built his career in television, but Bad Ronald has the definite look of a TV movie. Cinematographer Charles F. Wheeler (who did work on everything from "The Twilight Zone" to Silent Running) gives the film a flat, vanilla look without sacrificing the character and warmth of the settings – in other words, he makes it look like it was shot on a standard studio lot. There's very little gore to the film, so the special effects are sparse, but the overall vibe of the production is that of an hour-long prime-time dramatic broadcast show. Only creepier. Yes, Bad Ronald may seem tame by today's standards, but it shocked its 1974 audience.
There's a quote that is attributed to Bach (or some other composer like him) that says "there's only twelve notes on the staff." With so many movies having been and still being made, it's inevitable that some are going to share similar themes. Heck, even Bad Ronald was remade by the French in 1992, making it look like it was ripping off The People Under the Stairs from the year before. As far as influences go, a filmmaker could do far worse than Bad Ronald.