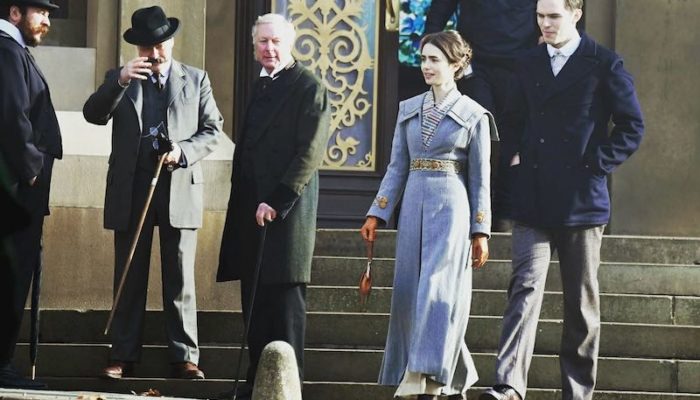 Fox Searchlight Releasing J.R.R. Tolkien Movie in the Summer 2019 Season
Because a biopic of the "The Lord of the Rings" author can be just as big a hit as Avengers: Endgame? We should all hope so.
Fans of the legendary J.R.R. Tolkien, writer of "The Lord of the Rings," mark May 10, 2019, on your calendar. That's the date Fox Searchlight will release Tolkien in theaters, a biopic of J.R.R. Tolkien and his wife/muse Edith Bratt.
J.R.R. Tolkien Movie to Focus on the Years Before Middle-Earth Novels
Tolkien will focus on the years before J.R.R. Tolkien wrote the now-famous Middle-earth based novels, notably "The Hobbit," "The Lord of the Rings," and "The Silmarillion," published after his death. Nicholas Hoult stars as J.R.R. Tolkien and Lily Collins his wife Edith Bratt, as friendship, love, and artistic exploration takes place in the young author's life into WWI and the inspiration for his famous book series.
As we all know, Peter Jackson adapted J.R.R. Tolkien's "The Lord of the Rings" series and it remains a worshipped film trilogy amongst fans, new and old. Tolkien will be the first biopic of J.R.R. Tolkien to hit the big screen, and given its May 2019 release date, just at the beginning of the summer movie season, it's likely Fox Searchlight will do a large release. That should come as no surprise considering the fan base the movie will appeal to.
As of now, Tolkien will go up against Pokemon Detective Pikachu and The Hustle at the box office, with John Wick 3 releasing the week after. But, it's releasing only two weeks after Avengers: Endgame. That'a big gamble to take for Fox Searchlight since Avengers: Infinity War dominated the box office for weeks. It should give you hope that Tolkien is a great movie that can compete.
The Cast and Crew of Tolkien