Dumplin' Review
A mother-daughter relationship movie that shines because of drag queens and Dolly Parton.

Release Date: December 7, 2018
Willowdean ('Dumplin'), the plus-size teenage daughter of a former beauty queen, signs up for her mom's Miss Teen Bluebonnet pageant as a protest that escalates when other contestants follow her footsteps, revolutionizing the pageant and their small Texas town.
Director: Anne Fletcher
Screenwriter(s): Kristin Hahn
Producer(s): Mohamed AlRafi, Michael Costigan, Kristin Hahn, Trish Hofmann
Cast: Danielle Macdonald (Willowdean), Jennifer Aniston (Rosie), Odeya Rush (Ellen), Maddie Baillio (Millie), Bex Taylor-Klaus (Hannah), Luke Benward (Bo), Harold Perrineau (Lee)
Editor: Emma E. Hickox
Cinematographer: Elliot Davis
Production Designer: Elizabeth J. Jones
Casting Director(s): Cathy Sandrich
Music Score: Jake Monaco
Willowdean doesn't like to be called Dumplin' — that doesn't stop her former beauty queen mother from doing so. Mother-daughter relationships are tricky, and Dumplin' delves into one that likely affects many: When a daughter doesn't reflect what a mother sees as the ideal in terms of physical appearance.
Rosie (Jennifer Aniston) is a former beauty queen who still works part-time in pageants. She loves them. Her daughter Willowdean (Danielle Macdonald) hates everything about pageants. There are many reasons you can confer as to why, but the most obvious is that Willowdean has never been "pageant material" in the eyes of her mother. Why? She's not a size two or four, nor does she focus on fashion and makeup in her daily life. It's made Willowdean insecure on some levels, but her deceased aunt (also not a size below eight) did everything she could to help Willowdean love herself.
That's why Willowdean is likable in Dumplin'. She has a level of confidence that you can respect and sticks up for herself and other non-conforming young women in her beauty-pageant obsessed town. She's smart, witty, loyal and full of love for those close to her. She's also sensitive, at times insecure, and struggling with boys. She is a teenager, and screenwriter Kristin Hahn does an exceptional job creating a relatable character with Willowdean, regardless of what size dress you wear or how you do your hair.
A lesson Willowdean learns in Dumplin': Size doesn't matter — everyone struggles. Another: Boys can and will like you for who you are as an entire person.
It is Willowdean's desire to usurp the norm in her town and stick-it to her mother that provokes her to sign up for the Miss Teen Bluebonnet pageant. It's a protest of sorts, and she's not alone in her pursuit, best friend Ellen (Odeya Rush), God-loving Millie (Maddie Baillio), and the stereotypical alt character, Hannah (Bex Taylor-Klaus), are in, too.
Each girl has very different reasons for signing up for the pageant and we discover them as Dumplin' progresses. We're also shown that regardless of motivation and differences, support amongst friends is important. So are Dolly Parton and drag queens.
Dolly Parton, Drag Queens, and Dumplin'
What makes Dumplin' more than a mother-daughter movie-of-the-week is the inclusion of Dolly Parton and drag queens. And if you're new to this coupling, you should know that it's not uncommon.
In Dumplin', there's a Dollyism for all of life's trials and tribulations. Feeling down about your relationship, Dolly has a song for that. Need a pick me up before school, she's got you covered. Need to wow an audience that thinks you shouldn't be a part of a beauty pageant, that's when you need more than a Dolly Parton song, you need a Dolly Parton Drag Queen.
The drag queens in Dumplin' bring the humor. They are direct with their points of views on Willowdean, Millie, and Hannah's deficiencies in style and talent and work with them to transform them into stage-worthy young women. It's never about changing who they are — that's important — just refining and finding strengths, and knowing when less is more.
The drag queens stand in for the parents of these young women who aren't getting the support they need at home. It's effective, except that as is the case in many a Hollywood movie, physical transformations shouldn't be the reason someone finds acceptance.
Change Isn't as Easy as Dumplin' Makes It Appear
I'd love to turn on the Miss America Pageant and see women of all shapes and sizes, without perfect wrinkle-free skin, and makeup that takes an hour to remove. It could happen, someday, but not overnight. In the case of Dumplin', acceptance comes swift. It's a dream come true — and just that, a dream.
Dumplin' makes it seem very easy to change the minds of people who have always seen ideal beauty in one way. It's not a terrible message to portray but it's not entirely realistic. The inhabitants of this small Texas town aren't suddenly going to stop turning up their noses to larger body types or open their arms wide to a woman who enjoys dressing in "men's clothing" just because she can learn a dance routine and wear a bathing suit on stage promoting body positivity.
And you shouldn't have to become a beauty queen for your mother to not feel embarrassed about you, finally showing pride in your appearance.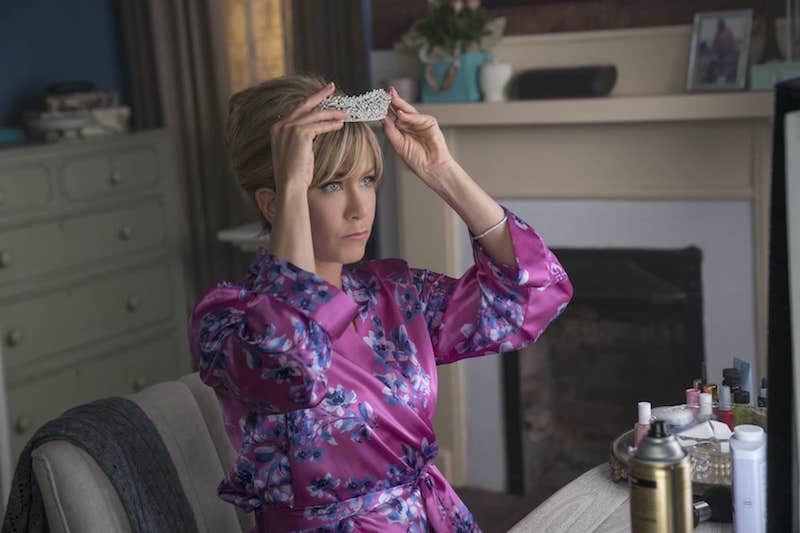 It's ridiculous to think that Dumplin' wouldn't have a happy ending, where everyone gets what they want at the closure of the pageant. But I won't fault the film for adhering to the standard formula because the overall message is strongly positive. Girls, even women, of every shape and size should watch Dumplin' with their mothers, hopefully strengthening their bond and helping them both reinforce that beauty doesn't have an ideal size or specific look.
A final positive: It's a mother-daughter relationship movie that only brings happy tears and very little melodrama.