Synopsis: The adventures of an orphaned boy named Pete and his best friend Elliot, who just so happens to be a dragon.
Release Date: August 12, 2016     MPAA Rating: PG-13
Genre(s): Adventure, Family
Film Review

In 1977, as a seven-year-old kid, I loved the original Pete's Dragon. The clever blend of animation and live action stuck me on the hook, and the catchy songs reeled me in. Not even the two-hour-plus running time discouraged my "Sesame Street" attention span. So, while everyone else was worrying about whether or not this year's Ghostbusters remake would ruin their childhood, I was quietly anticipating Pete's Dragon with a mixture of hope and apprehension. Hope won out.
Pete's Dragon is about an orphan, conveniently named Pete (Oakes Fegley from Fort Bliss), who lives in the woods with his best friend, a (you guessed it) big green dragon named Elliot. Pete and Elliot have gotten along for years in the forest, but when Pete accidentally stumbles upon a forest ranger named Grace (Jurassic World's Bryce Dallas Howard) and her step-daughter, Natalie (Oona Laurence from Southpaw), he is taken to the nearby logging town of Millhaven so that the authorities can try to locate his family. Of course, all Pete wants to do is get back to his best friend Elliot so that they can live out their lives in peace. Unfortunately, in doing so, he unwittingly draws attention to the dragon's existence, which has been rumored around town for years, thanks to Grace's father, Meacham (Robert Redford from All is Lost), who claims to have seen the beast decades before. With the help of Grace, Natalie, and Meacham, Pete must find a way to save himself and Elliot from the townsfolk who are curious about – and afraid of – his dragon.
Directed by David Lowery (Ain't Them Bodies Saints) from a screenplay that he wrote with Toby Halbrooks (better known as the producer of Upstream Color and Listen Up Philip), this reimagining of Pete's Dragon is based on the original 1977 film in name only. Of course, there's an orphan named Pete, and he has a dragon for a best friend, but that's pretty much where the similarities end. The story in Pete's Dragon is a simple one, going from point A to point B in a succinct manner with no fancy subplots or cunning surprise twists to muddy it up. It's simultaneously a fish-out-of-water movie and a coming-of-age tale. The antagonist(s) are underdeveloped (in fact, they're completely undeveloped), but Pete and Elliot are likeable enough so that the viewer literally wants to reach into the movie to help them solve their dilemmas and be together. It's that kind of a movie.
There's a word of caution to be spoken about Pete's Dragon. It is rated PG, and it should be; it's not for really young kids. There are some dark and disturbing moments in the film. For example, an early scene which shows exactly why Pete is an orphan may be too much for the littler tykes. Older kids who can handle a little dread and disparity should be fine. Better than fine. They'll probably love the movie even more with the shadowy stuff stuck in there.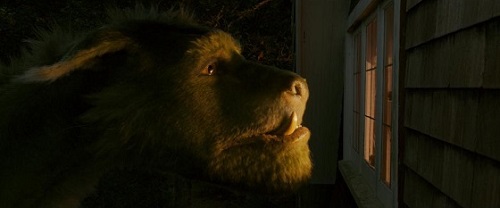 Essentially, David Lowery did the best thing that he could have done with Pete's Dragon; he made it his own. There's just enough of the original there so that Disney can call the film Pete's Dragon, but it really stands quite nicely on its own merits. And that's a good thing, because no one wants a pale, lifeless imitation of a classic. There will be no childhoods ruined by this Pete's Dragon.

The most obvious difference between the original and the remake of Pete's Dragon is, of course, the dragon himself. Whereas the Elliott in the original was a goofy two-dimensional cartoon who interacted with the live actors á la Mary Poppins or Who Framed Roger Rabbit?, the reimagined Elliot is a slicker, more life-like creation that resembles a cross between Falkor from The Neverending Story and the flying fire-breathers from HBO's "Game of Thrones." Yes, Elliot is furry, and that takes a little bit of getting used to, but once the audience is over that hump, he looks great. The animation that brings Elliot to life is seamless, the computer generated dragon flying and running along with the humans just as if he's really there. Elliot has the power of invisibility, too, so the visual effects artists get to play around with transparency filters as well. Oh, and not really a visual thing, but Elliot's vocal grunts and roars are supplied wonderfully by the Cryptkeeper himself, voice actor John Kassir, giving the beast an extra ton of character and charisma.
The only small knock on the visual effects is something that wasn't done. Pete's Dragon is available in 3D, but the technology is wasted. It's hardly noticeable, and that's a shame. The sequences of Elliot flying through the sky and the scenes in the deep woods could have been made much more electrifying if the 3D was utilized to put the audience right into the middle of it, but instead, it's used to add texture and contour to a movie that, frankly, doesn't need its help. But, if the biggest problem with the movie's visuals is the lack of 3D, then Pete's Dragon is doing okay.

Although Pete's Dragon isn't a musical in the same sense as the original, where the characters regularly break into song, the movie is packed with good tunes. The soundtrack is made up of a bunch of indie folk-rock storytelling songs, the kind of music that one would imagine listening to if they actually lived in a scenic forest town like Millhaven. The "hit" single, a ditty called "Something Wild" performed by violin prodigy Lindsey Stirling and featuring Andrew McMahon in the Wilderness (the solo name of the former Something Corporate frontman), is a slice of Ben Folds-meets-Phillip Phillips American pop. The next most memorable tune is "The Dragon Song" by Bonnie 'Prince' Billy (AKA former Palace Brother Will Oldham) which, co-written by director David Lowery and screenwriter Toby Halbrooks, bookends the film nicely (and reprises with a cool rendition by Oona Laurence in the middle). Also included in the movie are songs by The Lumineers (also co-written by Halbrooks), Leonard Cohen (a throwback to the original 1977 film), and St. Vincent (the pseudonym of former Polyphonic Spree member Annie Clark). Not to be outdone, the cinematic score, composed by Daniel Hart (Tumbledown, Comet), features plenty of Lindsey Stirling fiddling as well. It may not be quite the singalong that the original was, but the soundtrack to Pete's Dragon is chocked full of toe-tappin' tunes.
Cast and Crew
Director(s): David Lowery
Producer(s): James Whitaker
Screenwriter(s): David LoweryToby HalbrooksMalcolm Marmorstein
Story: Seton I. Miller & S.S. Field
Cast: Bryce Dallas Howard (Grace)Robert Redford (Meacham)Oakes Fegley (Pete) Oona Laurence (Natalie)Wes Bentley (Jack)Karl Urban (Gavin)John Kassir (Elliot Vocals)
Editor(s): Lisa Zeno Churgin
Cinematographer: Bojan Bazelli
Production Designer(s):
Costume Designer: Amanda Neale
Casting Director(s): Debra Zane
Music Score: Daniel Hart
Music Performed By: 
Country Of Origin: USA