After watching Inception
for the first time I noticed something unfamiliar as I walked out of the theater: my brain literally hurt. Unlike an annoying headache, it was a pain I welcomed with open arms because it meant there was actually some kind of mental stimulation going on up there. My mind was overwhelmed not just with the logistics of the plotline or the "is he still in a dream?" ending, but with concepts of physics, M.C. Escher
architecture, and the philosophy behind "reality". The typical summer Blockbuster requires little to no thought, just a set of eyes on an empty vessel ready to be taken on a roller coaster ride. So a mid-July film that actually demanded one to utilize his/her brain cells was a pleasant surprise. More than a smart summer movie though, here was a movie that evoked thought. As normal Joes and Janes, we often go through our lives uninspired; we wake up, drive to work, clock-in, clock-out, sleep, and repeat. Routine breeds a society of unenthused zombies so when something as alarmingly original as Inception comes along audiences wake up to life as they allow awe and wonderment to reenter their imaginations.

Now before I go on to further praise Director Christopher Nolan and every single individual involved with his masterpiece, I'll be the first to admit that Inception is not all together a perfect film.
I can understand the frustration over the exceedingly long and complex exposition, the lack of character development in the supporting players, and the snow fortress action sequence lacking some necessary climactic punch. For these reasons, as a film critic, I initially believed the movie to be a B/B+. Inception stayed with me though; it was the type of movie that had to be seen at least twice to be fully appreciated. With the rules of the dream world now understood and firmly fixed in my mind, I was much more relaxed during the second viewing allowing the emotional arc of Leonardo DiCaprio's Cobb to completely take hold. But even more than letting my sap card fly high, I let myself become totally immersed and simply amazed by the world Christopher Nolan had created. Outside of the theater, thinking about the scale of the film and its beautiful art direction I gazed upon escalators and the entirety of the mall, imagining these epically sized constructions breaking the laws of physics, folding-in on themselves, collapsing into each other to build new structures, only to erode into the sea after years in limbo. There are few directors with imaginations vast enough in scope to dream up the world of Inception. There are even fewer directors with the technical mastery of the medium who can actually bring that epic imagination to life. So as an aspiring writer and filmmaker enamored by such an ambitious project, Inception and its "auteur", Christopher Nolan, receive a solid A.

For those unaware, in his article, "Notes on the Auteur Theory in 1962", theorist Andrew Sarris
explains the concept of the auteur. The three premises of the auteur theory may be visualized as three concentric circles: the outer circle as technique; the middle circle, personal style; and the inner circle, interior meaning. To elaborate, an auteur has technical competence of his/her medium, has a distinguishable personality, and is concerned with the "ultimate glory of the cinema as an art". Whether one agrees with the merits of the auteur theory or not, one cannot deny Christopher Nolan's talents as an incredible filmmaker. Nolan succeeds in being able to replicate his specific thematic elements and showcase his signature style from film to film, whether it be the independent neo-noir Memento
(2000) or the huge studio blockbuster The Dark Knight
(2008).

From his very first feature film, Following
(1998), Christopher Nolan establishes his interest in the criminal world, in morally ambiguous souls serving as the story's protagonist. In the movie a writer finds himself as an apprentice to a thief and the audience follows them as they break into one apartment after the other. It is Nolan's second feature however, Memento, that throws classical narrative out the window and cements some of his more familiar themes into place. The film centers on a man named Leonard (Australian actor Guy Pearce) who suffers from short-term memory loss and thus uses notes and tattoos to hunt for the man who killed his wife. In order for the viewer to relate to Leonard's disability, Christopher Nolan and younger brother, Jonathan Nolan, effectively weave together the entire story in reverse chronological order resulting in one of the most strikingly refreshing takes ever bestowed on the crime genre. Memento" garnered international acclaim including an Academy Award nomination for Best Original Screenplay. In addition to innovative narrative technique, Christopher Nolan extended his meditation on the duality of man and he began to explore the various methods in which one copes with the death of a loved one, the guilt that incessantly plagues the conscience, and the violent nature of trying to escape reality.
In his succeeding films: Insomnia
(2002), The Prestige
(2006), and both Batman Begins
(2005) and The Dark Knight
(2008), death, guilt, and escape form the psychological foundations of the anti-heroes' twisted backstories. More than the twenty-four hours of Alaskan sun in Insomnia, it is homicide detective Will Dormer's (Al Pacino) guilt due to accidentally shooting his own partner that prevents him from being able to sleep. His conscience spirals rapidly into more degradation as he forsakes his morals by attempting to cover up the incident in order to protect his reputation. In The Prestige, magician Robert Angier (Hugh Jackman) loses his wife in a trick gone wrong and falls into murderous insanity as he obsessively does whatever it takes to top rival magician Alfred Borden's (Christian Bale) ultimate vanishing illusion. And of course in probably the most delusional example of coping with death, Bruce Wayne (Christian Bale again) becomes Batman, a vigilante superhero who will never be able to bring his parents back to life, but can attempt to fill that void by bringing justice to the streets of Gotham City.
Inception incorporates all of Christopher Nolan's signature themes into one epic piece of art. Although the current underworld being observed is a bit more abstract than the usual alley way stick up, the world of dream extractors is still one of thieves, con-artists, corrupt men of wealth, and lots of bad men with guns. Even the classic femme fatale is present via Marion Cotillard's depiction of the character Mal. In certain aspects, Mal is one of the most lethal femme fatales ever created for the silver screen in that her manipulation and psychotic behavior are literal manifestations of the main protagonist. In an interview with Wired magazine, Christopher Nolan states that the projection of Mal represents Cobb's "neurosis…fear of how little he knows about the woman he's fallen in love with".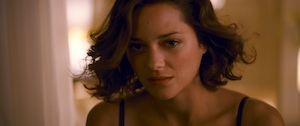 Mal goes on to sabotage the entire operation when she infiltrates the snow fortress near the end of the film and probably most visually alarming is the image of a freight train associated with Mal's insanity tearing through Cobb's subconscious into the drenched streets of L.A. All of Nolan's thematic elements are present in Cobb's deleterious relationship to his deceased wife. Having performed inception on her himself, Cobb's guilt weighs down on him so heavily that he can no longer be the architect of the dream world, he is unable to dream without her. Instead of facing the reality of her death, he builds a literal cage of memories conveniently accessed by an elevator. As Cobb says at the very beginning of the film, an "idea is the most resilient parasite". In this case the "parasite" is that he is solely responsible for Mal's death thus preventing him from moving on with his life, and from seeing his children.
In addition to theme, Christopher Nolan consistently raises the bar on entertainment aesthetic throughout all of his work. From Memento to Inception, Nolan refuses to be anything but innovative in storytelling technique. Even The Dark Knight refuses to end in a simple three act by digressing into an epilogue focusing on another villain altogether. Beyond the blueprints of the screenplay, Nolan is a definite master of his chosen artistic medium. Although many of his films are laden with special effects, unlike most CGI reliant fare today, Nolan is adamant about doing as much as physically possible in-camera. In The Dark Knight when Batman chases the Joker resulting in the flipping of a big rig, that really is a big ass truck pulling off the stunt. When the Joker decides to blow up a hospital, that really is a massive building Nolan has decided to blow to $**t. And now with Inception, when Arthur (Joseph Gordon-Levitt) has to fight off enemy projections in a zero gravity hotel, that really is Joseph Gordon-Levitt, after two weeks of intense rehearsal, in a gigantic set spinning round and round.
Instead of being fooled by artificial imagery, the result of using the "real thing" is genuine shock and amazement. This sense of "the real" in Nolan's fictional worlds is further aided by filming actual cities around the globe. With the help of his longtime director of photography, Wally Pfister, whether it's the ominous white mountains of Alaska in Insomnia to the IMAX wide-shots of Chicago serving as Gotham City in the opening of The Dark Knight, cinematography always plays a vital role in reinforcing Nolan's anesthetic. Although not shot in IMAX, Nolan still shoots the six cities in Inception on 70mm stock, twice the celluloid size of most film commonly used in movies today. The size of the film, especially when viewed in the movie theater, immerses the audience in the action as Cobb's dreams take him to Tokyo, Carlington in England, Paris, Tangier, Los Angeles, and Calgary. Christopher Nolan has said himself to be influenced by Ridley Scott's Bladerunner
(1982), Michael Mann's Heat
(1995), and Stanley Kubrick's 2001: A Space Odyssey
(1968). Through his consistent creation of completely immersive worlds via masterful technical achievement, it is this author's opinion that he has earned a rightful place alongside these fellow visionaries.
On a par with Stanley Kubrick?!? It's true that although some of the mind-bending visuals in Inception, specifically the zero gravity sequence, can be compared to 2001…, Nolan does not possess in his resume a groundbreaking political satire such as Dr. Strangelove or: How I Learned To Stop Worrying and Love The Bomb
(1964) or a highly controversial social commentary such as A Clockwork Orange
(1971). Making "Kubrickian"
films however, should not be his concern. What makes Christopher Nolan distinctive is his gift in being able to disguise what is essentially an art film as a huge summer blockbuster. A $160 million movie about dreams within dreams, death, and memories would never get the green light, but attach some big-name stars, some big explosions, and some 007-inspired action and you've got a hit on your hands. As much as Inception messes with your mind, Nolan still never loses sight of keeping his audience entertained. Of course the fact that Nolan's previous movie, The Dark Knight, grossed more than a billion dollars internationally definitely helped in getting Inception off the ground. Not that I would dismiss The Dark Knight at all; by managing to comment on inner-city corruption and anti-terrorism agendas through effective tragedy the film singlehandedly raised the bar for the superhero genre. By being able to bridge the gap between artistic integrity and mainstream Hollywood appeal, Christopher Nolan is both an auteur that studios can trust and an artist embraced by the filmmaking community.
Inception, a movie about dreams, is a dream come true itself for cinephiles around the world. Every shot, costume, and color palette can be analyzed by the movie lover looking for something to do on a rainy day. Whether it is what Cobb always looking away from his children reveals or how a charge from a defibrillator is visually translated into a stroke of lightning, Inception is filled with layers of meaning for those eager to delve deeper into something other than Citizen Kane
. In the mentioned interview with Wired magazine, Christopher Nolan references the Orson Wells classic by comparing the pinwheel used in Fischer's (Cillian Murphy) emotional story to Rosebud: a visual symbol that sticks in your head from earlier in the story and then can take on new meaning later on. An even more interesting connection between the two films is the utilization of mirrors to create multiple planes of self.
In Inception Ariadne (Ellen Page) creates a row of mirrors that forces Cobb to stare at projections of himself off guard and at the end of Citizen Kane, Wells himself walks past a hall of mirrors. Just as the famous hall of mirrors scene in Citizen Kane hammers that film's message of multiple subjectivity into our heads, Christopher Nolan cleverly uses mirrors to point out reality as relative.
Whether or not one believes the totem keeps spinning at the end of Inception is solely up to the viewer.
Do I believe Cobb to still be stuck within a dream? When I first saw the film I thought to myself absolutely not, he's back in reality with his family. But these days I tend to question happy endings and it seems somewhat more feasible for Cobb to simply be under the spell of an idealized world. Maybe I'll change my mind once my own luck starts to change. The point is Cobb walks away from the totem at the end because he no longer cares if he's in a dream or not as long as he gets to see his kids' faces again; one's reality is what he/she makes it to be. One cannot look to the film for a concrete answer in that Nolan intentionally sews ambiguity into the fabric of every scene. Sure the buildings seem to close in on Cobb in the Mombasa chase scene as if in a dream, but Nolan may just be purposely trying to blur the lines of reality. Sure the hotel room behind Mal right before she jumps to her death looks eerily similar to the room Cobb is in, but is it really that strange for hotels to design rooms exactly the same? The interpretations out there are endless. To some, Inception is a film about the creative process, specifically filmmaking, with Cobb as the director, Saito the producer, Ariadne the screenwriter, Eames the actor, and so on. To others the entire movie is a dream in that the film supports Carl Jungs' dream analysis; with all of the supporting characters acting as classical archetypes to Cobb's multiple personalities (which would also justify the lack of development in the supporting characters). The fact that Inception, in the few months since its initial release, has already given rise to so much discussion and critical thought is much more revelatory than whether or not Cobb is still dreaming.
One morning at the local IHOP I sat behind a family in which the entire time all they did was discuss their theories on Inception. Here was a movie that was actually bringing families together! Great films encourage intelligent conversation, whether it be between family members or a forum of passionate fans at opposite ends of the world. When a filmmaker releases his/her work into the pop culture machine viewers formulate their own set of opinions, their own set of ideas. For myself, Inception extended my fascination with ideas of the relationship between memories, dreams, and death. For others it could be the endless possibilities of breaking physical laws within the dream world that captured their imaginations. The focus on the importance of ideas, of a singular idea, is what makes Inception transcendent. Christopher Nolan understands that the genesis of ideas is by no means simple, both in terms of initial inspiration and lasting effects. No other artist to my knowledge paints this importance of ideas on such an enormous canvas. Inception, a movie about dreams, inspiration, creation, and ideas, started out just as that: a simple idea in the mind of an artist. The film has entered the world's collective subconscious and hopefully the result will be new ideas, new original films, and artistic inspiration impossible to forge. Somewhere Christopher Nolan is sitting back enjoying reality with his family, realizing that he may be responsible for what could quite possibly be the greatest inception of all.
–Like Inception? Check out the Inception: Mobile Architect App from Warner Bros.–