According to Wikipedia, mumblecore is a term used to describe American independent films produced in the 2000s characterized by low budget production values and amateur actors. Those looking for an example of the genre need not look any further as "amateur" can certainly be used to describe this particular interpretation of Shakespeare's classic tragedy. Everything from the cheesy kung-fu fight scenes to the cheap special effects to the Yiddish rip-off of Eminem's "The Real Slim Shady" makes watching Romeo And Juliet in Yiddish almost unbearable. It's a fact that director Eve Annenberg employed non-professional actors and so credit must be given to her for molding her cast into acceptable performers. It's thus a shame when sound difficulties often muffle the dialogue, an unwelcome distraction even when subtitles are present.
The film does sport a variety of excellent exterior shots, whether it be outside of JFK International Airport, walking the streets of Williamsburg, Brooklyn, or hanging out at Coney Island. Interior sets however, such as a scene set inside an airport security office scream for an art direction makeover. With its obvious budgetary restraints, it's safe to say that technical excellence is not the movie's drawing point.
As a former film student, myself being responsible for a few crappy shorts, I can understand the difficulty in working with a shoestring budget and how unfair it is to be compared with blockbuster movies made for hundreds of millions of dollars. I love and support independent filmmaking, but independent cinema is just as susceptible to bad storytelling as the latest incarnation of the Transformers franchise. My biggest complaint with Romeo and Juliet in Yiddish is not its low-budget aesthetic, but the fact that writer and director Eve Annenberg's message is lost in a seemingly unfocused film. Annenberg also acts in the film, playing a registered nurse and graduate student whose scholarship requires her to translate Shakespeare's "Romeo and Juliet" into yiddish. Her knowledge of the language is extremely limited, so she enlists the help of three young men, formerly of the orthodox Jewish community.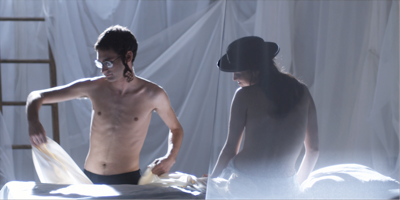 During the process reenactments of the classic play ensue and friendships made. The translation of a play as subject matter for a film is dull in its self, but to make matters worse, none of the characters or plots are developed enough to really ever care. None of the movie's main characters: the RN, the daughter, nor the three young Yiddish assistants are ever given fully fleshed story lines. There are hints of empathetic pathos within the all over the place script structure such as the nurse's falling out with an old orthodox Jewish boyfriend, the daughter's mentioning of a mom who left her and her sister, and the assistants' consistent use of drugs. But hints are all those details ever amount to; in the end the only story crafted well enough to care about is Shakespeare's.
Director and writer Eve Annenberg does however have a unique voice regardless of how unsuccessful the delivery. The subject of orthodox Jewish community dropouts attempting to adapt to the modern secular world is a perspective rarely observed through the lens of a filmmaker. Addressing how unprepared they are for a reality outside of religious structure is engaging material. Seeing the three young men homeless, living in the back of old U-hauls, subjecting themselves to hard drugs and possibly prostitution is edgy and interesting, a real-life tragedy ready to be told on the big screen. It's unfortunate then that deciding on a comedic take on "Romeo and Juliet" undermines all of this. Utilizing the classic tale for the purpose of highlighting several conflicts within the ultra-orthodox world at first seems perfect. It's a text not taught to Hasidic Jews, it possesses tradition and passion that ex-orthodox Jews struggle to maintain, and internal war on Hasidic Judaism can be just as intense a rivalry as that between a Montague and Capulet. But flat jokes combined with distractingly low production quality, an unfocused and underdeveloped script, and a confused tone makes choosing Shakespeare a bold statement lost in translation. There's definitely a voice to be heard brewing somewhere within writer/director Eve Annenberg, it just needs a little more finesse, some fine tuning, and probably most importantly, a rewrite or two.
SYNOPSIS
Eve Annenberg's gritty, funny new feature stars predominantly non-actor twenty somethings who grew up speaking Yiddish as a first language in Brooklyn. This is possibly the first narrative film acted by both men and women in this much spoken, colloquial Yiddish in over seventy years.
Ava, a bitter middle aged Brooklyn nurse has to translate Shakespeare's play from arcane to modern Yiddish for her Master's coursework. When needs help, she hires gorgeous, charismatic and ethically challenged Lazer and Mendy, two young Ultra Orthodox dropouts living like scam artist-refugees on the streets of Brooklyn in a stolen van. They've never heard of the play, the playwright, and don't know how it ends! As they start to modernize and imbibe the poetry and action, they fall under its rapturous spell and begin to live it in their heads in a gauzy and beautiful alternate reality where everyone is…some kind of Orthodox. And with this immersion comes another new concept: romantic love. The Bard may have never dreamed of the Montagues as Satmar Jews and the Lubavitchers as the Capulets, but in this magical rendition, the story of feuding Orthodox families is universal and timeless.
Website: Romeo and Juliet In Yiddish