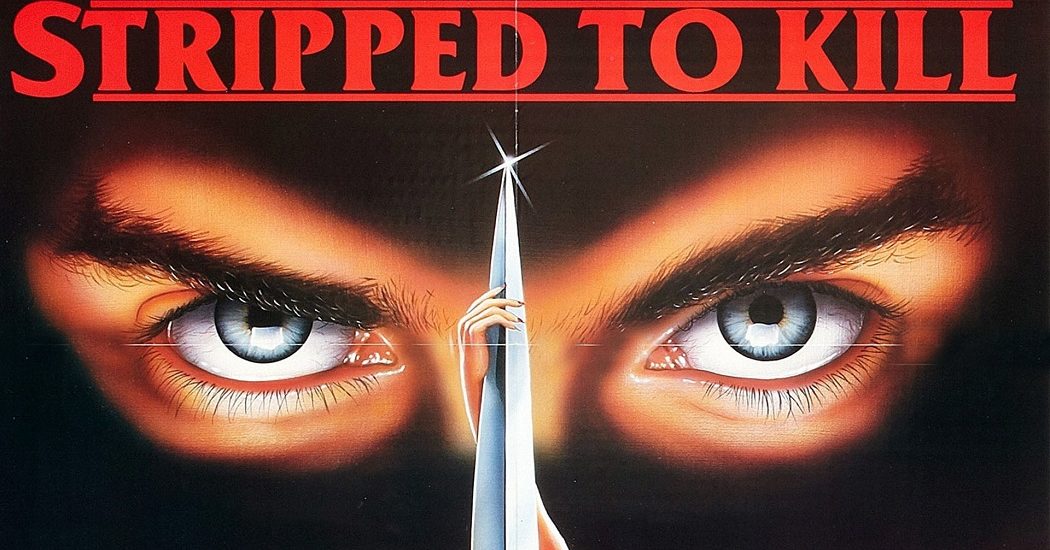 Cinema Fearité Presents Erotic Thriller and Much More 'Stripped to Kill'
To kick off Women in Horror month 2019, Katt Shea's 'Stripped To Kill' takes the spotlight.
February is Women in Horror Month, and just like last year, Cinema Fearité is going to spotlight female filmmakers all month long. First up is Katt Shea's 1987 directorial debut, the erotic thriller-mystery-slasher Stripped to Kill.
Stripped to Kill is about a detective named Cody Sheenan (House's Kay Lenz) who, while on assignment posing as a homeless person to prevent petty theft in a park, witnesses the murder of a stripper. With her partner, Detective Heineman (Greg Evigan from "B.J. and the Bear" and "My Two Dads"), backing her up, Cody decides to go undercover as a dancer at the Rock Bottom Strip Club to investigate the murder.
Once she has established her cover, Cody bonds with the other strippers while putting together a list of suspects that includes club owner Ray (Norman Fell, better known as Mr. Roper on "Three's Company"), the victim's girlfriend Roxanne and her androgynous brother Eric (both played by real stripper Pia Kamakahi), and a creepy regular known only as "Mr. Pockets" (Skeezer's Peter Scranton). While Cody works the case, she learns that she and Heineman have a serial killer on their hands when other dancers start turning up dead. Cody has to solve the mystery before she becomes the next victim.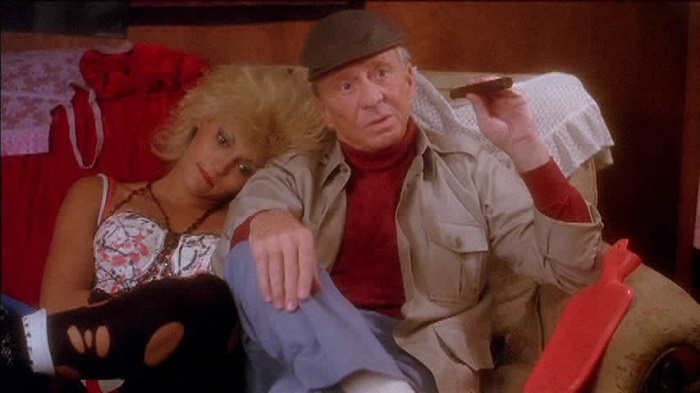 Director Katt Shea found inspiration for Stripped to Kill when she lost a bet with her then-husband/writing partner Andy Ruben and accompanied him to a strip club. She was fascinated by the subculture and sisterhood of the dancers, as well as by the surprising artistic expression and physical ability in the dances. Shea and Ruben, who would go on to work together again on Shea's Streets and Dance of the Damned, cooked up the screenplay, and after pestering B-movie mogul Roger Corman (Piranha, A Bucket of Blood) for about a year to make the movie (and convincing him that a vital plot point that shall remain unspoiled could be believable), finally secured the meager funding that they needed (it was, after all, a Corman production).
It may sound odd that a woman would want to make a movie about stripper murders, but there's a noticeable feminine gaze to Katt Shea's approach to Stripped to Kill. Shea cast real strippers in the movie, even going so far as to give them acting lessons herself, so that the characters come across as authentic and genuine. The women are real and natural as opposed to the typical plastic, Barbie-doll model/actresses that are usually used as exotic dancers in movies like this. The acting is pretty rough, but because the girls are real dancers, their routines are artistic and inventive. Sure, the women get topless, but the dances are much more than just watching a hot girl get naked – the segments are impressively entertaining. The dance sequences are long, and they do take up a substantial portion of the film, but they're also very well done, so no one minds. Basically, Katt Shea wanted to showcase the talent and skill of her exotic dancers, and she accomplished that mission by letting them do what they do best.
The dance sequences in Stripped to Kill were shot to popular music songs of the time, and the production couldn't afford to pay the licensing fees, so all of the music for the stripping scenes was redone and added in post-production. And that's how you get strippers doing their thing to anonymous numbers by session singers like Gail Lennon, Anne-Marie Brown, and Darryl Phinnessee instead of to familiar strip club staples like Def Leppard's "Pour Some Sugar on Me" or George Michael's "I Want Your Sex." Most of the songs were penned by composer John O'Kennedy, who also did the cinematic score (as well as the music for certain Star Trek and Robotech video games, if you happen to be keeping score at home). The tunes are period-perfect late-eighties dance-synth pop, but they are not the recognizable tunes that would normally spin in a real gentleman's club. They were written for the movie, and it shows.
You can't have an erotic thriller without thrills, and Stripped to Kill is full of them. The killer uses many of the standard slasher methods of execution like strangulation, stabbing, and even good old fashioned gunshots, which lead to some fun special effects makeup gags. But the murderer's favorite weapon is fire – mainly, he pours gasoline on his victims and lights them up. This paves the way for some really cool pyrotechnics in the movie, particularly in the third act when the killer torments and taunts Cody with walls of flame while the panicked detective frantically tries to escape. It gives a pure action movie vibe to the climax. And let's face it, all good cop exploitation movies should conclude with that kind of a bang.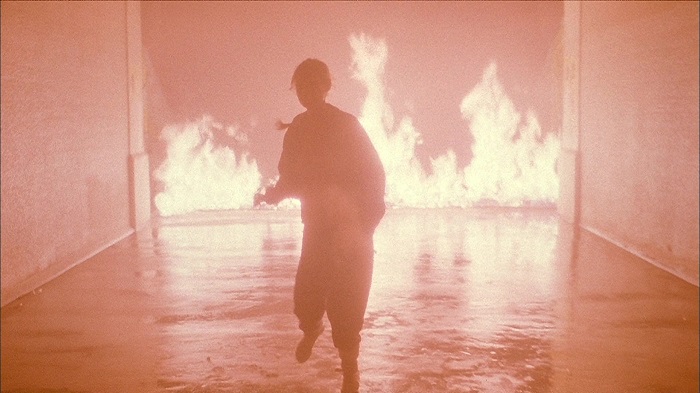 Corman's reluctant faith in the project paid off, as Stripped to Kill turned out to be as big of a hit as anything that the producer had done at that point. So, he asked Katt Shea for a sequel, which she and Andy Ruben hastily provided in the appropriately titled Stripped to Kill 2: Live Girls. Shea would go on to have a modestly successful career as a director making more schlocky b-movies like Poison Ivy and The Rage: Carrie 2. She also seems poised for bigger and better things with her Nancy Drew and the Hidden Staircase coming out later this year. And it all started with Stripped to Kill.