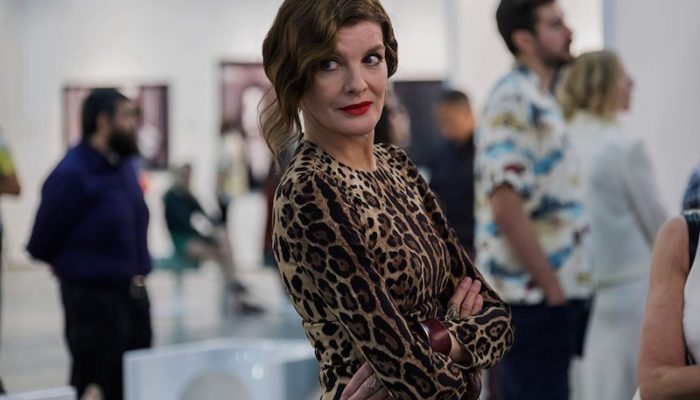 'Velvet Buzzsaw' Review
Dan Gilroy channels Heathers in his wacky-fun Velvet Buzzsaw.

Release Date: February 1, 2019
Velvet Buzzsaw is a satirical thriller set in the contemporary art world scene of Los Angeles, where big money artists and mega-collectors pay a high price when art collides with commerce.
Director: Dan Gilroy
Screenwriter(s): Dan Gilroy
Producer(s): Jennifer Fox
Cast: Jake Gyllenhaal (Morf Vandewalt), Rene Russo (Rhodora Haze), Zawe Ashton (Josephina), Tom Sturridge (Jon Dondon), Toni Collette (Gretchen), Natalia Dyer (Coco), Daveed Diggs (Damrish), John Malkovich (Piers), Mig Macario (Cloudio)
Editor: John Gilroy
Cinematographer: Robert Elswit
Production Designer: Jim Bissell
Casting Director(s): Victoria Thomas
Music Score: Marco Beltrami, Buck Sanders
Netflix's Velvet Buzzsaw is a cinematic warning about a dark and insidious force, an emotionless and permeating void that wraps its sociopathic talons around everything it touches and infects even the purest of heart.
Of course, I'm talking about the glorified MLM scam that is the fine art world.
Written and directed by Dan Gilroy (Nightcrawler), Velvet Buzzsaw is a deliciously quirky horror satire anchored in a scorching criticism of the fine art community. While the supernatural elements are a bit wonky and vague at times, it's really the sketchy practices of the art world that function as the true antagonist in this film.
Oh, and did I mention there are multiple healthy servings of delightfully nude Jake Gyllenhaal? You're welcome.
Velvet Buzzsaw Is More Than Jake Gyllenhaal's Sinewy Legs, Meaty Pecs
Velvet Buzzsaw's plot centers around the predictably daffy characters in the orbit of Haze Gallery, a Los Angeles fine art gallery Rhodora Haze (Rene Russo), a former punk rocker with an uncanny knack for betting on artists that just so happen to get rave reviews from highly influential Artweb critic Morf Vandewalt (The Sisters Brothers Jake Gyllenhaal), owns. Every character in Velvet Buzzsaw borders on being likable if they weren't such an insufferable tool.
In a world filled with syrupy greetings from frenemies and friendships indiscernible from alliances, no one seems to sincerely care about anyone, and all relationships boil down to what each person offers the other in terms of connections or access.
The gallery has a whiff of Delia Deetz about it, filled with loud, often wacky pop art with the emotional depth of a Xanax haze. One installation is a full-sized three-dimensional recreation of a living room filled with a family watching television, while in another corner of the gallery, a large silver sphere that could be an offspring of Chicago's Cloud Gate is functionally a giant fidget cube wherein observers are invited to choose a hole and put their hand in to experience any one of a variety of sensations. But gallery patrons clamor to get more–indeed, to even gain purchase access. They love the art they're told to love precisely because they're told to love it, and they'll pay whatever they're told to pay for it.
Jake Gyllenhaal presents a mesmerizing and improbably three-dimensional caricature of art critic Morf Vandewalt, who, despite his meek appearance and subdued physical presence, instills fear and obsequiousness in everyone in the art community. An interaction early in the film offers a glimpse into this power differential when Mig Micario's Cloudio tells him, "I absolutely respect the power of your point of view." It's not Morf's point of view he respects, but the power wielded with every word he writes on Artweb. Rhodora also reflects this sentiment to Morf when she tells him, "In our world, you are God."
In Morf, we find a broody and complex soul that, like the art he makes or breaks with his reviews, has become utterly entangled with how he's perceived by the art community until not even he fully understands his own motivations. He believes in the purity of what he's doing, but he can't stop analyzing form and content long enough to truly experience the art he critiques–or anything in his life. Even when he's coming on to a woman he's long held a torch for and desires profoundly, he describes her skin and her clothing in Pantone colors. He's too busy critiquing the world to allow it to move him viscerally.
Morf's greatest fear is obscurity, a theme which is reflected back at him mere moments into the film by an animatronic cyber-hobo installation who asks, "Have you ever felt invisible?" Rather than reflect on his own existential fear, Morf shrugs the experience off, dismissing the work as "derivative," "an iteration" of another work with "no originality, no courage."
Everyone in the orbit of Haze Gallery is just as morally ambiguous and emotionally disengaged from the art that they buy and sell. Museum curator-turned-art advisor Gretchen (Hereditary's Toni Collette in a fabulous blonde wig) is a whimsically packaged piranha. Gretchen is a walking advertisement for her own artsiness, dressed in overly quirky art piece attire straight out of New Wave. Like the art, Gretchen's appearance is a reflection of art for art's sake, meant to draw attention to how clever and arty it is with no true style or deeper meaning.
Rhodora, who describes herself as having "gone from anarchist to purveyor of good taste," readily embraces the role she plays in the intersection of art and capitalism. A closeup of a stick-and-poke tattoo on her arm reading "No Death No Art 1983" juxtaposed against the bracelet of an affluent middle-aged woman provides a keen distillation of Rhodora's character.
Then there are the artists, Piers (Bird Box's John Malkovich) and Damrish (Daveed Diggs of Blindspotting). The former is a celebrated but no longer prolific artist who quit drinking and is now uninspired and emotionally dulled; the latter is a recently homeless street artist from a collective getting newly swept up into the high-priced art world. They at first seem to serve as foils for each other, and yet in many ways are basically the same, both artists struggling with what Morf calls "the money question," deciding how much of themselves they're willing to sell out in order to get their work seen and experienced.
The story moves past exposition with a discovery by millennial stereotype and gallery employee Josephina (Zawe Ashton). Despite being perpetually late and prioritizing her personal life over her commitment to her work, she longs to climb the rungs professionally without putting in the effort.
Josephina covets the fame and notoriety but lacks the drive. With sometime lover Morf following her around like a love-struck puppy dog, it seems she could probably make good on that desire with minimal effort, but like every other character in the gallery, she's so self-absorbed that she can't see the forest for the trees.
It seems fate has smiled upon her when a fellow tenant in her apartment dies unexpectedly, leaving behind a KonMari nightmare that just so happens to include hundreds–possibly thousands–of objectively brilliant paintings. Sure, the old man, whose name was Vetril Dease, was a murderous psychopath with a past enshrouded in mystery who wanted all of his work destroyed when he died à la Emily Dickinson. But I mean, great art is meant to be shared, right? And by shared, I mean commodified.
Josephina ransacks his place like a champion dumpster diver, filling up her apartment and making big plans to profit. Soon, thanks to Haze's resident bigmouth/braggart/handyman/creep/artist(?) Bryson (Billy Magnussen), Rhodora is clued in and sniffing around to cash in on the goods and remind Josephina of her non-compete clause. Oopsie.
Art and Supernatural Forces in Velvet Buzzsaw
The hermitish and working-class Dease is labeled an "outsider artist." Dease's paintings range from a sunny image of happy children holding hands and playing next to a field of sunflowers to twisted, shadowy figures distorted in raw agony.
The art community eats it up because it's the first thing they've seen in a while that has any substance to it–as one patron says, "It cuts through the bullshit and gives form to true emotion." Even Morf remarks that it's "exhilarating to see something substantial."
Dease's work is so moving that both Damrish and Piers are instantaneously overcome by its effects upon viewing it, with Damrish ultimately turning back to his collective and abandoning his interest in monetization, while Piers takes up drinking again and eventually withdraws to Rhodora's beach house to find his artistic soul once more.
As Dease's oeuvre is cataloged and debuted, all the vultures circle to get in on the latest cash cow. Rhodora stashes back a great many of the thousand-or-so-piece collection in order to artificially inflate the art's value. Morf begins researching a book, for which Rhodora has granted him exclusive rights in exchange for him attaching his endorsement to the collection. And Gretchen makes a deal with Rhodora to buy some of Damrish's work in order to gain access to a Dease purchase, highlighting the practice of selectively locking out less prestigious buyers in favor of highly exclusive preferred buyers, a common practice in the high-end art world.
But as luck would have it, the art just so happens to be infested with dark, supernatural forces–perhaps, and likely, the spirit of Vetril Dease, although the story gets a little foggy around the ghost parts. It's really hard to follow the supernatural backstory–somehow, Dease was the subject of a nefarious science experiment sometime after possibly killing his family but before becoming a murderous, artistically leaning borderline shut-in who paints with blood serum.
One by one and in various, completely bananas ways, Dease's paintings take the lives of everyone associated with the gallery who actively participated in their distribution, and because they are so myopic, almost no one who should be is afraid that they're next.
It's hard to tell how any of this ties into the evil malevolent spirit of the paintings. Was Dease evil before and then given some Carrie White abilities in the institution? Was there a spirit that killed his family and followed him that he kept at bay by painting in blood? Was he involved with the occult?
The story doesn't waste a lot of time outlining the supernatural deets because Velvet Buzzsaw is more interested in what they stand for than how they came to exist or what motivates them. The story isn't about Dease. It's about how too often, commodifying art effectively strips it of meaning. Like all truly profound art, Dease's work is crafted with a piece of himself; in this case, perhaps quite literally.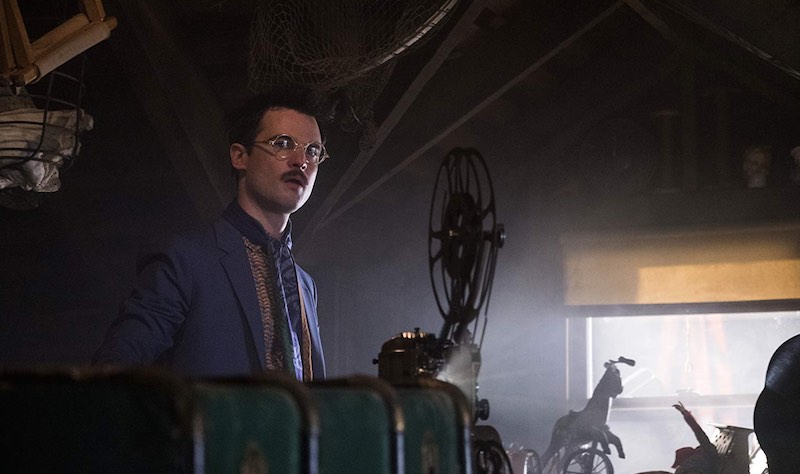 Dease's art is art that defies this relegation to a mere commodity with a bloody vengeance. Those who try to profit from it are doubly guilty for trying to degrade it because each of them experiences its power first. Although rival gallery owner Jon Dondon (Tom Sturridge) doesn't participate in the sale of the paintings, he tries to use them for profit by uncovering the scandal of Dease's sordid past in hopes of bringing about the demise of his primary competitor, Rhodora.
The artists who allow themselves to be moved by Dease's art and ultimately withdraw from the fine art world are spared the grisly fates of the others, as is Coco ("Stranger Things'" Natalia Dyer), the long-suffering Haze Gallery employee who feels morally conflicted by the shady misdeeds she observes in the gallery and tries to intervene.
In the end, stolen crates of Dease's art are sold to pedestrians by a street vendor for $5 a piece. Like Damrish's work, the only difference between it and what's in a gallery is that it's not being sold in a gallery. Here, the film reminds us that artistic monetary value is artificially assigned and not innate. In cities all across America at this very moment, moving, incredible art is selling for pocket change, while often derivative work sells for millions at auction houses or in galleries because tastemakers, critics, and gallery owners have arbitrarily valued it.
Passing Judgment on the Fine Art World
Velvet Buzzsaw certainly leans into the use of caricatures, but even as it does so, it paints a rich and complex picture that emphasizes the commercial motivations and foggy morality of its inhabitants rather than simply giving us a Dick Tracy-colored comic version.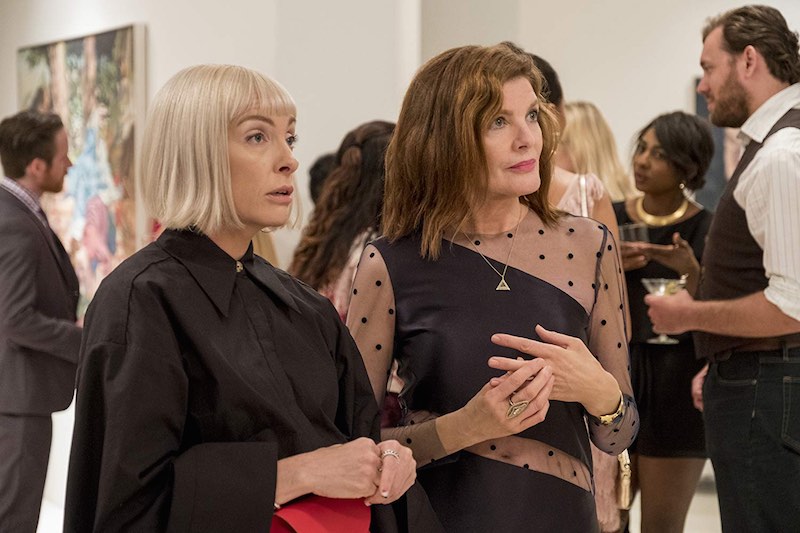 It calls into question what makes good art and whether assigning it a numerical value reduces its meaning, while at the same time, unapologetically calling the fine art world what it truly is: A high-stakes investment scheme.
It challenges the "attention economy" created by social media in which "celebrity is an art form," where everything exists for our consumption. It calls out the spectator culture where murder and gore are viewed as emptily as the art hung on gallery walls and everything we experience is as removed from introspection.
When I described Velvet Buzzsaw to my friends, I compared it to Heathers more than once. It has the same cultish, over-the-top vibe layered over dark satire. If you don't think too hard about the ghost story and you're all right with camp, you'll probably enjoy it.
Velvet Buzzsaw is pretty ridiculous, but at the same time, it's also deep enough that it's not just a heaping dish of cinematic empty calories. Here, you won't find the artistry of Jordan Peele's Get Out or American Psycho. But as the cybernetic hobo and murderous drip paint testify, unlike an artificially overvalued Dease, Velvet Buzzsaw isn't trying to be something it's not.
And that's okay, because sometimes mid-range pop art can move you just as profoundly as the masters.