In case you haven't heard, February is Women in Horror Month. Although generally underrepresented, female filmmakers have made some of the most important (and most enjoyable) horror movies in history, from classics like Amy Holden Jones' The Slumber Party Massacre and Kathryn Bigelow's Near Dark to more modern masterpieces such as Jennifer Kent's The Babadook and Karyn Kusama's The Invitation. And then, there's one of the greatest films, horror or not, of the 21st century – Mary Harron's American Psycho.
Set in New York City in the late nineteen eighties, American Psycho is about a man named Patrick Bateman (Christian Bale from The Big Short and American Hustle) who has a $190k a year job on Wall Street, a posh apartment in the American Gardens Building on W. 81st Street, and a lovingly shallow socialite of a fiancée (Wild's Reese Witherspoon). He's also a serial killer who preys on homeless people, one-night stands, and prostitutes to fulfill his bloodthirsty urges. When he murders one of his co-workers, a popular guy named Paul Allen (Jared Leto from Dallas Buyers Club), he attracts the attention of a Detective named Donald Kimball (The Grand Budapest Hotel's Willem Dafoe) who seems to know Bateman's secret, but can't pin anything on him. Even with the law on his tail, Patrick Bateman cannot – and will not – stop killing.
Based on the infamous 1991 novel by Bret Easton Ellis, American Psycho went through a handful of directors and leading men before it got to Mary Harron and Christian Bale. The production reportedly lost big-name directors like David Cronenberg (Videodrome, Scanners), Stuart Gordon (Re-Animator), and Oliver Stone (Seizure) as well as A-list stars such as Leonardo DiCaprio (The Revenant), Johnny Depp (Black Mass), and Ewan McGregor (Miles Ahead). Once Harron and Bale were locked in, Harron adapted the screenplay herself along with co-writer Guinevere Turner (who plays one of Bateman's more memorable victims in the film). The film strips away a lot of the disgusting brutality and disturbing imagery of the novel, but leaves the sardonic wit intact. The fact that American Psycho is much more than just a standard slasher movie is proof that Mary Harron was absolutely the right director for the job.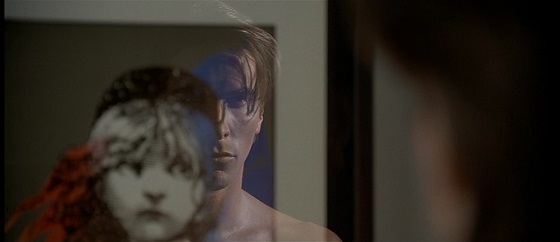 The reason that American Psycho isn't just an average slasher is because Harron shows the events of the film with a feminine gaze. Although he's the central figure, Patrick Bateman is no hero. He treats women with disdain and disrespect, but he treats everyone else this way, too, both friends and enemies. As a person, he is an aberration, a deplorably shallow and vain excuse for a human being. So, instead of glorifying his misogyny, the movie satirizes it, turning Bateman into his own punchline. The audience is not laughing with Bateman, but at him. Harron is making fun of the entitled attitude of pigs like Bateman, and she communicates that parody effectively. And Christian Bale is one-hundred percent in on the joke.
For as many other actors who were rumored to be up for the role, there's little doubt that Christian Bale is the right man for the lead. Bale's performance is just as cynical and sarcastic as the script. Bale plays the part of Patrick Bateman with a nod and a wink, yet is still able to get truly terrifying when he turns it on. The effect is that Patrick Bateman is a hilariously campy murderer, but no one would dare laugh at him – at least not to his face. As Bateman, Bale provides a constant internal monologue voiceover that shows off his psychosis, whether he's revealing his aggressive feelings about the people around him or just talking the viewer through his morning health-and-beauty ritual. He is in no way a likeable character, but he's fascinating enough to carry the movie. Whereas the role of Patrick Bateman could have killed the career of a lesser actor, it ended up defining the career of Christian Bale, at least until he became The Dark Knight years later.
There's no shortage of gruesome killings in American Psycho, but much of the violence is implied rather than shown onscreen. There's a lot of blood, but it's mostly seen splashing onto Bateman's face, seeping through dirty sheets, or pooling at the head of victims after the deeds are done. Patrick Bateman is an equal-opportunity serial killer, using knives and chainsaws, axes and guns – anything he can get his hands on, really. He's even got a drawer full of torture implements for those long, drawn-out homicides (again, the instruments are shown in their drawer, but only the aftermath of their use is projected onscreen). American Psycho was initially given an NC-17 rating by the MPAA, but not for violence; it was for a scene where Bateman has a threesome with two hookers. For as blood-splattery of film that it is, there's very little actual onscreen violence in American Psycho.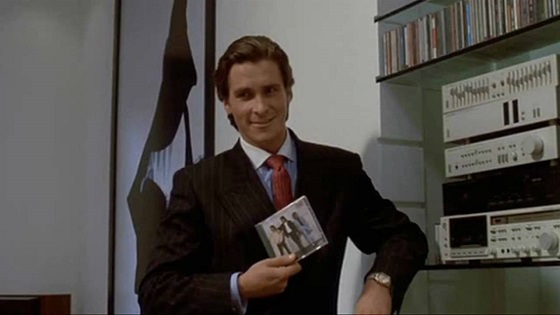 Taking place in the eighties, the music in American Psycho is a key element of the film. It's got a terrific classically-influenced dramatic score from John Cale of The Velvet Underground, but the real musical moments come from pop songs by the likes of Huey Lewis and The News, Whitney Houston, and Genesis. More specifically, it's the scenes in which they're played; Bateman spins the songs before he kills certain victims, giving them a dissertation on the music while they're distracted. Bateman's prey will be passing out drunk or distractedly making out with another target, and the killer will spout off little nuggets of trivial opinion like "He's been compared to Elvis Costello, but I think Huey has a far more bitter, cynical sense of humor" or "Phil Collins' solo career seems to be more commercial and, therefore, more satisfying in a narrower way." These passages are taken virtually word-for-word from Ellis' book and delivered with perfect irony by Bale, so the viewer will never be able to hear "Hip to Be Square" or "Sussudio" again without picturing Patrick Bateman in a raincoat holding an axe.
American Psycho seemed to be one of those books that was unfilmable. However, all it really needed was the right director and the right lead actor. It got both. There have been rumors of both a modern remake (meaning, set in modern times instead of the retro-kitsch eighties) and a television series, but the world doesn't need either. What the world needs is for Mary Harron to make more movies. She's rumored to be in pre-production on a movie about the Manson girls called The Family. Even if that falls through, Harron has already made one of the best movies of the century with American Psycho.