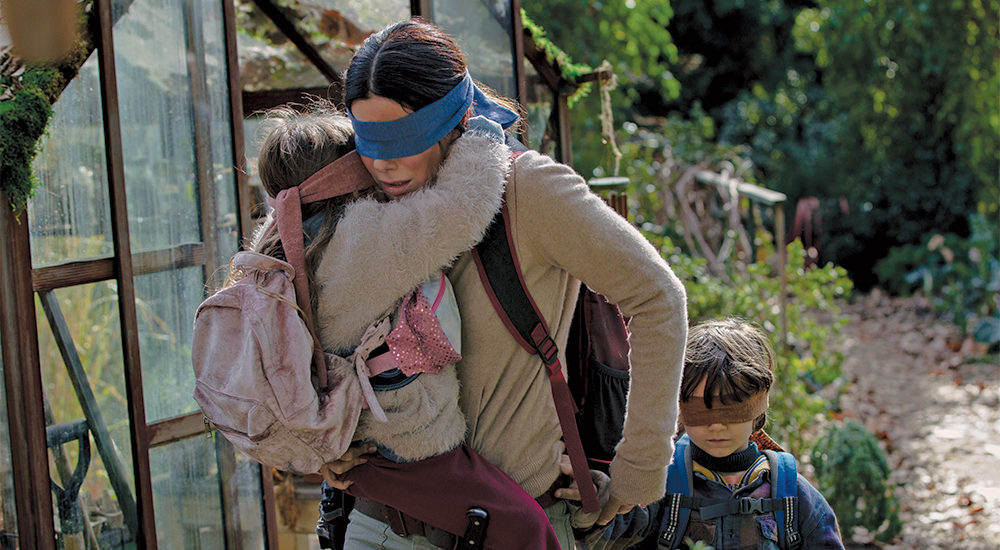 'Bird Box' Review
It's the apocalypse and post-apocalyptic world of Bird Box that create a rich story focused on tough love in the wake of annihilation.
Release Date: December 21, 2018
In Bird Box, When a mysterious force decimates the world's population, only one thing is certain: if you see it, you take your life. Facing the unknown, Malorie finds love, hope and a new beginning only for it to unravel. Now she must flee with her two children down a treacherous river to the one place left that may offer sanctuary. But to survive, they'll have to undertake the perilous two-day journey blindfolded. Academy Award® winner Sandra Bullock leads an all-star cast that includes Trevante Rhodes, with Sarah Paulson, and John Malkovich in Bird Box, a compelling new thriller from Academy Award® winner Susanne Bier.
Director: Susanne Bier
Screenwriter(s): Eric Heisserer
Novel: Josh Malerman
Producer(s): Dyland Clark, Chris Morgan, Barbara Muschietti, Scott Stuber, Clayton Townsend
Cast: Sandra Bullock (Malorie), Trevante Rhodes (Tom), John Malkovich (Douglas), Sarah Paulson (Jessica), Jacki Weaver (Cheryl), Rosa Salazar (Lucy), Danielle Macdonald (Olympia), Lil Rel Howery (Charlie), Tom Hollander (Gary), Machine Gun Kelly (Felix), Vivian Lyra Blair (Girl), Julian Edwards (Boy)
Editor: Ben Lester
Cinematographer: Salvatore Totino
Production Designer: Jan Roeifs
Casting Director(s): Jina Jay, Mary Vernieu, Michelle Wade Byrd
Music Score: Trent Reznor, Atticus Ross
It's official. There's finally a Netflix Original movie that is impermeable to distractions: Bird Box. The house could be on fire and you'll just keep on watching until the flames are nipping at your toes.
Adapted from The High Strung singer/songwriter Josh Malerman's novel of the same name, Bird Box stars Sandra Bullock as Malorie, a pregnant woman who along with the rest of the world finds herself living an absolute nightmare. Something has invaded, developed, made itself known — there's no exact explanation — that makes people commit suicide upon contact.
Survival means never opening your eyes outside and staying indoors with the windows covered. Exactly why the enemy can't come inside is a fault in the storytelling but completely acceptable given the immense thrill watching Bird Box provides.
Shown through flashbacks that are as based in real-time as the present, Director Susanne Bier's Bird Box equally does the apocalypse and post-apocalypse justice.
The Apocalypse and Post-Apocalyptic World of Bird Box Coexist
Bird Box is being referred to as a post-apocalyptic thriller, and you do experience the aftermath of the mass suicide event. It's what happened before, though, told through flashbacks that give Bird Box a well-developed narrative and realism.
Bird Box is not a post-apocalyptic world that can exist on its own. The five years since the suicide event can be seen as more important than the final journey. Witnessing how people react in times of crises, relationships that develop and fall apart, connections that form based on survival and an innate need to not feel alone, is imperative. And loneliness pervades Bird Box's characters — they've lost everyone they love and find themselves thrown in amongst strangers.
The saying that you never feel more alone than when surrounded by other people comes to mind during Bird Box. At the same time, you sense hope in the small details. It also helps that monsters aren't crashing through windows or scooping people up out of thin air. Bird Box doesn't scream horror; it screams suspense and fear of the unknown.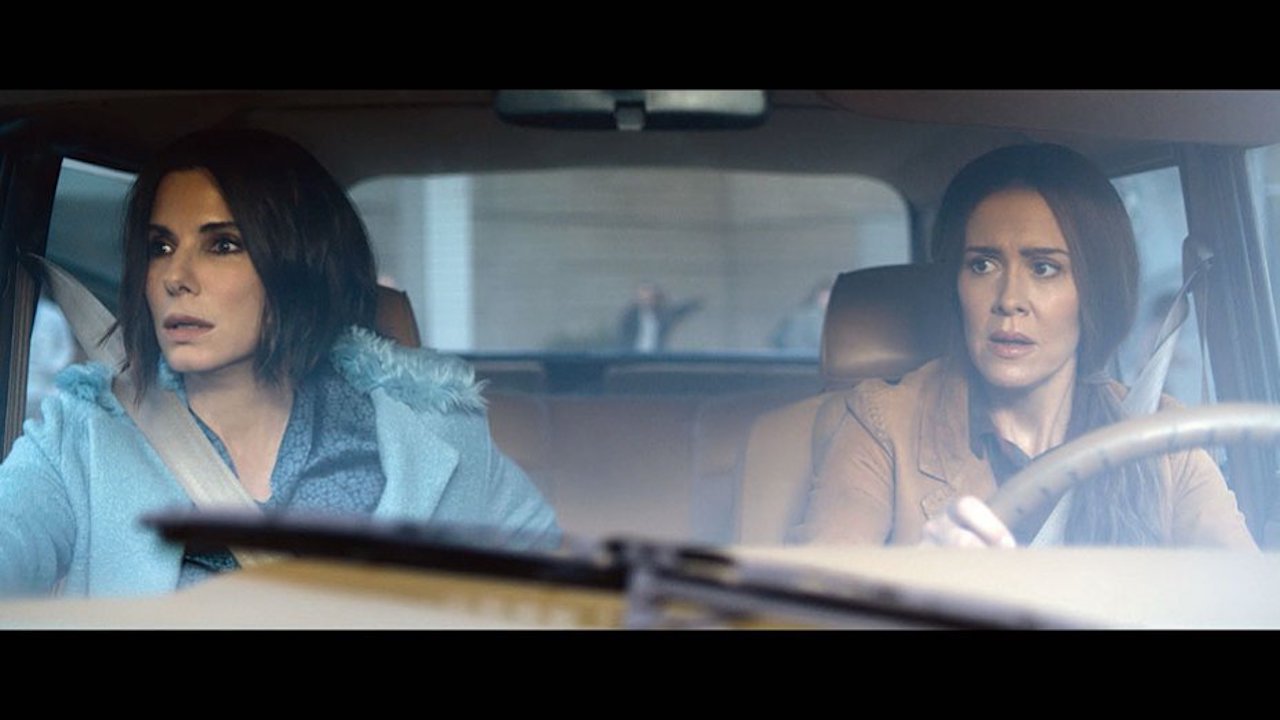 On the day that the "others" invade Malorie's San Francisco, California, area town, she finds herself in a home with strangers, unable to return to her own home as all hell breaks loose. She's experienced a traumatic event (or two, maybe three) and so has everyone else. Amongst her newfound friends/family/survivors are a cop, a lawyer (The Great Buck Howard's John Malkovich), a maybe-drug addict (Machine Gun Kelly), an older woman (Jacki Weaver), a wannabe author (Lil Rei Howery), a caring gentleman (Trevante Rhodes from Moonlight, The Predator) and, eventually, a young pregnant woman (Dumplin's Danielle Macdonald). The differing personalities and views on just how to survive make for a tense living situation.
All of the flashbacks concerning the apocalypse occurring coincide with the present day. Bird Box's present-day storyline involves Malorie and two children embarking on a journey down river to where a safe place may exist. It's a harrowing journey, to say the least, and will challenge each of them. The biggest challenge: Don't die. And it's only possible to emphasize and experience the true fear and terror that Malorie and the children go through on their journey because you know what got them there.
There is constant movement between the past and present in Bird Box. It's never confusing and always necessary — until it isn't.
Any sense of hope in Bird Box having a happy ending doesn't come from the relationships built amongst survivors. It's from Malorie's refusal to let the situation overcome or overwhelm, from when it all begins right up until she's on the river with the kids without a backup plan.
Sandra Bullock Is One Tough Mother in Bird Box
"I will hurt you." Those four words sum up Sandra Bullock's Malorie in Bird Box. She's not motherly in the sense of cuddles and proclamations of love before bedtime. The world she lives in with the two children doesn't allow for that, and from the introduction to her character pre-apocalypse, we shouldn't expect her to be anything but hard.
Malorie is raising two children in a world where they will never know the carefree wonder of childhood. The children must survive, and to do that they have to know how to survive.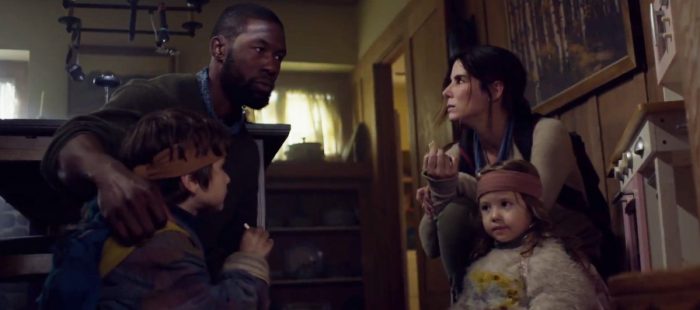 "Never take off your blindfold." That's better advice in Bird Box's post-apocalyptic world then "eat your vegetables" or "brush your teeth." Although good oral hygiene is hopefully still a priority to avoid the horrors of rotting teeth, that detail isn't covered. Bird Box does emphasize that "if you look you will die." The kids full well understand the danger of their world and Malorie never ceases to give tough love and be stern to get her point across.
Malorie is more respectable this way. If she were soft, they'd already be dead. And if she coddled the kids, they'd never fully comprehend — as much as five-year-olds can — that priority one is themselves and they are to never try and help her if trouble arises.
The names they have say a great deal: boy and girl, respectively. They're totally impersonal and strike an evolutionary tone to Bird Box. They are just humans, a boy and a girl, no different than a dog, cat, rat, or horse trying to survive the end of days and a far more evolved predator.
It's a difficult theme to accept in a film so centered on family and survival. Eric Heisserer's script doesn't sugar coat anything and only gives way for deeper emotions to rise and let themselves known when appropriate. Exactly how and when is for you to find out while watching Bird Box.
Bird Box surprises in how effectively it blends the apocalypse and post-apocalyptic world of its inhabitants. You're right there with them every step of the way, feeling the terror, having your throat tighten up along with pressure on your chest as danger presents itself. There's no release from it — Bird Box keeps you in suspense from start to finish. It's an intense post-apocalyptic movie that's worth every minute of your time.
Bird Box's only downfall is that it ends too soon with a few too many unanswered questions about further survival of the human race. But that's what sequels are for, and a sequel to Bird Box should happen.