As one of the pioneers of low-budget, can-do filmmaking, Roger Corman has a reputation as one of the most prolific producers and directors of all time. His films usually revolve around some campy gimmick, whether it is the rubber suited monster in Creature from the Haunted Sea or the killer plant in The Little Shop of Horrors. In 1959, Corman was approached by American International Pictures to make a movie for less than $50,000, and the resulting film was the cult classic A Bucket of Blood, a picture without any monsters except for an emotionally damaged artist.
A Bucket of Blood is the story of Walter Paisley (Dick Miller, one of Corman's favorites who was also in The Little Shop of Horrors, It Conquered the World and The Terror), a feeble-minded busboy in a café that is frequented by a large group of beatnik artists and poets. Inspired by the creative souls who surround him, Walter decides to try his hand at sculpture. While working on his first piece, he hears the sound of his landlady's cat trapped between the walls of his apartment. While cutting the drywall to rescue the cat, he inadvertently stabs it to death. Finding inspiration in the tragedy, Walter covers the cat's corpse in clay and brings it to the café to show his boss, Leonard (Antony Carbone, who Corman used again in Creature from the Haunted Sea and Pit and the Pendulum) and the café's hostess, Carla (The Dunwich Horror's Barboura Morris). The cat is a huge hit at the café, and Walter meets an art groupie who gives him a package of heroin. Not knowing what it is, Walter takes it and goes home, followed by undercover policeman Lou Raby (Burt Convy from The Cannonball Run). When Raby tries to bust Walter for the drugs, Walter accidentally kills him – and Raby's body becomes Walter's next sculpture. Walter's work becomes more and more popular in the beatnik art community, and Walter finds himself searching for victims to "model" for him. Torn between his conscience and his artistic success, Walter keeps killing…but the fans of his work get suspicious as they see more and more of his pieces.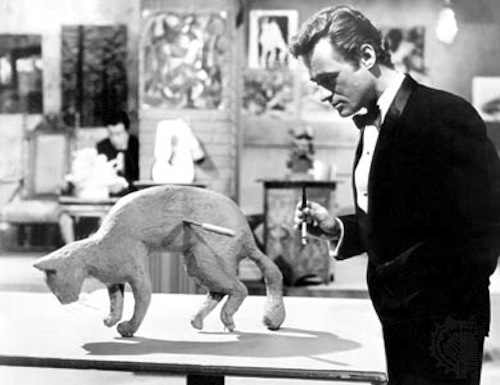 For A Bucket of Blood, Roger Corman turned to his old friend and collaborator Charles B. Griffith (Attack of the Crab Monsters, Death Race 2000) to write the screenplay. Like Corman's other films, A Bucket of Blood is as much a comedy as it is a horror film. Unlike Corman's other films, however, A Bucket of Blood is a black comedy, relying more on subliminal humor than outright camp and cheese. A Bucket of Blood takes aim at the beatnik scene that was in full swing at the time, poking fun at the ignorance and conformity of the supposedly enlightened and anti-conformist subjects. The concept of a killer artist is strong enough to make Walter one of Corman's more understatedly frightening characters, and the storyline is well-paced enough to turn A Bucket of Blood into one of Corman's most underrated pictures.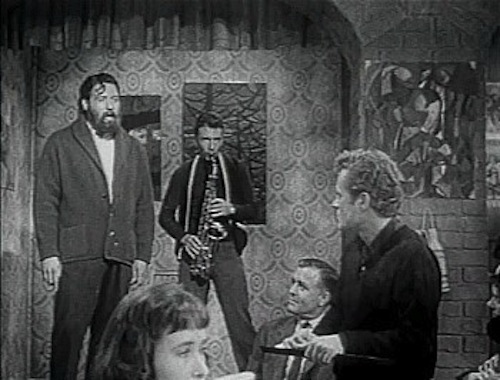 Although Roger Corman has a knack for the minimalistic, A Bucket of Blood is simple even by his standards. Using sets left over from AIP's Diary of a High School Bride and only the scantest of visual makeup effects, A Bucket of Blood has the look and feel of a stage production that has been captured on film. Corman mostly used actors that were familiar with his methods, and their performances are spot-on for the dark comedic undertones. Shot in a mere five days, the film was made in a way that only Roger Corman could have made it. Also, in a strange case of Corman out-Cormaning himself, the ever-economical director took advantage of the still standing sets to blast through the making of The Little Shop of Horrors in the two days after A Bucket of Blood had wrapped.
A Bucket of Blood was shot by a card-carrying member of the Corman Camp, director of photography Jack Marquette (who, when not shooting films like Attack of the 50 Foot Woman and The Last Woman on Earth, kept busy shooting television shows such as "That Girl" and "The Patty Duke Show"). Aided by the fact that the film is shot in black and white, Marquette makes effective use of low-key lighting. Although his shadowy imagery is closer to film noir than gothic horror, Marquette manages to make A Bucket of Blood look gritty without losing details in the darkness.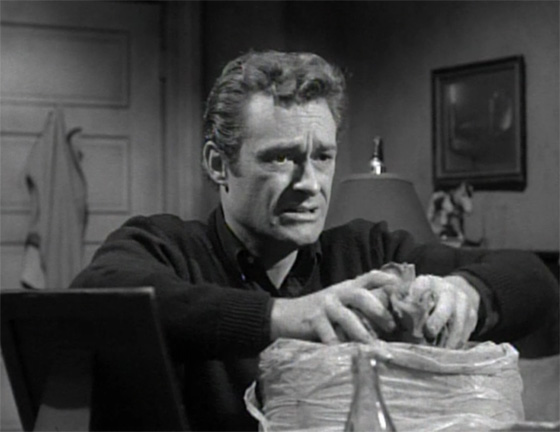 The music for A Bucket of Blood was written by another Corman favorite, jazz composer Fred Katz. Katz's score captures the beatnik bebop jazz of the time perfectly while still injecting a touch of suspense into the film. Corman was so impressed with the score that he used it again, with only a handful of additions and alterations, for his next several pictures, including The Wasp Woman, The Little Shop of Horrors, and Creature from the Haunted Sea. Although he is credited as the composer for every film in which his music is used, Katz's contributions to the Corman cannon are all essentially the music from A Bucket of Blood. Now, that's economy!
Roger Corman pumped out films so quickly that audiences often take for granted the quality of his productions. Stripped of the b-movie gimmicks of his other films, A Bucket of Blood shows what Corman can do with a few days, a good script and a talented cast.