Before becoming a household name as Dr. Hannibal Lecter in The Silence of the Lambs, Anthony Hopkins toiled away for 25 years in Britain, playing roles in both movies and television. The classically trained actor cut his teeth performing in adaptations of works by Shakespeare, Ibsen, and Tolstoy, and portraying characters as diverse as Charles Dickens and Adolf Hitler. His first real foray into American Horror was in 1977, when he took on an ambiguous role in director Robert Wise's 1977 film Audrey Rose.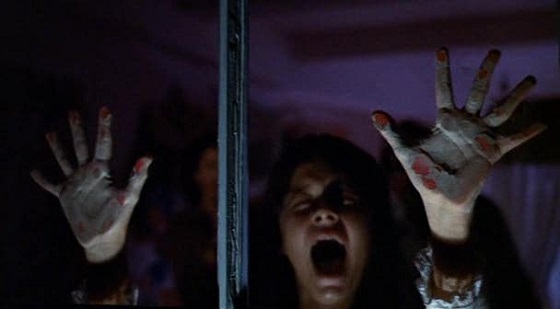 Audrey Rose is the story of Janice and Bill Templeton (Heartbreak Ridge's Marsha Mason and Rollerball's John Beck), a young couple who live in New York City with their eleven-year-old daughter, Ivy (Susan Swift from Halloween: The Curse of Michael Myers). One afternoon, Janice notices a strange man following her around. When she mentions the man to Bill, she learns that the man has been stalking him as well. Soon, the stranger starts calling the Templetons on the phone, and begins slipping presents to Ivy in the family's grocery bags. Eventually, the man introduces himself as Elliot Hoover (Hopkins), and he tells the Templetons that Ivy is the reincarnation of his daughter, Audrey Rose, who was killed in an automobile accident eleven years ago. At first, the couple is unconvinced, but when Ivy reacts passionately and violently to the mere mention of the name Audrey Rose, Janice begins to believe Hoover's story. Hoover and his theory of Audrey's soul being trapped in Ivy's body threatens to tear the Templeton family apart, mainly because the evidence suggests that his thoughts are correct.
Having directed seminal fright films like The Haunting and The Body Snatcher, as well as b-movie classics like The Day the Earth Stood Still and The Curse of the Cat People, director Robert Wise was no stranger to the horror scene when he made Audrey Rose. The screenplay was written by fellow horror veteran Frank De Felitta (The Entity), who also wrote the book from which it was adapted. Even with all of this fear-flick-firepower, Audrey Rose isn't a hide-your-eyes type of horror movie. The intelligent script deals with the philosophical ideas of reincarnation, making it more than just a ghost story or a possession film, although it bears a passing resemblance to both. In addition, at about the halfway mark or so, Hoover is put on trial for crimes against Ivy and the Templetons, so the film becomes a legal thriller along the line of The Exorcism of Emily Rose. Audrey Rose doesn't have the jump-out-and-scream types of scares; it deals with a more subliminal type of fear. At its base, Audrey Rose is a simple drama that happens to deal with supernatural elements.
There really isn't a lead role in Audrey Rose; the interplay between Hoover and the three Templeton family members is what drives the film. Anthony Hopkins' Hoover is at the center of the group, interacting individually with everyone else, so his character is pivotal. Hopkins plays the desperate father perfectly, showing love and affection to the little girl whom he believes houses his daughter's soul while trying frantically to convince her parents of his theory. Hopkins is as much of an antagonist as one is bound to find in Audrey Rose, yet he plays his part in a way that inspires sympathy, partly because the audience wants to believe that he is right, but also because he comes off as a likeable and harmless fellow, albeit a little creepy. Hopkins' performance in Audrey Rose is both restrained and hysterical, an impressive turn in a criminally under-appreciated film.
While all of the acting in Audrey Rose is top-notch, the real surprise of the film is twelve-year-old Susan Swift. Swift's portrayal of Ivy could be put up against any and all creepy-kid performances in horror history and would hold its own; the young actress is just as effective as Linda Blair in The Exorcist, Harvey Stephens in The Omen, or Danny Lloyd in The Shining. In one scene in particular, Swift really shows off her chops. Late in the film, Ivy is being hypnotized in order to substantiate or disprove Hoover's claims, and Swift goes through the entire range of emotions that could be expected from a little girl in the situation; she cries, screams, and whispers as she regresses into her past life. It's a performance that is well beyond the young actress' tender age. The excellent ensemble acting from Anthony Hopkins, John Beck, and Marsha Mason are expected, but it is the convincing performance from Susan Swift that elevates Audrey Rose to the next level.
Audrey Rose was shot by Victor J. Kemper (Coma, Eyes of Laura Mars) in a way that is both inventive and typical for the time period; the film is obviously a seventies supernatural thriller, but it's more than just a clone of Don't Look Now. Kemper uses creative imagery such as rain and reflections to give the film its own identity, bathing everything in purple and blue light in a way that reminds the viewer that they are watching a bump-in-the-night horror film. For good measure, Kemper throws in a few campy camera tricks such as motivated zooms and whip-pans for dramatic effect, just to keep things fun. The photography in Audrey Rose can't exactly be called timeless, but it's effective for the story, and Victor J. Kemper does his job well.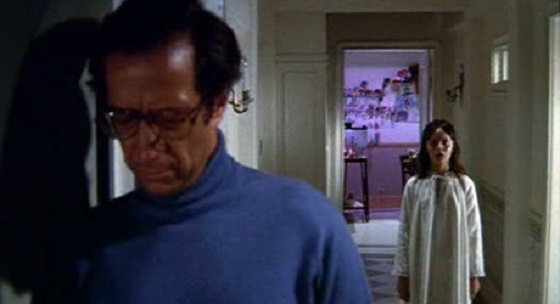 The music for Audrey Rose was provided by composer Michael Small (Child's Play, Marathon Man), and it is much more than just a simple harmonic bed or vamp. Sounding like a blueprint for a typical seventies horror movie soundtrack, the versatile score alternates between spooky, melodic passages sprinkled with light percussion to swirling, cacophonous dissonance full of uproarious rumble-shaking. Small is very adept at determining exactly what the film needs at any given time, and his score reflects it; it's typical enough to seem like it could be plugged into just about any film from the era, but well done enough to sound like it would fit in. Like many other elements in Audrey Rose, the music is understated and sublime, contributing to the whole picture instead of stealing the spotlight.
The year after he made Audrey Rose, Anthony Hopkins would add to his horror resume by playing a ventriloquist with multiple personalities in Magic. The rest, as they say, is history; he became Hannibal Lecter and was knighted by the queen of England. No matter what role the master thespian put himself into, he always gave 100%, and his performance in Audrey Rose is no exception.