Synopsis: An American nanny is shocked that her new English family's boy is actually a life-sized doll. After violating a list of strict rules, disturbing events make her believe that the doll is really alive.
Release Date: January 22, 2016     MPAA Rating: PG-13
Genre(s): Horror, Thriller
Film Review

Traditionally, January is a dumping ground for bad horror movies. Heck, we've already been subjected to The Forest this year, and that's a legitimate candidate for worst-of-the-year. But, we're creeping up on February, so it's got to start getting good sometime, right? Well, let's start off that warming trend with The Boy.
The Boy stars Lauren Cohen ("The Walking Dead") as Greta Evans, a young woman from Montana who gets a job in England as a nanny. When she arrives, she meets Mr. and Mrs. Heelshire (Jim Norton from Jimmy's Hall and Diana Hardcastle from The Best Exotic Marigold Hotel, respectively), but she also meets little Brahms, the boy for which she will be caring. The weird thing is that Brahms is a child-size porcelain doll that the Heelshires treat like a real boy. The grocery boy, Malcolm (Rupert Evans from "The Man in the High Castle"), fills Greta in on the story; the Heelshires lost their son and, to cope with the grief, they "adopted" Brahms. At first, Greta thinks it's a bit of a joke, but she soon realizes that the doll may be possessed, or haunted, or just really alive. With Malcolm's help, she's got to figure out what's going on with the doll, but she's also got her own demons from her past with which she must deal.
The Boy has a lot going for it. It's directed by William Brent Bell (who, as the director of The Devil Inside, is no stranger to January releases) from a script by Stacey Menear (whose upcoming Mixtape is on the studio's blacklist of most promising screenplays). It's shot beautifully by experienced cinematographer Daniel Pearl, who's shot everything from the original The Texas Chain Saw Massacre (and the reboot) to The Apparition and seemingly every music video in between. It has a haunting score from hip composer Bear McCreary ("The Walking Dead" and "Da Vinci's Demons"). All of these ingredients come together into a competently made and well-crafted little self-contained horror flick. At least for the first half.
The setup of The Boy is great; the premise and execution are both top-notch, and even though the whole thing seems a bit silly, it's enjoyable. At about the midway point, however, The Boy shifts gears. Actually, it sort of false ends, with all of the mysteries being solved and the secrets being dropped right out in the open. Well, without spoiling anything, that's when it goes from a creepy paranormal story to a suspenseful thriller. It flies off the rails a little bit, but not enough so that it can't be reeled back in for a jaw-dropping twist ending. It's a little convenient, but the finale does explain everything that happened before, which, if you remember correctly, is more than could be said for Bell's The Devil Inside.
There's not really anything new in The Boy, but that's not the point. It falls lovingly into many of the same tired horror tropes – scary moments are revealed to be dreams, the heroine ventures up into an attic by herself, the unsuspecting Final Girl even takes a shower. The Boy actually seems to pay homage to classic horror movies from the golden age all the way up to the modern era, actually quoting a handful of movies both visually and in dialogue, from The Shining and Friday the 13th to Jeepers Creepers and, of course, Annabelle. Hopefully the tributes are intentional, because there are winks and nods all over The Boy, and if Bell didn't mean to do it, he subconsciously stole half his movie.
The Boy is not as bad of a movie as audiences have come to expect from horror movies in January, but it's not nearly as good as what is coming up this year, either. Nevertheless, The Boy is a good way to melt the frost until the spring movies start rolling in.

As one could probably surmise from its PG-13 rating, there's nothing terribly frightening in The Boy. Most of the startling moments are provided by a handful of highly effective jump scares, some cheap and some not. As a creepy doll, Brahms gives Annabelle a run for her money, so it's got that going for it as well. But, despite McCreary's tension-filled score and Pearl's hair-raising photography, The Boy is fairly benign. It's an entertaining enough movie, but it's really only going to scare those viewers who have an irrational and exaggerated fear of dolls.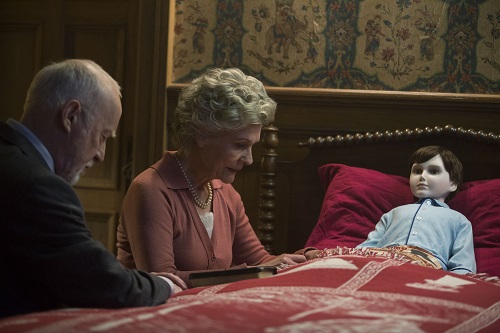 Cast and Crew
Director(s): William Brent Bell
Producer(s): Matt BerensonRoy LeeGary LucchesiTom RosenbergJim Wedaa
Screenwriter(s): Stacey Menear
Story: 
Cast: Lauren Cohan (Greta Evans)Jim Norton (Mr. Heelshire)Diana Hardcastle (Mrs. Heelshire) Rupert Evans (Malcolm)James Russell (James)Ben Robson (Cole)Jett Klyne (Brahms)Lily Pater (Emily Cribbs)Stephanie Lemelin (Sandy)Matthew Walker (Taxi Driver)
Editor(s): Brian Berdan
Cinematographer: Daniel Pearl
Production Designer(s):
Costume Designer: Jori Woodman
Casting Director(s): Julie Hutchinson
Music Score: Bear McCreary
Music Performed By: 
Country Of Origin: USA