Synopsis: After nearly four decades together, Ben (John Lithgow) and George (Alfred Molina) finally tie the knot in an idyllic wedding ceremony in lower Manhattan. But when George loses his job soon after, the couple must sell their apartment and – victims of the relentless New York City real estate market – temporarily live apart until they can find an affordable new home. While George moves in with two cops (Cheyenne Jackson and Manny Perez) who live down stairs, Ben lands in Brooklyn with his nephew (Darren Burrows), his wife (Marisa Tomei), and their temperamental teenage son (Charlie Tahan), with whom Ben shares a bedroom. While struggling with the pain of separation, Ben and George are further challenged by the intergenerational tensions and capricious family dynamics of their new living arrangements.
Release Date: August 22, 2014     MPAA Rating: PG-13
Genre(s): Drama, Comedy
Film Review

Marriage equality has been a hot-button political issue for the past few years, so it was only a matter of time until some filmmaker caught on and made a movie about it. That someone (or someones, as the case may be) turned out to be director Ira Sachs and writer Mauricio Zacharias, the pair behind 2012's Keep the Lights On. The film that they have come up with is titled, appropriately enough, Love is Strange.
Love is Strange stars John Lithgow ("3rd Rock from the Sun") and Alfred Molina (Rango) as Ben and George, a homosexual couple in New York City who, after being together for 39 years, finally decide to tie the knot. No sooner do they take the plunge than George loses his job as a music teacher, forcing them to sell their apartment and temporarily live apart from each other. Ben moves in with his nephew, Elliot (Darren E. Burrows from "Northern Exposure"), and his family: his wife, Kate (The Wrestler's Marisa Tomei), and their son, Joey (Charlie Tahan from Blue Jasmine). Meanwhile, George stays with his friends Ted and Roberto (United 93's Cheyenne Jackson and Manny Perez from Bella, respectively), a pair of policemen who also happen to be gay. Ben and George navigate through, and sometimes contribute to, the dramas of the respective households in which they are temporarily staying, all while trying to find a way to put their unified life back together.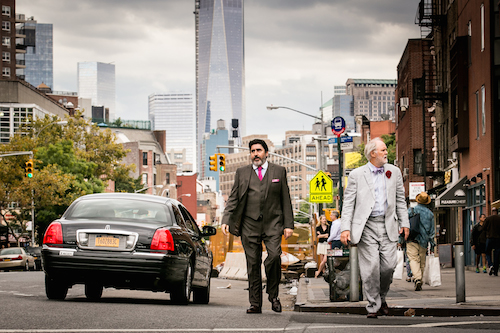 Set and shot against the backdrop of New York City, Love is Strange has the vibe of a classic Woody Allen film. The city almost plays a background character to the dry wit and natural conversation of the dialogue. There's even a cool score made up almost entirely of piano music by Frederic Chopin that just reinforces the Allen-osity. And, just like in some of Woody Allen's films, the narrative is flawed in small but noticeable ways; the subject matter gets overly weighty at times, the plot is thin and meandering, and there are loose ends everywhere that never really seem to get tied up. However, these storyline issues are forgivable because the film is extremely character driven, and the characters are very well developed. Add in the fact that these characters are brought to life by an amazing cast, and Love is Strange turns into an entertaining movie, despite its shortcomings.
Part of what makes Love is Strange so effective is the fact that the sexuality of Ben and George is not overtly thrust into the face of the audience. Of course, it's obvious from the first scene that the two men are gay, and many of their friends are as well, but there is a refreshing air of acceptance to the men's lifestyle. In fact, aside from being the primary reason for which George loses his job, it's a non-issue; Sachs could have replaced one of the characters with a woman and the movie would have become just another film about the trials and tribulations of marriage. And that's what's at the crux of the argument for marriage equality – the operative word is marriage. At its root, Love is Strange is just a movie about the things that make a strong marriage: honesty, communication, and love.

Love is Strange is an acting tour-de-force. The cast, from top to bottom, is remarkable. John Lithgow and Alfred Molina both give outstanding performances, capturing all of the love and happiness of a new marriage coupled with all of the frustration and anxiety that comes with it. Darren E. Burrows and Marisa Tomei make for a good married couple as well, showing the comforts of a stable relationship while still illustrating the insecurities that come along with sharing life with another person. Also impressive is Charlie Tahan as Joey, George's great-nephew, who is struggling with adolescence at the same time that he is forced to share his bedroom with his elderly gay great-uncle. Although Lithgow and Molina are the big names on the poster, there is a definite ensemble feel to the cast of Love is Strange; whether they're there to hand out a message, like Burrows and Tahan, or just to provide a bit of comic relief, such as the case with Cheyenne Jackson and Manny Perez, every actor in the film does their job well.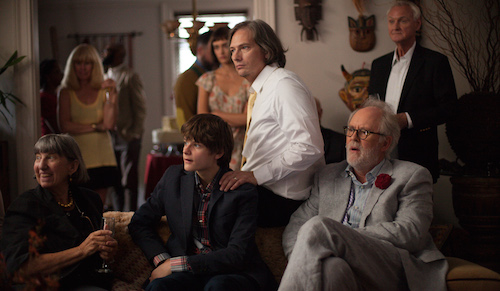 Cast and Crew
Director(s): Ira Sachs
Producer(s):
Screenwriter(s): Ira SachsMauricio Zacharias
Story: 
Cast: John Lithgow (Ben)Alfred Molina (George)Tatyana Zbirovskaya (Zlata) Olya Zueva (Eugenia)Jason Stuart (Officiant)Marisa Tomei (Kate)Charlie Tahan (Joey)
Editor(s): Alfonso Goncalves
Cinematographer: Christos Voudouris
Production Designer(s):
Costume Designer: 
Casting Director(s): 
Music Score: 
Music Performed By: 
Country Of Origin: USA