What does Fleetwood Mac's Rumors have in common with Nirvana's Nevermind? They were both recorded at Sound City Studios in Van Nuys, California. Since its opening in 1969, Sound City has recorded an extremely diverse range of artists, everyone from Barry Manilow to Rage Against the Machine. It would have been difficult for anyone who hasn't been living under a rock to get away from Sound City's aural output – Cheap Trick's "Surrender," Rick Springfield's "Jesse's Girl," Pat Benatar's "Hit Me With Your Best Shot," as well as countless other smash hits, were all recorded there. For over forty years, Sound City has toiled diligently behind the music. Now, thanks to Nirvana drummer/Foo Fighters frontman Dave Grohl, Sound City gets to take the spotlight in a new documentary, appropriately called Sound City.
Sound City gathers together interviews and archival footage to tell the story of one of the most influential studios in the world. The studio owners, the workers who ran it and the artists who recorded some of their best work there all lovingly wax nostalgic about the place that obviously means a lot to them. Interview highlights include both humorous and awe-inspiring tales from the days of two-inch analog tape. Fleetwood Mac's Mick Fleetwood and Lindsey Buckingham separately tell the story of how they met in one of the control rooms. Pat Benatar's husband, Neil Geraldo, laughs about recording the guitar solo to "Jessie's Girl" with Rick Springfield's dog's nose planted firmly in his crotch. Springfield tells how he met and wooed his wife, who was a receptionist at the studio. Rage Against the Machine reminisces about recording their first record basically as a live show, including playing to an audience of their friends, in the big room. Dave Grohl explains how the acoustics of the room make it the greatest place on earth to record drums (a fact which he proved that he believes when he was asked to provide drum parts for the Nine Inch Nails album With Teeth – Grohl agreed only if he could track the drums as Sound City). Listening to the artists who did their best work at Sound City talk about what it means to them, with more than one of them getting emotional about the place, is both fascinating and heart-wrenching.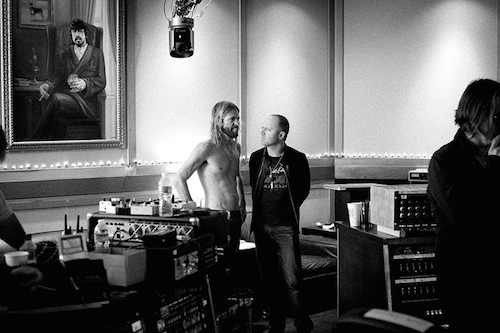 The turning point of the film comes with the closing of Sound City. Dave Grohl steps in and buys the recording console, installs it in his home studio (because he's Dave Grohl) and the rest of the film becomes an all-star musicpalooza. Grohl invites several of the key players in Sound City's history over to record some heavy collaboration, and the cameras capture it all. Fleetwood Mac's Stevie Nicks joins forces with Grohl for a song. Grohl's Foo Fighters back up Rick Springfield for another. Nine Inch Nails main man Trent Reznor and Josh Homme from Queens of the Stone Age do a spacey jam with Grohl. It all comes to a climactic head with the rehearsals and recording sessions that preceded Sir Paul McCartney and the surviving members of Nirvana's (Grohl, Foo Fighter Pat Smear and bass player Krist Novoselic) hyped-up appearance at the Hurricane Sandy benefit. The musical section of the film feels like Grohl's home movies of him and his friends making music – music that is being recorded through a $75,000 console.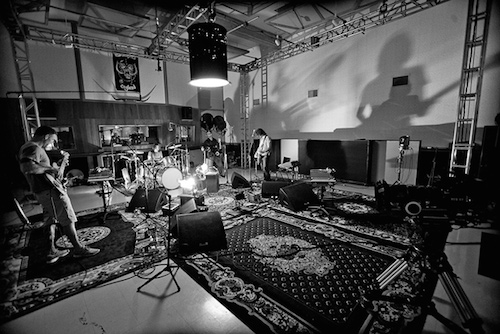 Which brings us to the real star of the film – the Neve 8028 analog mixing console. That's really what the film is all about; it's a love letter from Grohl to the Neve console. There's even a funny bit with him sitting down with Rupert Neve discussing the mechanics of the mixing board, with Neve's talk going way over Grohl's head while subtitles like "he must know I am a high school drop out" are superimposed over Grohl's confused stare. The theme of the film is one of "they don't make 'em like they used to," with Grohl and friends lamenting about how any kid with a Macintosh computer can make a record that sounds great with Pro-Tools and Auto-Tune, manipulating audio signals that never exist in real life, only in the digital realm. The one digital rebel in the film is Trent Reznor, whom Grohl defends by explaining how he uses technology as a creative tool instead of a capturing one, and the concept makes sense in the context of the music that he makes. Sound City is a brilliant film about music made the old fashioned way, real music made by real people – distributed on iTunes with technology that is as new as it gets. Dave Grohl makes no apologies.