Emily Blunt in 'Mary Poppins Returns' - Movie Review
A spoonful of sugar won't help the music go down.

Release Date: December 19, 2018
In Disney's Mary Poppins Returns, an all new original musical and sequel, Mary Poppins is back to help the next generation of the Banks family find the joy and wonder missing in their lives following a personal loss. Emily Blunt stars as Mary Poppins, the practically-perfect nanny with unique magical skills who can turn any ordinary task into an unforgettable, fantastic adventure and Lin-Manuel Miranda plays her friend Jack, an optimistic street lamplighter who helps bring light—and life—to the streets of London.
Director: Rob Marshall
Screenwriter(s): David Magee
Producer(s): John DeLuca, Rob Marshall, Marc Platt
Cast: Emily Blunt (Mary Poppins), Lin-Manuel Miranda (Jack), Ben Whishaw (Michael Banks), Emily Mortimer (Jane Banks), Pixie Davies (Anabel), Nathanael Saleh (John), Joel Dawson (Georgie), Julie Walters (Ellen), Meryl Streep (Cousin Topsy), Colin Frith (Wilkins/Wolf), Dick Van Dyke (Mr. Dawes Jr.), Angela Lansbury (Ballon Lady)
Editor: Wyatt Smith
Cinematographer: Dion Beebe
Production Designer: John Myhre
Casting Director(s): Tiffany Little Canfield, Francine Maisler, Bernard Tesley
Music Score: Marc Shaiman
"First of all, I would like to make one thing clear: I never explain anything." While Julie Andrews said it first in the 1964 classic Mary Poppins, Emily Blunt continues the nursery rhyme without reason tale in Mary Poppins Returns. While context is comforting, a film as visually breathtaking and characteristically whimsical as this needs no explanation.
Mary Poppins Returns, the sequel to Mary Poppins, based on P.L. Travers 1930s series of children's books, finds the Banks children grown up but not quite out of the house on Cherry Tree Lane. Michael (Paddington 2's Ben Whishaw) and Jane (Shutter Island's Emily Mortimer), face the challenge of the bank repossessing their home after the untimely death of Michael's wife. Grief-stricken and unable to pay back the loan, Michael clings to one foggy image of hope still left: A share certificate from his father that would ensure he could keep the house.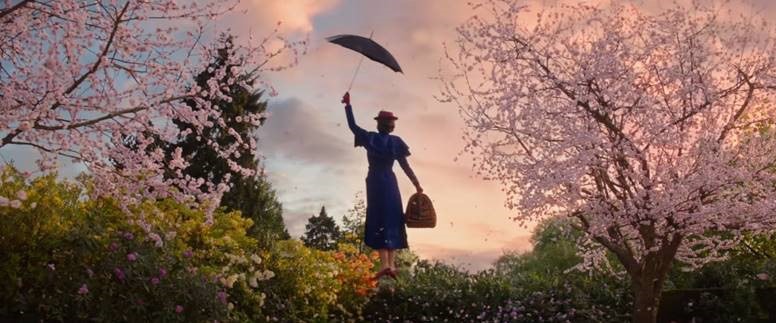 Michael's children, Anabel, John, and Georgie (Pixie Davies, Nathanael Saleh, and Joel Dawson, respectively) are thrown in the middle of the family's turmoil, and can only do so much before they are shuffled away to the nursery. Troubling financial circumstances coupled with the inability to cope with a family death bring Mary Poppins (Emily Blunt from A Quiet Place and Edge of Tomorrow) floating into town on her iconic black umbrella. Funny how she so gracefully floats as the winds that fly her down are strong enough to almost steal a small child; hang on to that kite, Georgie.
Rob Marshall Takes a Crafty Approach to Mary Poppins Returns
Director Rob Marshall, who also directed Disney's 2014 fantasy Into the Woods and the screen adaptation of Chicago in 2002, recreates the structure and style of the original Mary Poppins while adding a touch of fresh imagination. The most adorable aspect of the classic story is the absence of a strict plotline, as Mary Poppins and the children embark on adventures seemingly for adventures' sake.
Trying to find the overarching narrative in Mary Poppins Returns is like trying to see the bottom of Mary's carpet bag: Quite impossible. Mary Poppins and the children's astoundingly absurd adventures of deep-sea bathtub diving, floating through the spring fair on balloons, and tap dancing acrobatics with lamplighters are nonsense for the sake of nonsense, although Mary Poppins would never admit it.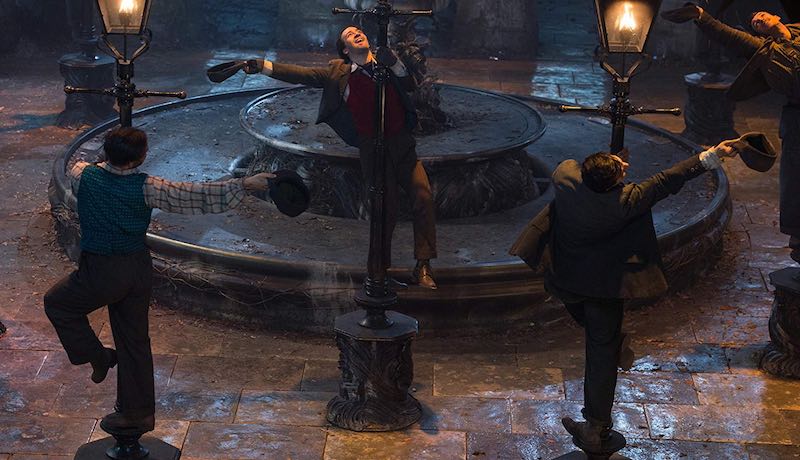 Crafting a sequel to a Disney film as beloved as Mary Poppins is a daunting prospect, and while Marshall's crafty, inventive intentions shine through, the film falls just short of "practically perfect." The cast is expertly chosen and has well-rehearsed performances, but the musical score feels tired and the dance routines outdated.
A New Cast for a New Mary Poppins
The cast is colorful and lively with each actor thriving in their role. Blunt captures the confident, unapologetic charm and commitment Julie Andrews displayed as Mary Poppins while sprinkling sly, sultry wit into otherwise unimaginative lines. Whishaw's Michael sings a ballad to his deceased wife, "A Conversation," that jerks tears and portrays grief in a touching way.
Mortimer's giggle and infectious smile are as adorable as in her youth, and although her character Jane is not as carefully crafted as the rest, she brings a vivacious spirit to the film parallel to her mother, Winifred Banks (Glynis Johns) in Mary Poppins. Lin-Manuel Miranda's Bert-reminiscent character Jack, while slightly off-key, is charming and wide-eyed innocent, pining after Jane as he lights the lamps of London. However, memorable performances can't compensate for the lack of musical originality.
The Music in Mary Poppins Returns Lacks the Original's Magic
With the recreation of such an iconic musical, there are bound to be numbers that fall flat. Regrettably, Meryl Streep's performance as Mary's eccentric cousin Topsy is one of Streep's most forgettable and discouraging character portrayals. An obvious ode to Uncle Albert's "I Love to Laugh" tea party on the ceiling, Topsy's "Turning Turtle" is vocally weak and lyrically dry; the scene feels like a forced attempt at hitting all nostalgia bases from the original, but it could have been left on the cutting room floor.
The beautifully integrated animated sequences make up for an otherwise copycat musical soundtrack, allowing Blunt to dazzle with her steamy alto in "Can You Imagine That?" and Miranda to delight with his characterization in "Underneath the Lovely London Sky." "The Royal Doulton Music Hall" and "A Cover Is Not a Book" take place in the animated world of a bowl in the children's nursery; bright, bold colors and talking animals are reminiscent of Mary Poppins and Bert's "Jolly Holiday." The vibrant pinks, yellows, and blues stand out from the gray London town and dreary overcast skies.
While most of the music in Mary Poppins Returns doesn't have true staying power, Mary Poppins' lullaby to the children, "The Place Where Lost Things Go" had me jerking back tears. Mary Poppins helps the children grieve their mother's death by reassuring she's not gone but forever in a special place.
Emily Blunt as Mary Poppins Splendidly Carries on the Iconic Character
Despite stylistic hiccups, Mary Poppins Returns is pure magic. Emily Blunt, like Julie Andrews before her, gives an unforgettable performance, and Mary Poppins nature is a forgettable and thankless presence. Her role is to nurture without being needed, to provide solutions with no explanations, and to leave when her job is done without a goodbye. This recipe could produce a bland, tasteless character. Instead, Mary Poppins proves to be one of the most memorable and iconic Disney characters that's safe in Emily Blunt's talented hands.
Mary Poppins Returns isn't without flaws, but they are forgivable when considering the imaginative spirit Mary Poppins inspires in every person, young or old, who watches the film.