Film noir is not all anti-heroes and femme fatales. There is a great tradition of noir villains, the ruthless schemers who populate the dark city streets and make life that much worse for the protagonists. Far from being caricaturish crooks easily brought down by the noble hero, these criminals elude capture time and again, and some never receive punishment for their crimes. Noir villains run the gamut from wealthy aristocrats in three-piece suits to insane hit men, or even villainous women orchestrating elaborate intrigues. To show just how dark noir can be, here is a list of ten noir villains that truly terrify.
The 10 Best Film Noir Villains
10. Frank Booth, Blue Velvet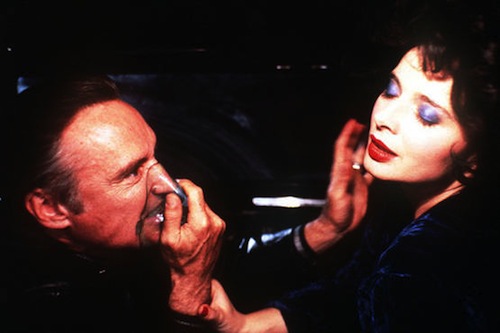 Lumberton, North Carolina's premier lunatic and No. 1 Roy Orbison fan is a nasty piece of work. Frank Booth (Dennis Hopper) is both a drug dealer and a drug addict (inhaling an unspecified stimulant from an aerosol canister throughout the film), a kidnapper, a killer, and a rapist. From the mind of David Lynch and into Dennis Hopper's hands, this villain embodies every repressed urge of violence and carnal desire. Booth isn't short on Freudian issues, and Dennis Hopper is a perfect choice to portray such a demented man.
Hopper inherently brought a sense of danger to the role simply because of his own reputation and baggage. Tucked away in small-town America, Booth is a snarling beast, a seemingly unstoppable monster. The manner in which Lynch and Hopper infantilize Booth – even in his bouts of rage – only serves to makes the character's pathologies all the more frightening.
9. Mrs. Danvers, Rebecca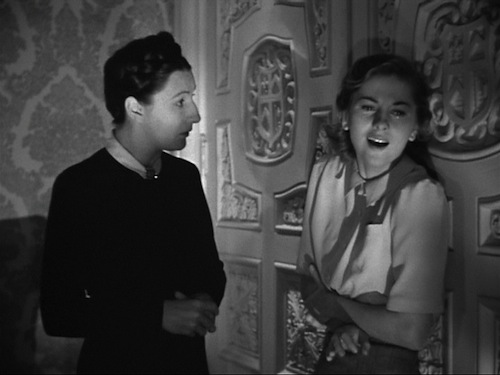 As if the character of Mrs. Danvers wasn't disturbing enough in Daphne du Maurier's original novel, Judith Anderson lends the maniacal housekeeper a particularly cool, disdainful bent in Alfred Hitchcock's adaptation. The original psycho-biddy, Mrs. Danvers starts out by undermining her widowed master's new wife.
Soon, she is breaking her down psychologically and not-so-subtly urging the new lady of the house toward open windows and lulling her into a self-loathing stupor with unrelenting praise of Rebecca. Her unfailing devotion to a dead woman shows no lack of psychological problems on her own part. Such doubts about her sanity are not helped by her eerie impassivity, which may ultimately hide a questionable fixation with her late mistress – a literal burning obsession by the end of the film.
8. Eddie Mars, The Big Sleep
Howard Hawks' The Big Sleep is known as the most confusing film noir of all time, but the one character who knew exactly what was going on was the small-time crime boss Eddie Mars (John Ridgely). A racketeer and gambler, Mars was best described by Phillip Marlowe: "You think he's just a gambler. I think he's a pornographer, a blackmailer, a hot car broker…He's whatever looks good to him…he never killed anybody, he just hires it done." Mars owns and rents out the house that is the site of at least two murders in the film.
Most notably, Mars knows all the secrets about the disappearance of Sean Regan, the man Marlowe is initially hired by the Sternwoods to find. Mars knows that Carmen Sternwood, a mentally unstable drug user and nymphomaniac, killed Regan – probably in Mars' house – because she loved him, and he rejected her to chase after Eddie Mars' wife. This murder ensures Mars' hold over the Sternwoods but means that he has to hide his wife away to fuel the rumor that she ran off with Regan and prevent any investigation into Regan's disappearance. Eddie Mars coordinates his entire life around lies and blackmail and never bats an eye.
7. Mrs. Eleanor Iselin, The Manchurian Candidate
Angela Lansbury is a Communist nightmare in John Frankenheimer's Cold War classic as the senator's wife-cum-Communist-plant who uses hypnotic suggestion to make her sleeper-agent son, Raymond Shaw, carry out assassinations. Mrs. Iselin orchestrates her husband, Sen. John Iselin's, political career and his McCarthy-esque campaign to root out undercover Communists in the Defense Department. Unknown to both Raymond and Sen. Iselin, Mrs. Iselin herself is a Communist agent with a foolproof plan to secure the presidency.
Using Raymond, who was secretly conditioned in Manchuria to be an unwitting assassin whose actions are triggered by the Queen of Diamonds playing card, Mrs. Iselin will order him to assassinate the presidential candidates and rise to the presidency herself as the "Manchurian Candidate." Her vision of America will "make martial law seem like anarchy." Far from her role as a harmless amateur detective in "Murder, She Wrote", Lansbury as Mrs. Iselin is an utterly diabolical vision of a Communist insurgent.
6. Noah Cross, Chinatown
John Huston's decrepit patriarch, Noah Cross, might be mistaken for just another masterminding opportunist intent on owning "the future," if you don't read between the lines in Chinatown. The initial scheme discovered by detective Jake Gittes (Jack Nicholson) is a conniving plot to divert the water, bankrupt landowners, buy their land, and returns it to its full fruitfulness. Control of the water in this way ensures control of L.A.'s wealth, possibly in perpetuity.
That in itself paints Cross as a free-market capitalist run amok, corrupt beyond repair. As a villain, though, his corruption goes deeper. The revelation that he is Evelyn Mulwray's (Faye Dunaway) father, desperate to reconnect with her and her daughter, might make him more sympathetic if we didn't also know that Evelyn's daughter is technically also her sister. In this light, Evelyn's last act of hysterically pushing him away and brandishing a gun is perfectly understandable and warranted. Cross is, by all accounts, truly borderline insane, guilty of murder, incest, and who knows what else.
5. Waldo Lydecker, Laura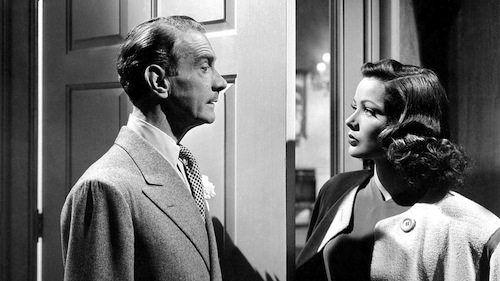 Waldo Lydecker (Clifton Webb), a wealthy and charismatic newspaper columnist, is completely obsessed with Laura Hunt. After their first encounter, he took her under his wing and molded her into a social powerhouse. Controlling nearly every aspect of her life, Lydecker deterred Laura's would be suitors, disapproving of each one. After the shock of Laura's "death" and her surprising return, Lydecker is in a very fragile state, not because of his close relationship with Laura but because he must retrieve the murder weapon from her apartment.
In his eyes, his great creation and the woman he loved was being soiled by unworthy men such as Laura's playboy fiancé, Shelby Carpenter. Rather than face that eventuality, he simply decided to shoot her in the face with a shotgun. Lucky for Laura, she wasn't there, but the accidental victim of Lydecker's fixation was just an innocent woman who happened to resemble Laura. A selfish, possessive murderer, Lydecker falls into the lover's category of "if I can't have you, no one will." The fearsome depiction of a scorned lover, Waldo Lydecker is undeniably one of the most disturbing characters in classic noir.
4. Tommy Udo, Kiss of Death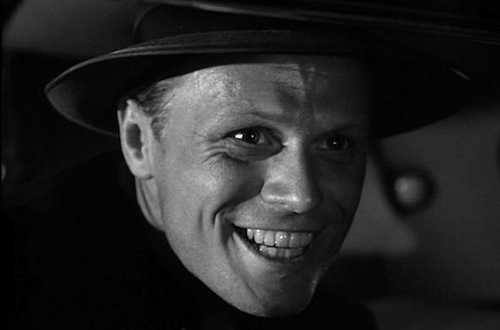 Richard Widmark's psycho-for-hire, Tommy Udo, is undoubtedly one of the most terrifying characters in all of noir. The template for every creepily childish psychopath that followed, Tommy was a perpetually grinning, giggling assassin that so perfectly exuded pure evil. His pale, thin face topped with a lean fedora and chilling chuckle carry the certain promise of cold-blooded murder. Widmark as Udo was so convincing that real-life mobster "Crazy Joey" Gallo patterned his entire personality after this frightful performance, mimicking the falsetto baby talk and demented giggles.
It isn't just the mannerisms that make the character of Tommy Udo truly terrifying but his horrific actions, as well. This is the mob-enforcer who wheeled an old woman to the top of the stairs and maniacally laughed as she plummeted to the bottom. Heartless doesn't begin to describe the extent to which evil has consumed Tommy.
3. Harry Lime, The Third Man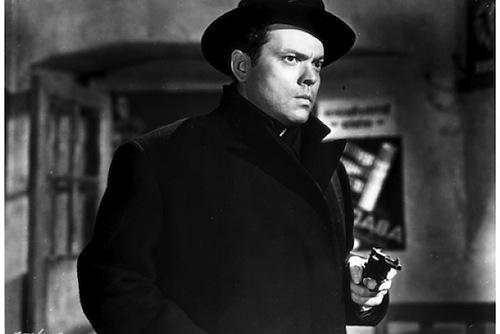 The most elusive noir villain, Harry Lime (Orson Welles) isn't seen until halfway through Carol Reed's The Third Man. Holly Martins (Joseph Cotton) spots his supposedly dead best friend down an alleyway and calls to him. No answer. He chases him through the streets only to have Lime vanish into the sewers. The mystery of how a dead man can be seen walking the streets of Vienna is explained to Martins the next day on a Ferris wheel by none other than a disturbingly calm Harry Lime. Guilty of stealing penicillin from military hospitals, diluting it, and selling the now-lethal medicine on the black market, Lime has no regard for the lives of others.
Lime refers to people at the carnival below as "dots" and asks whether anyone would "really feel any pity if one of those dots stopped moving forever." Even with the police hot on his trail, he still attempts to rope his childhood friend, Martins, into his scheme and continue his black market dealings. Ruthless to the end, Harry Lime's one redeeming act is to let Martins shoot him in the sewers.
2. Kasper Gutman, The Maltese Falcon
The wealthy Kasper Gutman (Sydney Greenstreet) is likely one of the most recognizable noir villains. Intent on finding the Maltese Falcon, his obsessive quest leaves no stone unturned and plenty of bodies in its wake. Gutman isn't even fazed when he sells out Wilmer, his trusted henchman: "I couldn't be fonder of you if you were my own son. But, well, if you lose a son, it's possible to get another. There's only one Maltese Falcon."
Despite his ruthlessness and threats of torture, one can't help but like the "Fat Man." As portrayed by Sydney Greenstreet, Gutman is positively charming, with a twinkle in his eye and a chuckle never too far behind. Like Sam Spade, the audience is simultaneously entertained by Gutman and on their guard, waiting to see his next ploy for the Falcon. For all his charm, Gutman is nothing less than a man consumed by greed and willing to use others for the sake of his fanatical cause.
1. Hank Quinlan, Touch of Evil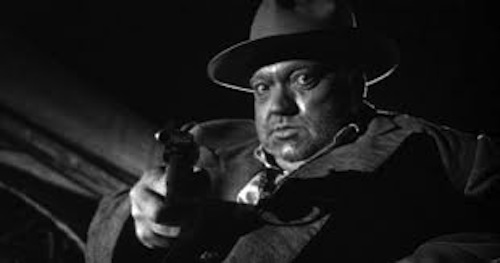 Corruption is certainly not unique to Touch of Evil, but Police Captain Hank Quinlan (Orson Welles) takes it to an entirely new level. A veteran official in a small town bordering Mexico, Quinlan is respected, even revered for his flawless record of capturing criminals. It is only when Mexican police officer Mike Vargas (Charlton Heston) arrives in town that Quinlan's methods are questioned and scrutinized.
Quinlan spent years building up his reputation for putting the worst criminals behind bars, only to have Vargas come along and reveal that Quinlan isn't even above planting fake evidence to bring in a suspect, whether he's guilty or not. Unable to control his resentment of Vargas and eager to stop his complaints, Quinlan goes so far as to team up with a renowned crime family to fabricate charges against Vargas's wife, Susan, for murder, drug addiction, and prostitution.
There you have it, the top ten film noir villains. For more fun, check out the best film noir parodies.