It seems as if 2017 picked up right where 2016 left off when it comes to Hollywood deaths. Last week, the passing of influential director George Romero overshadowed that of master thespian Martin Landau. Unfortunately, this past weekend brought another death to the movie community; character actor John Heard died at the age of 71. Heard was best known for his portrayal of Macauley Culkin's father in the Home Alone movies, but the prolific actor had a rich resume of both television and film that spanned from the mid-seventies right up to today. In between appearances in high-profile movies and regular stints on network television series, Heard stuck his tongue firmly into his cheek and made fun horror movies, from Cat People to Sharknado…as well as the subject of this installment of Cinema Fearité, the classic 1984 fright flick C.H.U.D.
In C.H.U.D., John Heard plays George Cooper, a freelance photographer who has made friends with the homeless people of New York City who live in the sewers. When some of the sewer urchins turn up missing, George smells a story, and after a little exploration, he discovers that there are monsters living below the city. Meanwhile, a police captain named Bosch (Christopher Curry from F/X) believes that the disappearances might be linked to his own wife's missing persons case. Bosch contacts a street reverend named A.J. Shepherd (Leviathan's Daniel Stern) for more information about the disappearances, and A.J. shows him pieces of evidence, things like Geiger counters and hazmat suits, which have been found in the sewers that hint towards a government ecological conspiracy. George, Bosch, and A.J. struggle to expose the nefarious scheme that is killing off the homeless sewer dwellers while trying to stay alive themselves.
C.H.U.D. was directed by Douglas Cheek (who made his name in the film industry as a documentary editor) using a screenplay that was written by mystery novelist Parnell Hall from a story by an unknown writer named Shepard Abbott, with some allegedly heavy uncredited script-doctoring by actors Christopher Curry and Daniel Stern (who play Bosch and A.J. in the film, respectively). In a decade known mostly for its masked-mystery slasher movies, C.H.U.D. is a refreshing creature feature with a smattering of environmental horror, putting it into the same vein as Humanoids from the Deep or Prophecy – more schlock than social message, but still a monster movie with a conscience.
John Heard is one of basically three heroes in C.H.U.D. (four if you count his love interest, played by Manhunter's Kim Greist), but his George is less abrasive than Curry's Captain Bosch and more likeable than Stern's Reverend A.J., so he becomes the de-facto leading man of the film. And Heard has the charisma to pull it off. He doesn't single handedly carry the film, but he has enough presence to carry every scene that he's in, and he definitely plays the role of the reluctant hero very well. George is a little rough around the edges, yet has a big heart that is squarely in the right place, and that's exactly how Heard plays him.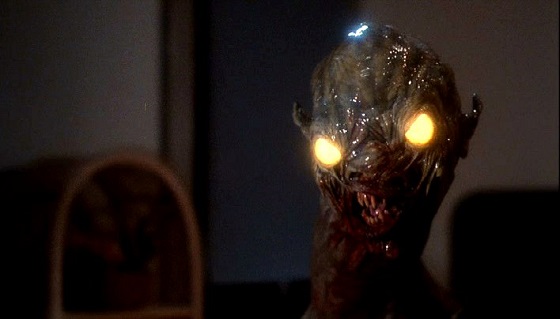 Of course, you can't have a creature feature without creatures, and the titular monsters in C.H.U.D. (it stands for Cannibalistic Humanoid Underground Dwellers…or does it?) are some of the best. Designed by John Caglione Jr. (Basket Case, The Hunger), the beasts are humanoid in stature (hence the acronym), with slimy rubber skin, glowing eye sockets, and needle-sharp teeth. The makeup effects are mostly practical, and the creatures are obviously actors and stuntmen in monster suits. And it's great that way. C.H.U.D. is the kind of movie where the audience loves the fact that it can see the zipper running down the monster's back.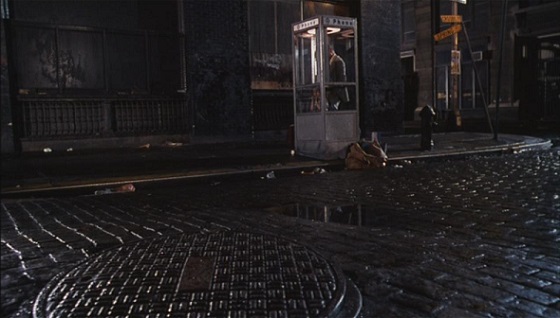 The photographic look of C.H.U.D. is interesting because it doesn't seem like it even tries to go for realism. Shot by cinematographer Peter Stein (Pet Sematary, Friday the 13th Part 2), the film was mostly filmed on actual locations in New York and New Jersey, but everything has the look and feel of a carefully lit studio sound stage. The sewers are too clean, the streets are too bright, and the homeless shelters are too organized. Aside from the overall cleanliness and sterility of the film, the most interesting thing that Stein does is play with depth-of-field and shallow focus in an almost De Palma-esque way, letting the viewer know what's important in the shot by keeping everything else soft. There's nothing groundbreaking about the cinematography in C.H.U.D., and Peter Stein would probably be the first to admit it. C.H.U.D. is what it is, which is a cult classic eighties monster movie.
The musical score for C.H.U.D. is credited to Cooper Hughes, which is a conglomeration of Martin Cooper and David A. Hughes, two lower-tier members of British pop group Orchestral Manoeuvres in the Dark who also dabbled in film composition. As one might expect, the music in C.H.U.D. is mostly electronic, with a nice combination of slow, suspenseful drones and morose, dread-filled melodies. It's a more dynamic score than that which is found in many eighties horror movies, and the repetitive grumbling goes a long way towards setting up many of the scares in the film. Again, there's nothing exceptionally groundbreaking within the score for C.H.U.D., but it's a pretty effective little eighties horror movie score.
John Heard was not the kind of actor who could "open a film," as they say in Hollywood, but he worked constantly. His face was likely recognized more in restaurants than his name was in credits. He will be remembered by the mainstream public as the dad who left his son Home Alone, but horror fans will always know him as the charismatic hero in C.H.U.D.