Synopsis: An exploration of the life and music of Miles Davis.
Release Date: April 15, 2016     MPAA Rating: PG-13
Genre(s): Biography, Drama
Film Review

For the past thirty years, Don Cheadle has been one of Hollywood's most recognizable character actors, with memorable performances in both indie masterpieces such as Boogie Nights and flashy blockbusters like the Iron Man movies. He finally gets a chance to work behind the camera as well, making his feature film directorial debut with Miles Ahead.
Miles Ahead is set somewhere during the five or so years in the mid-seventies when influential jazz trumpeter Miles Davis (played by Cheadle himself) was "retired" – actually living in isolation and struggling with his demons to get a new record out. He is visited by a Rolling Stone reporter named Dave Braden (Ewan McGregor from Beginners and Salmon Fishing in the Yemen) who befriends him in the hopes that he can get a story out of it. Miles is rumored to have a new album ready for release, but his label, Columbia Records, won't pony up any more money, so Miles won't turn over the tapes. When a producer named Harper Hamilton (Trumbo's Michael Stuhlbarg) and a rival up-and-coming jazzman named Junior (Lakeith Lee Stanfield from Short Term 12) plot to steal the tapes, Dave and Miles have to do what they can to stop them.
At least that's the simple synopsis of Miles Ahead. It's gets more complicated at times because seemingly everything Miles sees or does triggers memories of his early career and his ex-wife/muse, dancer Francis Taylor (Emayatzy Corinealdi from "Hand of God"). The screenplay, written by Cheadle and Steven Baigelman (Feeling Minnesota) with story help from Stephen J. Rivele and Christopher Wilkinson (the screenwriting pair behind Ali and Nixon), is not a traditional point-A-to-point-B biopic; it focuses on a short, particular period of Miles Davis' life and reflects back (in small doses at a time) on the rest of it. Essentially, Miles Ahead is a retrospective of the life and times of Miles Davis that takes place over the course of just a few days.
At first, Miles Ahead looks like it's going to be a cool biography of a musical genius, focusing on the man and his tunes. The film loses a little bit of steam in the middle when it essentially becomes a buddy cop picture, with Miles and Dave chasing down the dirty record company thieves who have gone after Miles' tapes. It also loses a little bit of credibility, as even though the real Miles Davis may not have had any qualms about pulling a gun on someone who was trying to rip him off, it's highly doubtful that he would team up with a music journalist whom he just met to shoot up the city in an effort to retrieve some stolen property.
Miles Ahead will probably ruffle some feathers with fans of Miles Davis, but only because it portrays both his genius and his flaws. At one point in the film, Dave refers to Miles as "Jazz's Howard Hughes, reviled and revered." That's the Miles Davis that Don Cheadle presents in Miles Ahead. You can love him or you can hate him, but either way, you've got to deal with him.

Turning all of the shifting timelines within Miles Ahead into a coherent and organic storyline was undoubtedly a challenge, but editors John Axelrad (Crazy Heart, We Own the Night) and Kayla Emter (who worked with Axelrad on The Immigrant) pull it off very well. The scenes in the present are cut with a frenetic and spastic pace while the scenes in the past are calm and cool, illustrating the drastic change in Miles' lifestyle and mental state. Switching between the reality of Miles' life and the flashbacks of his memories is done seamlessly with slick match cuts and creative montage sequences. The expert editing gets a little help in illustrating the different time periods from Cheadle's hairstyles (a short and tight cut in the past, a long and wild afro in the present), but for the most part, it doesn't need it; Axelrad and Emter never leave the audience wondering which era of Miles Davis that they are watching at any given point during the entire running time of the movie.

It goes without saying that the lion's share of the music in Miles Ahead is by Miles Davis. The film includes a selection of tracks from just about every period of Davis' career, songs like "So What," "Nefertiti," and "Black Satin." Although Cheadle learned to play the trumpet for the role and was actually playing during his performance, the solos that the audience hears in the film are also played by Davis, culled from recordings of the master jazzman and inserted into the film in post-production (the real Miles Davis passed away in 1991). There is some new incidental music written for the film by jazz pianist/keyboardist Robert Glasper, mostly the non-Miles material that the hotshot Junior is heard playing, but most of the soundtrack is all Miles, all the time. And it's great that way – if it isn't broken, don't fix it.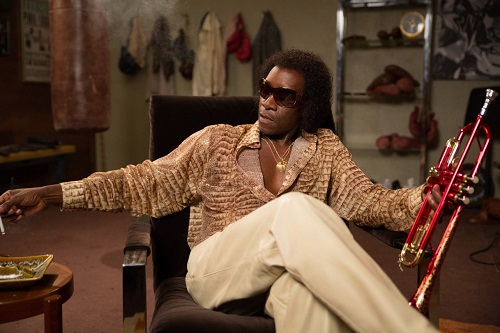 Cast and Crew
Director(s): Don Cheadle
Producer(s): Robert Ogden BarnumDon CheadlePamela HirschDarryl PorterDaniel WagnerVince Wilburn Jr.Lenore Zerman
Screenwriter(s): Don CheadleSteven BaigelmanStephen J. Rivele
Story: Christopher Wilkinson
Cast: Don Cheadle (Miles Davis)Ewan McGregor (Dave Braden)Emayatzy Corinealdi (Frances Taylor) Lakeith Lee Stanfield (Junior)Michael Stuhlbarg (Harper Hamilton)
Editor(s): John Axelrad
Cinematographer: Roberto Schaefer
Production Designer(s):
Costume Designer: Gersha Phillips
Casting Director(s): 
Music Score: Robert Glasper
Music Performed By: 
Country Of Origin: USA