There is no better film to finish our discussion of the noir loser in the Coen brothers' films than The Man Who Wasn't There (2001). With the film's protagonist, Ed Crane, the Coens take the noir loser archetype to its extreme. Whereas previous Coen losers were anxious, unsure men who let people walk all over them, Ed is effectively a cipher. The film features overwhelmingly crisp, clear visuals, despite the influence of film noir with its obscuring shadows and the film's black and white color palette. In Ed's case, however, the clarity of the image would perhaps be revealing if his face ever revealed any emotion, anything more than the lines and wrinkles of age. In The Man Who Wasn't There, the Coen brothers explore the noir loser in a state of catatonic waking, unreactive and unfazed, and the strength of a film helmed by such an easily forgettable non-entity.
"The noir loser is initially an innocent man whose life is marked by a lack of great expectations. Given the opportunity, he will abandon his mundane former life and morals to pursue wealth, success, or women – whatever seems more inviting than his current world. This noir loser succumbs to the manipulations and seductions of lying femme fatales and disregards, even denies, the reality of this manipulation. It should be noted that the noir loser would seemingly live an ordinary life, free of stress and danger, were it not for his decision to attempt to change his lot in life." ¹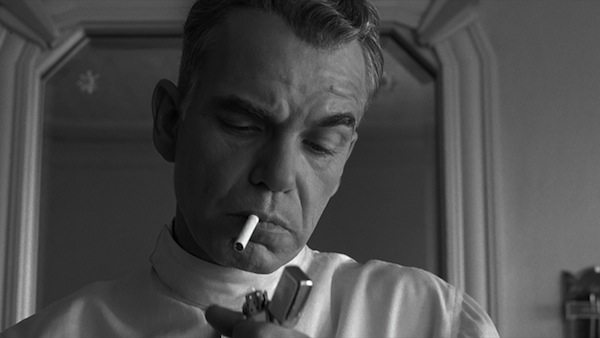 The Man Who Wasn't There begins by introducing the viewer to Ed Crane, a simple, seemingly apathetic small town barber who admittedly "just cuts the hair." Even so, Ed is only a barber because he married into the profession. The owner of the barber shop, Frank (Michael Badalucco), is his brother-in-law. Ed has suspected for a while that his wife, Doris (Frances McDormand), is having an affair with her boss, Big Dave (James Gandolfini). This betrayal does not elicit much of a response from Ed, nor does he seem to be that hurt by his wife's infidelity. However, Ed feels a distinct hole in his life. He wants to be a part of something successful, something that works for once. Given an investment proposition by a customer, Creighton Tolliver (Jon Polito), Ed decides to blackmail Big Dave for $10,000 to start a dry-cleaning business. Big Dave was also approached by Tolliver for an investment, and he makes a connection between the balding entrepreneur and the blackmail letter. Believing Tolliver to be his blackmailer, Dave kills him only to realize he knew nothing about his affair with Doris and that it was in fact Ed who wanted the $10,000. When this scheme is discovered, Big Dave attacks Ed, and Ed fatally stabs Dave in his office. Because of their well-known affair, Doris is then the main suspect in Big Dave's murder.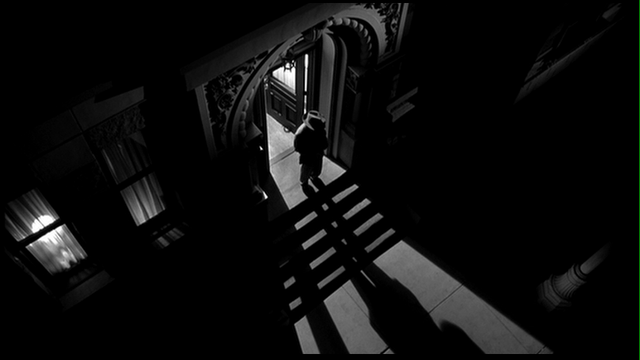 This film is notably the Coen brothers' only movie in black and white, and it is easily the most beautiful film they have shot. The smoky black and white cinematography from long-time Coen collaborator Roger Deakins shies away from noir shadows in favor of bright, crisp images of Ed's simple world of Santa Rosa, California. Deakins' black and white image is so clear as to reveal nothing. The portentous and oppressive noir shadows are absent, and the result is that everything is shown in such clarity as to be mundane. Visually, the effect is an unbearably placid vibe, perfectly complementing Ed's character. The lines and wrinkles of his face are absolutely clear in every shot, but they reveal no emotion, no sense of his true feelings. We see his responses, his reactions in the way his hands move and, especially, in the subtle angles of his cigarette smoke, and these clues are our only window to his inner thoughts. In this precisely delineated world, Ed merely goes unnoticed. He does nothing and says nothing.
The most character-defining scene in the film accentuates Ed's complete lack of a discernible personality. Ed passes under the radar because he does nothing, but the root of his stoicism may in fact be an utter acceptance of everything that happens around him: his wife's affair, multiple murders, and a murder trial. No matter how bizarre things are in Ed's world, he just accepts them and continues on with his life. This is illustrated to hilarious perfection as Ed walks out his front door in the middle of the night, sees a UFO hovering in the sky, and simply walks back inside without so much as a change in his expression. Not only does Ed accept these strange events, but he does nothing to alter them. In the case of his wife's murder trial, he is in fact guilty of murdering Big Dave yet he does not confess. Actually, in conference with their lawyer, Freddy Riedenschneider (Tony Shalhoub), while searching for a suitable approach to the defense, Ed does admit that he stabbed Big Dave. His confession, however, is seen as an absurd joke and immediately discarded with a laugh. In no way does Ed contemplate asserting his confession and thereby saving Doris from prison and the electric chair. Yet Ed gives no indication that this is done out of malice. He does not begrudge his wife indulging in an affair. It's a free country after all, he says. He merely clams up in the face of Riedenschneider's disbelief and ridicule.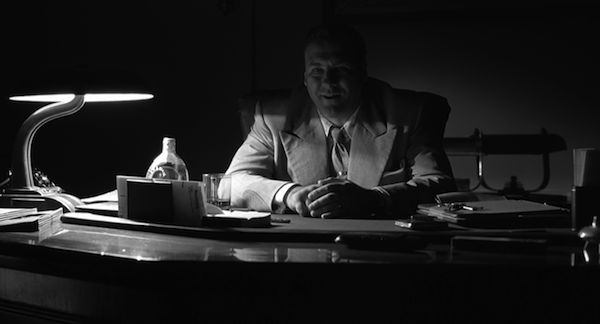 It is clear throughout The Man Who Wasn't There that Ed has grown accustomed to going unnoticed, being an after-thought. His relationship with Doris has been on the rocks for years. In the scene where the two of them attend a wedding, Ed follows Doris around like a dumb puppy, and Doris just ignores him. One of the most telling, facetious lines in the film shows Doris' perception of her life with Ed: Life is just so goddamn wonderful. It's just a bowl of goddamn cherries. All at once, we see Doris' disappointment in her marriage to a boring and distant barber. Her problems with alcohol and her affair with Big Dave fall into place as symptomatic of her search for happiness. Ed himself is stuck in a state beyond unhappy. He has no joys in life except perhaps the ordered motions of cutting hair. Ed's life is just a series of going through the proper motions. So, it is only natural that Ed jumps at the chance to be involved in a successful dry cleaning start-up. He just wants to be part of something successful that wasn't put upon him by marriage or circumstance. This simple desire for some semblance of success ultimately leads to a complicated series of murders and trials.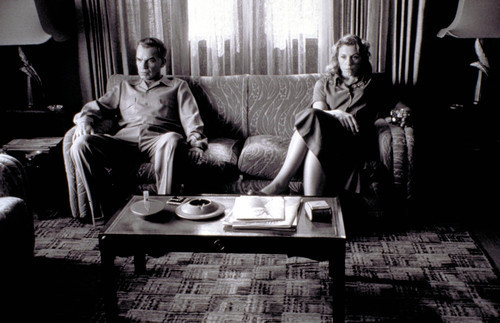 It is here that we see Ed as a true noir loser. The one time that he tries to better his situation, to find some enjoyment, his life is completely derailed. Tolliver offers him a seemingly easy route to success: invest $10,000 and wait for the profits to pour in. Ed, however, doesn't appear to be motivated by the money. There is never an indication that he needs money. Rather, the prospect of some measure of success, of achievement drives him to partner with Tolliver. Blackmailing Big Dave is also evidently not spurred by any need for vengeance. Ed simply knows that Big Dave has the money and that he himself can anonymously blackmail Dave with knowledge of his affair. Ed never imagined that Dave would discover who was blackmailing him or that he would have to kill Dave in self-defense. As with all noir losers, Ed's risks were for naught. Tolliver's deal was a scam, leaving Ed out $10,000 and guilty of murder. For the first time, Ed shows real emotion and bitterly asks himself, How stupid could I be?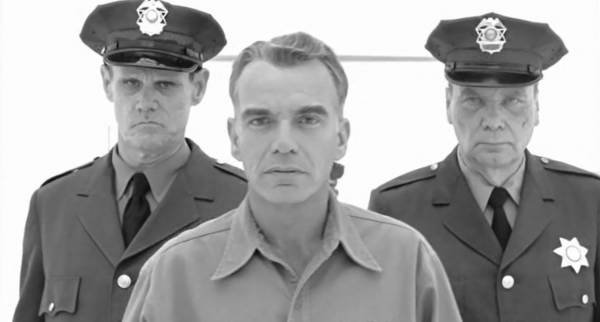 Only the Coen brothers would create a noir loser chasing success whose heart really wasn't in it. Ed Crane can never be said to have been malicious, greedy, or vengeful. He wanted some measure of success, not for the money, but for his own happiness, to feel a sense of purpose and to be a part of something that worked for once. His reward for wanting something other than his mundane barbershop and unfaithful wife is death in the electric chair for the murder of Tolliver. Never mind the fact that he didn't kill Tolliver. To say so in court would be too much effort on Ed's accepting nature. In his mind, it's better to accept punishment for a crime he didn't commit as payment for the one that he did. Fate would have him in the chair either way. Ed is only guilty of accidentally murdering Big Dave and getting away with it, only to be convicted of a crime he didn't commit. He wasn't even there.
¹Original Source: Touch Of Noir: The Noir Loser Loses His Mind In 'Barton Fink'.