Synopsis: Set to the backdrop of Awesome Mixtape #2, 'Guardians of the Galaxy Vol. 2' continues the team's adventures as they unravel the mystery of Peter Quill's true parentage.
Release Date: May 5, 2017     MPAA Rating: PG-13
Genre(s): Action, Adventure
Film Review

When Guardians of the Galaxy was released back in 2014, it was a major risk for Marvel Studios. Sure, they had a nearly flawless record, but most of those hits were with well-known properties. Guardians of the Galaxy, on the other hand, was a relatively unknown comic series, led by familiar but unproven stars, and a director known mostly for quirky genre flicks. But somehow it all worked – the film, set almost exclusively in space and starring a talking raccoon, became a major hit. So much so that Guardians of the Galaxy Vol. 2 is hitting theaters less than three years later.
Although Guardians of the Galaxy Vol. 2 is billed as a sequel, it feels much more like the second part of the first film. It builds on the relationships and expands upon each character in the way a second and third act might, and it very rarely slows down. The basic plot involves a misunderstanding of sorts involving a race of beings known as The Sovereign and Peter Quill/Star-Lord (Chris Pratt) meeting his father, but the film never neglects its central characters. It does expand the group to include some lesser players from the first film, most notably Michael Rooker's Yondu, but it never drifts too far from what made the first one so great.
It's a credit to director James Gunn that the film can juggle so many characters and so many plotlines and still feel focused and driven. Without any need to setup who these people are, Guardians of the Galaxy Vol. 2 could have easily let some of its characters fall by the wayside, but instead it makes everyone a key piece of the plot. Characters like Drax (Dave Bautista) and Gamora (Zoe Saldana) get plenty of screen time to develop, and by the end you feel as though they have completed as much of a journey as anyone else.
Beyond how effectively the film juggles its characters, Guardians of the Galaxy Vol. 2 is just plain fun to watch. It doubles down on the humor and tone of the first, ensuring that a laugh is never too far out of reach. This is also the Marvel film that leans the most into the cosmic side of the universe, but nothing about Guardians of the Galaxy Vol. 2 feels absurd or outside of the norm for these characters. From the very beginning it sets the audience up for a journey and it delivers on that promise time and time again.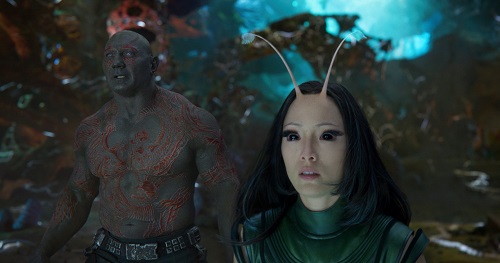 It's hard to say whether Guardians of the Galaxy Vol. 2 is better than the first, but if nothing else the sequel is just as funny, just as entertaining, and just as well thought out. In truth it's really just a treat to get to see these characters once again and to see how their relationships develop without the pomp and circumstance of an origin story. Basically, if you left the first film satisfied and yearning for more, James Gunn and Co. have you given it to you.

It might not seem like three years would afford a lot of improvements in technology, but Guardians of the Galaxy Vol. 2 feels like a more sophisticated and polished film from an action stand point. From the battles with alien creatures to the chase scenes in space ships, there is a cleaner look and composition to the sequences. Every set piece is inventive and bursting with energy, not to mention accompanied by another killer soundtrack.

Drax and Baby Groot make this movie. That's all that you really need to know. If there was anywhere that Guardians of the Galaxy Vol. 2 definitively felt like it upped the ante it's in the comedy. Jokes are allowed to linger and the humor is free to be bold and layered as only a sequel to a successful action comedy can. There is no formula operating beyond the scenes on this one, which helps make the jokes unpredictable and gives the sequel a lot of energy. You really never know where the laughs is going to come from, but rest assured they hit early and often.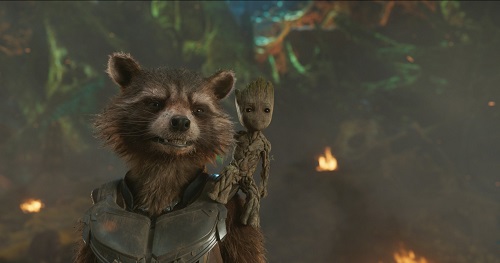 Cast and Crew
Director(s): James Gunn
Producer(s): Kevin Feige
Screenwriter(s): James GunnDan AbnettAndy Lanning
Story: 
Cast: Chris Pratt (Peter Quill/Star Lord)Zoe Saldana (Gamora)Dave Bautista (Drax) Vin Diesel (Baby Groot (voice))Bradley Cooper (Rocket (voice))Michael Rooker (Yondu)Karen Gillan (Nebula)Pom Klementieff (Mantis)Sylvester Stallone (Stakar Ogord)Kurt Russell (Ego)ELizabeth Debicki (Ayesha)Chris Sullivan (Taserface)
Editor(s): Fred Raskin
Cinematographer: Henry Braham
Production Designer(s):
Costume Designer: Judianna Makovsky
Casting Director(s): Sarah Finn
Music Score: Tyler Bates
Music Performed By: 
Country Of Origin: USA