Happy Holidays, everyone. This year the FilmFracture team brings you the most anticipated, and must see movies, of the 2012 Holiday Movie Season. Some may be obvious–The Hobbit–others not so much–Silent Night–but they are coming to theatres to make your holiday a little more bright, while being spent in the dark.
Here they are, the must see movies of the 2012 Holiday Movie Season (by genre):
Fantasy
The Hobbit
"While I prefer the story of the "Lord of the Rings" to "The Hobbit", knowing that Peter Jackson is taking me back to his vision of Middle Earth has me excited." – Anthony Taormina
And an alternate view…
"It does not get any more obvious when it comes to a must see movie this year, The Hobbit wins, even if you don't really care about it very much. Peter Jackson created an unforgettable Tolkien world with The Lord of the Rings and he returns to Middle Earth with The Hobbit. There has been much talk lately about the film, especially when audiences who saw footage shot at the 48 frames-per-second rate were far from happy, to put it mildly. More controversy has arisen because Jackson will be splitting the film into 3 parts, to be released over the next few years. The Lord of the Rings trilogy was based on a book roughly 1,137 pages long (depending on the version); "The Hobbit" is only around 320 pages. Yes, it makes you wonder if greed is at work here or whether Mr. Jackson's ego has gotten the better of him. Regardless, we all want to see what he has done with Tolkien's other well-known work that is a prequel to The Lord of the Rings, and if that means we have to watch it in 3 parts then so be it. It will either give us more to praise or more to admonish–much to my delight." – Kathryn Schroeder
And one more just because we can…
"I'm looking forward to this movie just as much as I'm dreading it. Everyone knows how much I love the original trilogy, but that just makes the stakes so much higher! 3 movies? Director change in the middle of the project? Negative feedback due to filming it in 3D and 48 fps? Don't let us down Peter Jackson!" – Russell Espinosa
Synopsis: The adventure follows the journey of title character Bilbo Baggins, who is swept into an epic quest to reclaim the lost Dwarf Kingdom of Erebor from the fearsome dragon Smaug. Approached out of the blue by the wizard Gandalf the Grey, Bilbo finds himself joining a company of thirteen dwarves led by the legendary warrior, Thorin Oakenshield. Their journey will take them into the Wild; through treacherous lands swarming with Goblins and Orcs, deadly Wargs and Sorcerers. Although their goal lies to the East and the wastelands of the Lonely Mountain, first they must escape the goblin tunnels, where Bilbo meets the creature that will change his life forever…Gollum. Here, alone with Gollum, on the shores of an underground lake, the unassuming Bilbo Baggins not only discovers depths of ingenuity and courage that surprise even him, he also gains possession of Gollum's "precious" ring that holds unexpected and useful qualities… A simple, gold ring that is tied to the fate of all Middle-earth in ways Bilbo cannot begin to know.
Release Date: December 14, 2012
Website: http://www.thehobbit.com/
Action/Thriller
Zero Dark Thirty
"It bothers me a great deal that the marketing campaign for Zero Dark Thirty only states "From the Academy Award Winning Writer and Director of The Hurt Locker" and not simply " A Kathryn Bigelow Film" or something of the sort. She did win the Best Director Academy Award for The Hurt Locker, the first time in history for a woman, but still she cannot get her name on the poster. Shameful, really. Kathryn Bigelow knows how to make action pictures full of suspense, thrills, and an underlining sense of panic and fear. Zero Dark Thirty has the possibilities to be all of these things and more." – Kathryn Schroeder
And an alternate view…
"The Hurt Locker was a masterpiece. That movie alone made me a fan of Kathryn Bigelow. I'm also an admirer of Jessica Chastain. Beautiful and inspiring female artists + killing Bin Laden? Count Me In!" – Russell Espinosa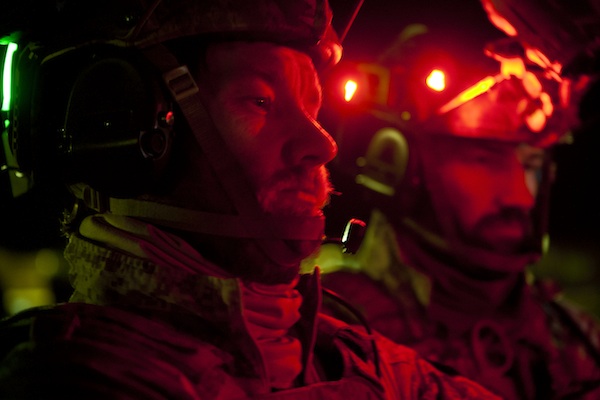 For a decade, an elite team of intelligence and military operatives, working in secret across the globe, devoted themselves to a single goal: to find and eliminate Osama bin Laden. Zero Dark Thirty reunites the Oscar® winning team of director-producer Kathryn Bigelow and writer-producer Mark Boal (The Hurt Locker) for the story of history's greatest manhunt for the world's most dangerous man.
Release Date: December 19, 2012 (Limited); January 11, 2013 (Wide)
Website: http://zerodarkthirty-movie.com/
Jack Reacher
"Tom Cruise in an off-kilter action role — is there anything better?" – Anthony Taormina
And an alternate view…
"I like the Mission Impossible movies, but when is Tom Cruise gonna realize he's not the 1980s Top Gun guy anymore?" – Russell Espinosa
Synopsis: From The New York Times bestselling author Lee Child comes one of the most compelling heroes to step from novel to screen – ex-military investigator Jack Reacher (Tom Cruise). When a gunman takes five lives with six shots, all evidence points to the suspect in custody. On interrogation, the suspect offers up a single note: "Get Jack Reacher!" So begins an extraordinary chase for the truth, pitting Jack Reacher against an unexpected enemy, with a skill for violence and a secret to keep.
Release Date: December 21, 2012
Website: http://www.jackreachermovie.com/
Horror/Suspense/Thriller
Silent Night
"Yep, a slasher about Christmas…it has been done before with Silent Night, Deadly Night and Black Christmas, but still…count me in." – James Jay Edwards
Synopsis: In 1984, the slasher classic Silent Night, Deadly Night stunned audiences, was banned across America, and remains the most notorious Christmas movie in history. Now, Santa is back, and he's got a brand new bag of tricks. As their small midwestern town prepares for its annual Christmas Eve parade, Sheriff (Malcolm McDowell) and his deputy (Jaime King) discover that a maniac in a Santa suit is murdering those he judges as "naughty." Their sins? Porn, adultery, greed… And he will make sure they rest in heavenly pieces.
Release Date: November 30, 2012
Website: http://anchorbayentertainment.com/Films.aspx
The Collection
"It may be a rip-off of The Bone Collector or The Watcher, but it still looks like a good suspense film." – James Jay Edwards
Synopsis: When Elena's (Emma Fitzpatrick) friends take her to a secret party at an undisclosed location, she never imagined she would become the latest victim of The Collector, a psychopathic killer. The Collector kidnaps and transports her to an abandoned hotel he's transformed into his own private maze of torture and death. Upon learning of his daughter's disappearance, Elena's wealthy father (Christopher McDonald) hires a group of mercenaries to retrieve her from the vicious grips of The Collector. These mercenaries coerce Arkin (Josh Stewart), the only man to have escaped the wrath of this heinous monster, to lead them through the gruesome labyrinth. Now, Arkin finds himself fighting for his own life in order to save Elena. The Collection, directed by Marcus Dunstan and written by Dunstan and Patrick Melton, is a suspense horror film with nonstop thrills at every turn, starring Josh Stewart (The Dark Knight Rises), Emma Fitzpatrick (The Social Network), and Christopher McDonald (Requiem for a Dream).
Release Date: November 30, 2012
Website: http://www.thecollectionmovie.com/
Killing Them Softly
"Brad Pitt, in a leather jacket, with a big shotgun. SOLD!" – Kathryn Schroeder
Synopsis: Killing The Softly is an explosive gangster thriller starring Brad Pitt, James Gandolfini, Ray Liotta and Richard Jenkins. A longtime hanger-on in the wiseguy world, Johnny Amato (Vincent Curatola) has come up with a slick plan to roll a mob-protected card game. To complete the actual theft, Johnny turns to Frankie (Scoot McNairy), a jittery young crook who is fresh out of jail and flat broke, and Russell (Ben Mendelsohn), a gleefully seedy Australian junkie whose latest criminal enterprise involves dog theft. Presidential politics and America's financial crisis are all over the news, but it's little more than background noise to these three guys who are angling to make a quick score in a broken-down city. The conspirators feel assured of success, certain as they are that the mob's suspicions will immediately fall on the game's regular dealer, Markie Trattman (Ray Liotta). But only a fool believes in a foolproof plan…
Release Date: November 30, 2012
Website: http://killingthemsoftlymovie.com/
Documentary
West of Memphis
"West of Memphis is probably not as honest or insightful as the Paradise Lost series, but the case of the 'West Memphis Three' is a compelling one, and one that many people feel passionately about." – James Jay Edwards
Synopsis: A new documentary written and directed by Academy Award nominated filmmaker, Amy Berg (Deliver us From Evil) and produced by first time filmmakers Damien Echols and Lorri Davis, in collaboration with the multiple Academy Award winning team of Peter Jackson and Fran Walsh, West of Memphis tells the untold story behind an extraordinary and desperate fight to bring the truth to light.

Starting with a searing examination of the police investigation into the 1993 murders of three, eight year old boys Christopher Byers, Steven Branch and Michael Moore in the small town of West Memphis, Arkansas, the film reveals the story from the inside. West of Memphis uncovers new evidence surrounding the arrest and conviction of the other three victims of this shocking crime – Damien Echols, Jason Baldwin and Jessie Misskelley; all three of whom were teenagers at the time of their arrests and all three of whom were imprisoned for crimes they did not commit.
Release Date: December 25, 2012 (Limited)
Website: http://www.sonyclassics.com/westofmemphis/
Melodrama
The Impossible

"There is no need to get embarrassed, it is perfectly acceptable to get excited about an upcoming melodrama…when said melodrama is The Impossible. It deserves a spot with Imitation of Life on the list of greatest melodramas ever made–and its also quite terrifying as well." – Kathryn Schroeder (Read the review: The Impossible Movie Review by Kathryn Schroeder.)
And an alternate view…
"Looks like tear bait, but I'm a fan of Ewan McGregor and it's been a while since I've seen a great Naomi Watts performance." – Russell Espinosa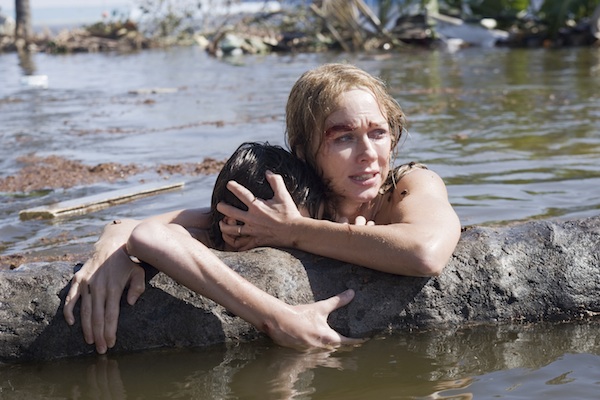 Synopsis: Maria (Naomi Watts), Henry (Ewan McGregor) and their three sons begin their winter vacation in Thailand, looking forward to a few days in tropical paradise. But on the morning of December 26th, as the family relaxes around the pool after their Christmas festivities the night before, a terrifying roar rises up from the center of the earth. As Maria freezes in fear, a huge wall of black water races across the hotel grounds toward her.
Based on a true story, The Impossible is the unforgettable account of a family caught, with tens of thousands of strangers, in the mayhem of one of the worst natural catastrophes of our time. But the true-life terror is tempered by the unexpected displays of compassion, courage and simple kindness that Maria and her family encounter during the darkest hours of their lives. Both epic and intimate, devastating and uplifting, The Impossible is a journey to the core of the human heart.
Release Date: December 21, 2012
Website: http://www.summit-ent.com/
Musical-Drama
Les Misérables
"How many times has Les Miserables been adapted for the stage and screen? Countless times. Does it ever cease to amaze audiences? Never. The music alone should fill the house, and the all-star cast including Russell Crowe, Hugh Jackman, and Anne Hathway should guarantee even the front row is full." – Kathryn Schroeder
And an alternate view…
"I'm still upset over The King's Speech getting more academy recognition than The Social Network, but I am a fan of the "John Adams" mini-series and I do think Tom Hooper is a talented director. Also, as surprising as it is, I have no idea what "Les Mi"s is about being that I've never read or seen any version of it. The trailer with Anne Hathaway singing over it already has me tearing up so yes, I'm looking forward to it. All of that before movie advertising in the theater seems to be working on me." – Russell Espinosa
Synopsis: Les Misérables is the motion-picture adaptation of the beloved global stage sensation seen by more than 60 million people in 42 countries and in 21 languages around the globe and still breaking box-office records everywhere in its 27th year. Helmed by The King's Speech's Academy Award®-winning director, Tom Hooper, the Working Title/Cameron Mackintosh production stars Hugh Jackman, Oscar® winner Russell Crowe, Anne Hathaway, Amanda Seyfried, Eddie Redmayne, Aaron Tveit, Samantha Barks, with Helena Bonham Carter and Sacha Baron Cohen.
Set against the backdrop of 19th-century France, Les Misérables tells an enthralling story of broken dreams and unrequited love, passion, sacrifice and redemption–a timeless testament to the survival of the human spirit. Jackman plays ex-prisoner Jean Valjean, hunted for decades by the ruthless policeman Javert (Crowe) after he breaks parole. When Valjean agrees to care for factory worker Fantine's (Hathaway) young daughter, Cosette, their lives change forever.
Release Date: December 25, 2012
Website: http://www.lesmiserablesfilm.com/
Drama (Dramedy)
Hitchcock
"What's not to be excited about? Anthony Hopkins as Hitchcock making Psycho…" – James Jay Edwards
And an alternate view…
"In the 7th grade, Psycho and Rear Window made me a cinephile over night. We (Kathryn Schroeder and I) took an entire class dedicated to the guy [in college]. He's a legend. Like The Hobbit though, I anticipate it just as much as I'm dreading it. Anthony Hopkins and Helen Mirren sounds fantastic, but I'm unfamiliar with any of the director's work so we'll see."- Russell Espinosa
Synopsis: Hitchcock is a love story about one of the most influential filmmakers of the last century, Alfred Hitchcock and his wife and partner Alma Reville. The film takes place during the making of Hitchcock's seminal movie Psycho.
Release Date: November 23, 2012
Website: http://www.hitchcockthemovie.com/
Silver Linings Playbook
"Everything has a silver lining, even when you suffer from a mental illness, in David O. Russell's follow-up to The Fighter, Silver Linings Playbook." – Kathryn Schroeder
And an alternate view…
"Jennifer Lawrence continues to slowly impress me and I've never been completely sold on Bradley Cooper so maybe this movie can do it. It looks like Academy Award bait, but the reviews are good so far and I am a fan of David O' Russell's The Fighter. I'm also a fan of anyone with the name Russell (haha)." – Russell Espinosa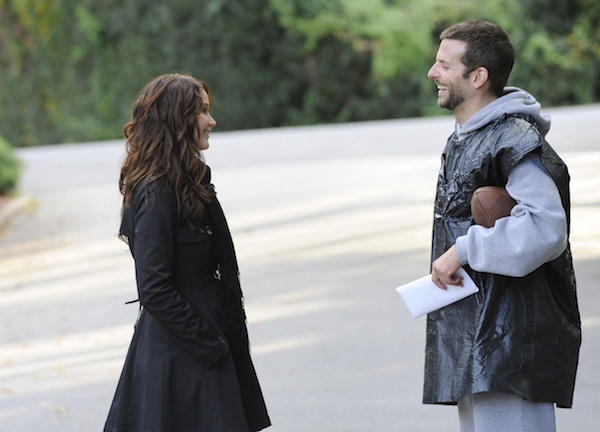 Synopsis: Life doesn't always go according to plan…Pat Solatano (Bradley Cooper) has lost everything — his house, his job, and his wife. He now finds himself living back with his mother (Jacki Weaver) and father (Robert DeNiro) after spending eight months in a state institution on a plea bargain. Pat is determined to rebuild his life, remain positive and reunite with his wife, despite the challenging circumstances of their separation. All Pat's parents want is for him to get back on his feet – and to share their family's obsession with the Philadelphia Eagles football team. When Pat meets Tiffany (Jennifer Lawrence), a mysterious girl with problems of her own, things get complicated. Tiffany offers to help Pat reconnect with his wife, but only if he'll do something very important for her in return. As their deal plays out, an unexpected bond begins to form between them, and silver linings appear in both of their lives.
Release Date: November 16, 2012 (Limited); November 21, 2012 (Wide)
Website: http://weinsteinco.com/
Hyde Park On Hudson
"Most of the talk around town, when it comes to playing at being President, has been reserved for Daniel Day Lewis in Lincoln. The praise is well-deserved, but I am curious to see how the gloriously talented Bill Murray does as Franklin D. Roosevelt in Hyde Park On The Hudson. Lincoln was a great President, who did great things, but Franklin was quite the President as well, and he also had a wicked sense of humor (and a mistress!)." – Kathryn Schroeder
Synopsis: In June 1939, President Franklin Delano Roosevelt (Academy Award nominee Bill Murray) and his wife Eleanor (Olivia Williams) host the King and Queen of England (Samuel West and Olivia Colman) for a weekend at the Roosevelt home at Hyde Park on Hudson, in upstate New York – the first-ever visit of a reigning English monarch to America. With Britain facing imminent war with Germany, the Royals are desperately looking to FDR for support. But international affairs must be juggled with the complexities of FDR's domestic establishment, as wife, mother, and mistresses all conspire to make the royal weekend an unforgettable one. Seen through the eyes of Daisy (Academy Award nominee Laura Linney), Franklin's neighbor and intimate, the weekend will produce not only a special relationship between two great nations, but, for Daisy – and through her, for us all – a deeper understanding of the mysteries of love and friendship.
Release Date: December 7, 2012 (Limited)
Website: http://focusfeatures.com/hyde_park_on_hudson
Life of Pi
" I've never read the book so I'm very intrigued to see what this is about. Also, several of my favorite films this year thus far have dealt with faith and religion: Prometheus, The Master, The Sessions, Flight, Cloud Atlas…so I'm interested in checking out the quintessential faith film. Why so many religious movies? Maybe just in case the world is ending." – Russell Espinosa
And an anternate view…

"All you have to do is read Anthony Taormina's review of Ang Lee's Life of Pi and you'll want to see it: Life of Pi Movie Review by Anthony Taormina." – Kathryn Schroeder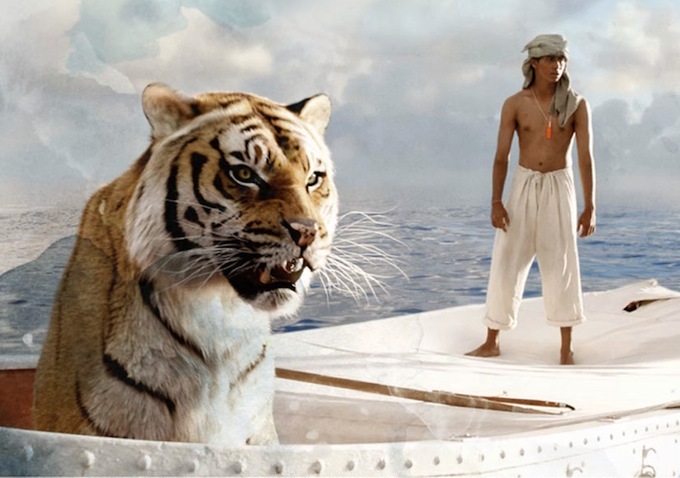 Synopsis: Director Ang Lee creates a groundbreaking movie event about a young man who survives a tragic disaster at sea and is hurtled into an epic journey of adventure and discovery. While marooned on a lifeboat, he forms an amazing and unexpected connection with the ship's only other survivor…a fearsome Bengal tiger.
Release Date: November 21, 2012
Website: http://www.lifeofpimovie.com/
On The Road
"The novel "On The Road" by Jack Kerouac ruined my life; or saved it." – Kathryn Schroeder
And an alternate view…
"I've never read it. Yes, you have permission to stone me. Besides it being a road trip novel, I don't know what Kerouac's essential beat generation story is about. So yes, I'm very interested. It has a great ensemble cast and hopefully Kristen Stewart gives me a reason to not be embarrassed in public by the fact that I secretly think she's still attractive." – Russell Espinosa
Synopsis: Directed by acclaimed filmmaker Walter Salles and based on the iconic novel by Jack Kerouac, On The Road tells the provocative story of Sal Paradise (Sam Riley), a young writer whose life is shaken and ultimately redefined by the arrival of Dean Moriarty (Garrett Hedlund), a free-spirited, fearless, fast talking Westerner and his girl, Marylou (Kristen Stewart). Traveling cross-country, Sal and Dean venture out on a personal quest for freedom from the conformity and conservatism engulfing them in search of the unknown, themselves, and the pursuit of "it" — the pure essence of experience. Seeking unchartered terrain and the last American frontier, the duo encounter an eclectic mix of men and women — Bull (Viggo Mortensen), Camille (Kirsten Dunst), Carlo (Tom Sturridge), Jane (Amy Adams), Terry (Alice Braga), Galatéa (Elisabeth Moss) – each impacting their journey indelibly.
Release Date: December 21, 2012 (Limited)
Website: http://www.ifcfilms.com/films/on-the-road
Comedy
Django Unchained
"I've never seen a Tarantino movie I haven't absolutely fallen in love with so I'm intrigued to see if his take on the Western can keep that streak going." – Anthony Taormina
And an alternate view…
"I'm always looking for an opportunity to try and understand why everyone loves Quentin Tarantino so much–and he gives me the chance every couple of years or so. Christoph Waltz has been recruited again by Tarantino so immediately points have been scored–and I've heard that the 'D' is silent in Django." – Kathryn Schroeder
And an alternate view…
"Tarantino on slavery? The "D" is silent. Ummm…yes, i'm there." – Russell Espinosa
Synopsis: Set in the South two years before the Civil War, Django Unchained stars Academy Award®-winner Jamie Foxx as Django, a slave whose brutal history with his former owners lands him face-to-face with German-born bounty hunter Dr. King Schultz (Academy Award®-winner Christoph Waltz). Schultz is on the trail of the murderous Brittle brothers, and only Django can lead him to his bounty. The unorthodox Schultz acquires Django with a promise to free him upon the capture of the Brittles – dead or alive. Success leads Schultz to free Django, though the two men choose not to go their separate ways. Instead, Schultz seeks out the South's most wanted criminals with Django by his side. Honing vital hunting skills, Django remains focused on one goal: finding and rescuing Broomhilda (Kerry Washington), the wife he lost to the slave trade long ago.
Release Date: December 25, 2012
Website: http://unchainedmovie.com/
This Is 40
"Judd Apatow has been hit or miss for me, but I liked Paul Rudd and Leslie Mann's characters enough to want to peak into their lives again." – Anthony Taormina
And an alternate view…
"Loved the 40-Year old Virgin. Liked Knocked Up. Funny People, not so much, although I stil admired it. You can't be a fan of comedy right now and at least pay attention to anything Apatow delivers. I've always known that comedy is harder than it looks, but after taking an Improv class, I REALLY know. So I'm throwing this one in to pay respect to comedians and comedy in general." – Russell Espinosa
Synopsis: Five years after writer/director Judd Apatow introduced us to Pete and Debbie in Knocked Up, Paul Rudd and Leslie Mann reprise their roles as a husband and wife both approaching a milestone meltdown in This Is 40, an unfiltered, comedic look inside the life of an American family.
After years of marriage, Pete lives in a house of all females: wife Debbie and their two daughters, eight-year-old Charlotte (Iris Apatow) and 13-year-old Sadie (Maude Apatow). As he struggles to keep his record label afloat, he and Debbie must figure out how to forgive, forget and enjoy the rest of their lives…before they kill each other.
Release Date: December 21, 2012
Website: http://www.thisis40movie.com/
Animation/Children and Family
Monsters Inc. 3D
"I am not a big fan of 3D re-releases of animated films in theatres BUT I do love Monsters Inc. and am happy to see Sulley and Mike make a return to the big screen right before they come back in an all new prequel, Monsters University in 2013." – Kathryn Schroeder
Synopsis: Monsters, Inc., one of Disney•Pixar's most beloved and visually imaginative feature films ever, returns to the big screen to delight a whole new generation of audiences and fans alike, this time in stunning 3D. The now-classic Academy Award®-winning animated comedy adventure Monsters, Inc. is set in Monstropolis, a thriving company town where monsters of all shapes and sizes reside. Lovable Sulley (voiced by John Goodman) and his wisecracking best friend Mike Wazowski (voiced by Billy Crystal) are the top scare team at Monsters, Inc., the largest scream-processing factory. The main power source in the monster world is the collected screams of human children—and at Monsters, Inc., an elite team of scarers is responsible for gathering those precious natural resources. Believed by monsters to be toxic, children are strictly forbidden from entering Monstropolis. But when a little girl named Boo (voiced by Mary Gibbs) accidentally follows Sulley back into his world, he finds his career in jeopardy and his life in utter chaos. So pals Mike and Sulley plot to rectify the mistake and return Boo to her home. But when the trio encounters an unexpected series of complications, they become embroiled in a cover-up catapulting them into a mystery beyond their wildest dreams.
Release Date: December 19, 2012
Website: http://www.facebook.com/PixarMonstersInc
Monsters University website (kind of): http://monstersuniversity.com/edu/
Rise of the Guardians
"I want a baby tooth!!! You will too. (Find out what I am talking about by reading the review: Rise of the Guardians Movie Review)" – Kathryn Schroeder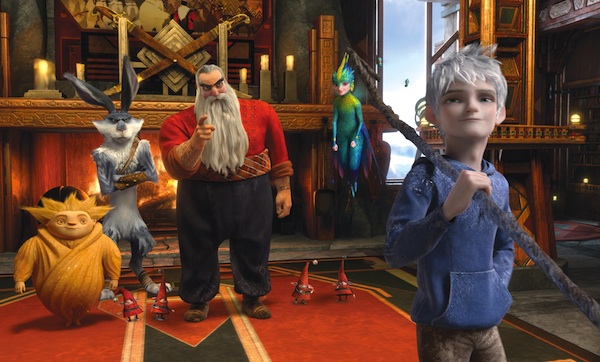 Synopsis: Rise of the Guardians is an epic adventure that tells the story of a group of heroes – each with extraordinary abilities. When an evil spirit known as Pitch lays down the gauntlet to take over the world, the immortal Guardians must join forces for the first time to protect the hopes, beliefs and imagination of children all over the world.
Release Date: November 21, 2012
Website: http://www.riseoftheguardians.com/
That does it for the Holiday Must See Movies list of 2012.
From all of us at FilmFracture, Happy Holidays!